Things to see & do in
Yellowstone National Park
You always remember your first. Yellowstone, established in 1872 by President Ulysses S Grant, was the first national park not only in the United States, but in the world. There are now more than 4,000 across the globe – great minds and all that. Most of Yellowstone falls in Wyoming, with small sections in Idaho and Montana. Despite being one of the country's most famous parks, thanks in no small part to the antics of Yogi Bear, Yellowstone is so vast – spanning around 9,000km
2
– and relatively remote, that there are many places where you can enjoy a splendid sense of isolation.
Yellowstone National Park
is in fact located over the caldera of a gigantic, and active, supervolcano, which is what accounts for all the geothermal activity here, as well as how fertile the landscape is. Much of the park was destroyed by fire in the 1980s, but is has now almost entirely recovered, and the wildlife here doesn't just survive – it thrives. Wolves, which were wiped out from Yellowstone in the 1920s, were reintroduced in the 1990s to manage an unsustainable elk population, and the process has been massively successful.
Great herds of bison wander open meadows, grizzly and black bears fish in freshwater lakes and streams (feeding them from your pic-a-nic hampers is strictly
verboten
) and elk, pronghorn and moose hide in the forests, wary lest they provide an unwilling meal for predators. Despite its age and international fame, despite the ubiquity of its iconic natural features, and the fact that four million people visit every year, Yellowstone retains a distinct wildness to it. It's still possible to see what so captivated the early pioneers about this landscape and convinced them to preserve it.
Highlights of Yellowstone
National Park
Geothermal features
Yellowstone's landscapes have been shaped over millennia by powerful geothermal forces. Geysers jet boiling water and steam into the air, mud pools bubble and hiss, hot springs display kaleidoscopic colours, and fumaroles, er, fume. There are estimated to be around 10,000 geothermal features in the park, including geyser basins and travertine terraces. You can take a fascinating tour with a geology guide, to learn about volcanism and its effects, or explore on your own. But be sure to stick to the boardwalks – this is one place where we suggest you don't head off the beaten track on the spur of the moment.
Grand Prismatic Spring
The third largest hot spring in the world, the Grand Prismatic Spring is notable for its vibrant rainbow colouration, and is among the most recognisable landmarks in Yellowstone. The colours of the water change according to the season – growing toward orange and red in spring, dark green in winter. Like so many other places in Yellowstone, this is somewhere you really, really don't want to fall in.
Lamar Valley
'America's Serengeti' is one of the best places in Yellowstone National Park for wildlife sightings. Herds of bison, deer and pronghorn gather here and naturally also attract wolves. The landscape makes observation easy, and you may well also see bears. Dawn and dusk are the best time for wildlife viewing and the Lamar Valley is also accessible in winter, unlike many other areas of the park.
Mammoth Hot Springs
Many backcountry trails begin at these travertine limestone terraces found in the north of the park. One early visitor to Yellowstone declared, "No human architect ever designed such intricate fountains as these." You can explore them via a series of boardwalks and they are best seen early in the morning if possible, before the crowds arrive.
Old Faithful
The best known of Yellowstone's geothermal landmarks – and the most famous geyser in the world – Old Faithful is just that,
most of the time
. It's not the park's biggest or most powerful geyser, though it's definitely a very impressive sight. But of the 500 or so geysers in Yellowstone, Old Faithful's eruption schedule is the most regular, and it's nice and predictable. Boom.
Wildlife
There are some 75 grey wolf packs in the greater Yellowstone area, around 600 grizzlies and another 600 black bears. Bald eagles, America's national bird, and many other birds of prey, soar aloft. Magnificently horned elk and moose wander the forests, and you never know when you're going to encounter a tank-like bison blocking your path and silently daring you to ask it to move. There are specialist wildlife watching tours available, such as
wolf-tracking holidays
where you travel in the company of expert naturalist guides, often on foot, and heading deep into the wilderness. If you really want to learn about the animals of Yellowstone, how they behave and interact, as well as enhance your chances of sightings, this is your best option.
Our top trip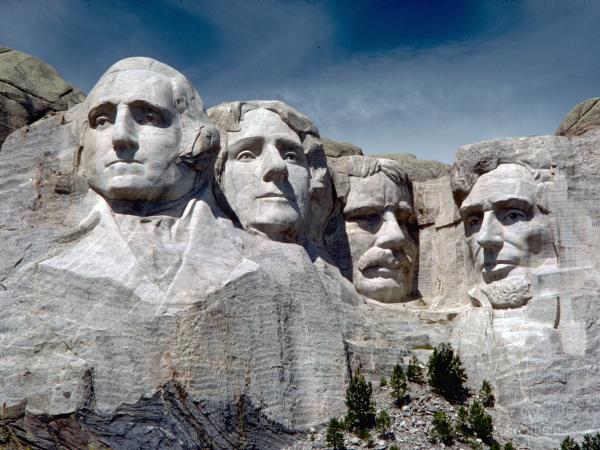 Explore the United States fantastic National Parks.
From
£6500
24 days
inc UK flights
Tailor made:
This trip can be tailor made throughout the year to suit your requirements
If you'd like to chat about USA or need help finding a holiday to suit you we're very happy to help.

Hello Mr Ranger, Sir
American national parks couldn't function without their ranger service. But while these dedicated men and women carry out all manner of practical conservation and maintenance tasks, many are also available for visitor outreach, educating the public about the parks, their indigenous residents, and their flora and fauna with enthusiasm, passion and knowledge. If you get a chance to join a ranger-led talk or hike, there's no better way to understand Yellowstone and how its complex ecosystems work.
Yellowstone is easily and frequently combined with other parks such as Grand Teton, Yosemite or Glacier on small group holiday itineraries. You will usually stay for at least one full day and perhaps two, which is (just about) enough time to see the key landmarks. Because Yellowstone is very, very big. Even though Yellowstone doesn't get the crowds of parks such as the Grand Canyon, allowing for traffic it can still take two hours to drive between the Lamar Valley and Old Faithful. So, if you're on a bus with someone else organising the logistics, it tends to be a more relaxing way to travel.

Accommodations are usually hotels or campsites just outside one of the park's five entrance gates, although some trips may arrange accommodation inside the park boundaries. There are three main safety rules in Yellowstone: take the greatest of care around thermal features; don't hike unprepared (bears, remember?) and always ensure you store food correctly. Because if Yogi and Boo Boo start sniffing around areas where there are lots of people, it rarely ends happily.
Best time to visit Yellowstone
Every season has its charms in Yellowstone. If you want to see a landscape swept with thick snow, take a snowshoe hike, track wolves and enjoy there being hardly anyone else around, visit in winter. Spring and autumn see the scenery vividly lit with seasonal colours, and bears at their most active. Summer means the warmest weather, and masses of wildlife around, but the downside of course is that the park gets very crowded in July and August, slowing traffic down and making it that much harder to capture the perfect photo. But never impossible.