Wellness holidays in Greece
There's a healing history here that goes far deeper than a sparkling Mediterranean climate. So while the appeal of yoga classes overlooking the Aegean Sea under the glorious Grecian sun need little introduction, wellness holidays in Greece connect you to the birthplace of modern medicine, to herbs, healing plants and waterways that are steeped in ancient mythology.

The ancient Greeks were the first to link wellness of mind with wellness of body, and since before the time of Hippocrates Greece's sunshine, sea and flora have been employed to keep both in tip top condition.

These holidays are a celebration of the healing powers of nature, taking you away from the tourist-laden island hotspots and into the heart of some of Greece's most authentic corners. Where you can swim in waterfalls, practice pilates on a platform over the sea and enjoy aromatherapy massages with oils distilled from home-grown herbs. These are places where organic food isn't a lifestyle choice, but simply how it's been grown for generations, and where local hosts are on hand to help uncover the wildlife, walks and legends that surround you.

As Tamara Warner, from our wellness and aromatherapy specialists in the Peloponnese, Tamsorellas, explains, Greece offers more than superficial Mediterranean beauty and fresh food. "That's the wonder of it here – we use all the senses. It's a combination of the beauty of the natural environment and the power of the elements – the sea, the weather, the heat of the sun. It really feels like all your senses have been heightened. It's like magical realism in books – everything feels bigger, more exaggerated than in life."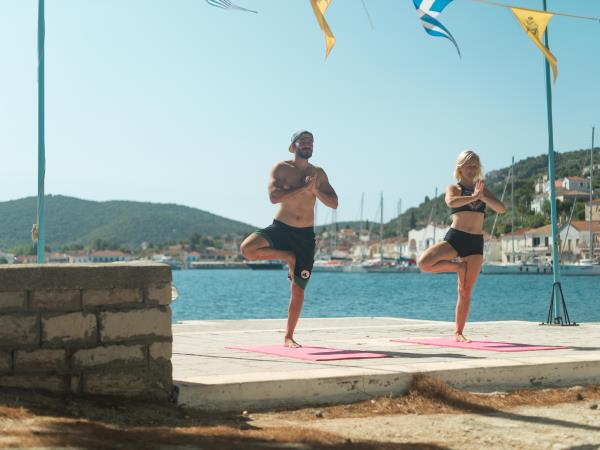 -A week of relaxation and yoga while sailing the Ionian sea!
From
£800

to

£1000
7 days
ex flights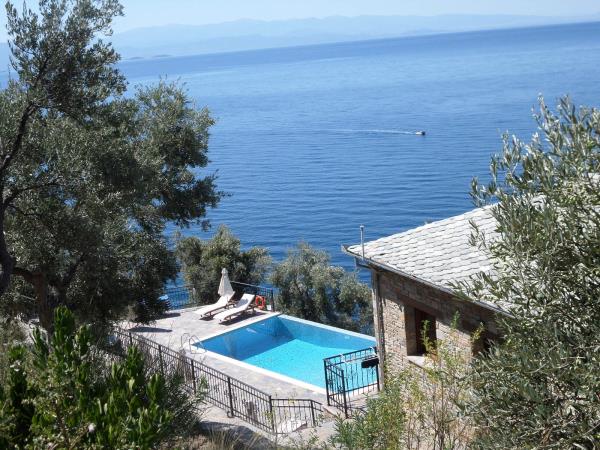 Holiday House & Yoga Retreat Venue Lefokastro Greece
What does a wellness holiday in Greece entail
Retreats in Greece are synonymous with tranquillity. There's no summer partying here; instead you'll be discovering some of the country's quietest corners like the Peloponnese or the Pelion Peninsula, where your nearest neighbours are farmers tending olive groves, sleepy tavernas – usually serving up traditional Greek dishes throughout the day – footpaths and pretty fishing villages. Don't expect super-luxe spa hotels either, the facilities on offer might not be five-star but the welcome, the treatments and classes are – and all are rooted in the power of the natural landscape.

It means what you can expect is beachside yoga, pilates on a platform overlooking the ocean, hikes to mountain waterfalls, guided meditation and aromatherapy massages and workshops - where your host will teach you to distil the essential oils from home-grown lemon verbena, lavender, thyme and more.
Wellness classes
Groups are kept small and intimate – a maximum of 12 on most retreats – with yoga, pilates, meditation and Qigong tuition as a result all very personalised and tailored to you as an individual. So if you've never done a downward dog before in your life you'll be well looked-after and very welcomed – even if the rest of your class has more experience.

Classes will usually take place in the early morning and evening, with the rest of the day at your leisure to swim, explore, hike or potter into the local village for a drink. Your hosts may offer some guided excursions – or simply advice and ideas on what to do. For Tamara Warner, the chance to challenge yourself is an integral part of any wellness retreat:

"About 4km from the house in the mountains there's this wonderful archaeological site. It's a beautiful, profound place, built on lay lines and with a 360° view. From there you can walk down to the river gorge and wade in up to your chest to explore the stalagmites and crystal-clear water in a cave. We recently had one lady with some mobility issues and she was very nervous about it. But we got into the water together and afterwards she said it was life changing. Another time I took a jog with a 72 year old guest – we jogged across the Olympia race track, it was just 200m, but according to some of the mythological tales describing the heroic feats of young men, you could almost imagine Achilles, Hector and Ajax flexing their muscles to compete there. It was a hugely poignant moment."
Food and drink
Most retreats will provide three healthy, home-cooked and vegetarian meals per day and indeed, the benefits of an escape into rural Greece is the abundance of freshly-grown local produce. Much of traditional Greek cooking is vegetarian – and if you're shopping at local markets it's almost guaranteed to be organic. How much of a detox you want is up to you – you're still on holiday remember, and many retreats will include a glass of local wine with dinner, or be happy to point you in the direction of a local taverna for a late afternoon Ouzo or a midday coffee.
Travelling solo?
You certainly won't be alone. Wellness holidays are all about you, so while you'll find a few friends or – more rarely – couples travelling together, most people embark on this kind of retreat alone. And if you want to avoid paying a single supplement you can choose to share a room with a fellow solo of the same sex, someone you're likely to be good friends with by the end of your trip.

Pippa Dale-Harris, from our yoga and wellness specialists in the Pelion Peninsula, Dolphin's Leap: "We find that everyone just groups together – even friends and couples come with the mindset of wanting to get to know everyone. There are communal spaces all around the house – you don't chill in your room here. So it's a very friendly, welcoming experience, particularly if you're travelling solo."
Our top trip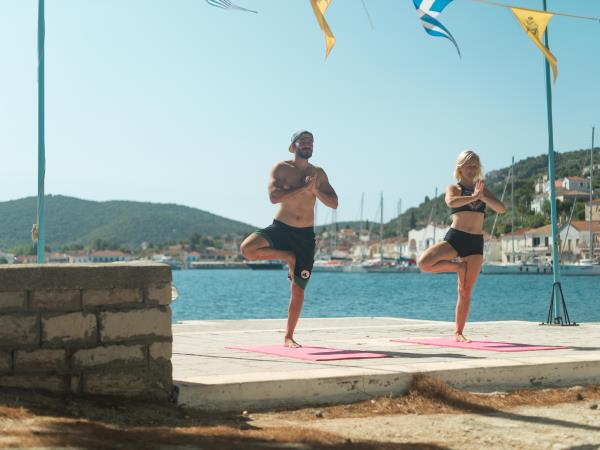 -A week of relaxation and yoga while sailing the Ionian sea!
From
£800

to

£1000
7 days
ex flights
Small group travel:
2024: 2 Jun, 30 Jun, 14 Jul
If you'd like to chat about Greece or need help finding a holiday to suit you we're very happy to help.

Greece wellness activities and highlights
Yoga
Yoga retreats in Greece make the most of its Mediterranean sunshine, with morning and evening practise on the beach, on a terrace overlooking the sea or even from the deck of a sailing yacht. Beginners are very welcome, as are more experienced yogis and small retreats (max 12 people) mean your expert teacher can tailor everything to suit you. So even if this is your first downward dog you'll be well supported.
Pilates
Pilates retreats focus on posture and relaxation, with daily classes suitable for beginners or the more experienced complemented with meditation, tai chi, stretching and Qi Gong sessions. The latter, a centuries-old martial art which coordinates slow-flowing movement, rhythmic breathing and a meditative state of mind, is particularly suitable for all ages and physical abilities. You might also enjoy optional reflexology or therapeutic massage treatments on these retreats.
Meditation
Daily guided meditation focuses your mind, and grounds you in the nature around you instead of your to-do list when you get home. It's a cornerstone of most retreats in Greece, where the lapping of waves is the perfect relaxation backing-track while you exhale a long, slow breath of pine-and thyme-scented air.
Aromatherapy
The use of herbs for therapy is an ancient Greek tradition that stretches back beyond the beginnings of modern medicine to the times of the Gods. Aromatherapy retreats offer a unique connection to Greek herbal lore – not only will you enjoy expert massages but you'll have the chance to learn how to distil your own essential oils from home-grown lemon verbena, lavender, rosemary, thyme and more. You'll create your own healing balms alongside your hosts, and learn more about the lore and legends attached to each ingredient.
Swimming
Water is one of the main reasons you'll choose Greece as a wellness destination; it is what nourishes the healing plants and lagoons of the lush Peloponnese, and is your constant companion on coastal retreats. Choose a yacht-based yoga retreat and you'll be surrounded by the sparkling blue stuff. Swimming, then is an inevitable pastime in Greece, whether it' s in the sheltered waters of the eastern Pelion Peninsula, the magical Polylimnio waterfalls or directly off the deck of your boat.
Hiking
Wellness retreats in Greece ground you in nature – and you'll find all retreats give you plenty of time in between yoga and pilates classes to explore on foot. You might be rambling through thyme-scented Pelion forest to a taverna in the nearest fishing village, exploring Crete's quiet archaeological sites and dramatic gorges on a guided hike or learning more about herbal lore as you walk through olive groves in the company of your expert local hosts. For Pippa Dale-Harris, from our Greece yoga and wellness specialists, Dolphin's Leap, walking is simply a way of life during retreats on the Pelion Peninsula. She says "Your carbon footprint here is very small – everyone just walks everywhere. In addition to our own village just a 10-minute walk away there are two lovely fishing villages within 45 minutes' walk in either direction, with Greek tavernas that are open all day. So, if you want to walk to one to have a drink and enjoy traditional Greek hospitality you can. The walks are all coastal too, so you're always hugging the sea and can stop for a swim on the way."
Best time to go on a wellness holiday in Greece
Most wellness holidays in Greece avoid the searing heat of the summer sun and opt to enjoy the more relaxing, refreshing warmth found in the April to May spring or September to October autumn. That's not to say July and August need to be completely avoided – you won't encounter the school summer holiday crowds that threaten to submerge Santorini or Mykonos, for example – and your retreat will simply arrange activities and classes for early in the morning and later in the evening to make the most of the coolest times of day. Although rarer, some retreats do offer winter stays too with cosy log-burning stoves to keep you warm even during the chilliest nights.

Pippa Dale-Harris from our wellness and yoga specialists Dolphin's Leap shares her advice on when to go on a wellness break in Greece: "You might have apricots and cherries in June, and apples, pears and quinces in September/October. For us seasonal produce is so important. September is also a great time of year for swimming – the water is at its warmest. But there's something special about each month. The end of July to August is hot, but retreats will offer a different programme, starting earlier in the morning with lots of time off in the middle of the day. Our July retreat will be hottest – but there's lots of shade around the property which is surrounded by forest and you can stop and swim whenever you want."