What does a Greece sailing holiday entail?
If you're looking out of your window and picturing sheets on the washing line as billowing sails or the garden decking as sun bleached and salty then it might well be time to consider a sailing holiday in Greece to help turn that dreamy Aegean odyssey into reality.

Read on to find out what you can expect on a sailing holiday in Greece – from who's going to be on board to the best time to go, all wrapped up, stowed away and ready to be perused from the comfort of your hammock – apologies, armchair.
Who's going to be on board?
Sailing holidays in Greece are normally small group trips with the size of the boat determining the number of passengers. Maximum group sizes range from eight to 17 passengers. For example, 11 passengers could find themselves living within two double cabins, two twin cabins and one triple berth cabin. Often the skipper of the boat will allocate cabins on arrival with solo travellers sharing with someone of the same gender (solo supplements may be available for private cabins). The skipper and crew will all be experienced sailors and sometimes the skipper will double up as the tour leader.
On some high-end tours you might also be accompanied by a host or hostess to ensure everything runs smoothly. On others an expert naturalist/biologist might be part of the team, especially on tours that focus on wildlife watching or marine conservation projects. Wherever possible crew members, including the skipper, will be Greek so as to offer a more personal account of the history and culture of the islands, as well as ensuring income goes back into local pockets. Passengers looking for a more intimate sailing experience – a honeymoon, perhaps – can tailor make a tour to suit their wishes with a choice of private crewed boat hire or an option to share with other likeminded guests helping to conjure up something extra special.

For the majority of these holidays, you won't need any experience of sailing although some trips can be more 'hands on' than others. Brushing up on a few knots and sailing terminology is always a good place to start; however, land-lubbers are more than welcome with the chance to learn as you sail probably the best way to get the most from the experience.
What are conditions like?
There are a variety of sailing boats available for exploring Greece. Luxury gulets, for instance, operate on 5-star standards with anything from four to eight en suite cabins providing sleeping arrangements for up to 17 passengers. Luxury will always equal more space and more mod-cons as well as a price tag to match. Less opulent craft have a slightly more adventurous approach – think camping, at sea. Bathrooms will be shared, electricity will be minimal and WiFi won't exist.

These sorts of sailing holidays in Greece might take place on a 44ft – 50ft monohull yacht, designed for a of eight to 11 passengers. Toilets will usually be operated by a hand pump and showers should be kept short to help conserve hot water and the patience of fellow passengers. Yes, you can expect to get slightly grubby however, therein lies the appeal. It's an adventure. Don't look for plug sockets and hairdryers; stay up on deck and make the most of the elements and those incredible Aegean sunsets.
Our top Greece Holiday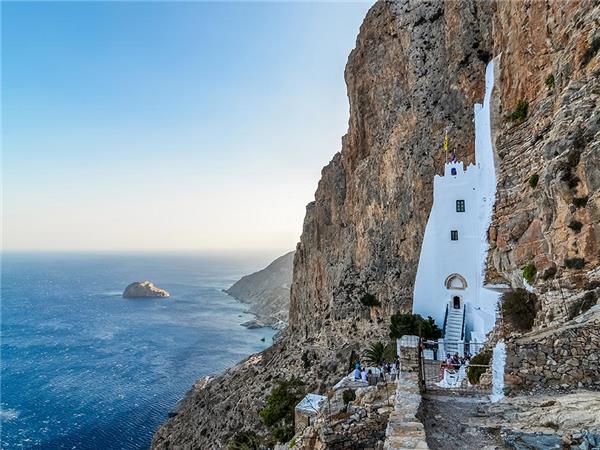 Discover a side of Greece riddled with myth and magic.
From
£3115
9 days
ex flights
Small group travel:

If you'd like to chat about Greece or need help finding a holiday to suit you we're very happy to help.

Where can I go on a Greece sailing holiday?
The Cyclades archipelago sits to the southeast of the Greek mainland, within easy access of Athens, and boasts a really varied sailing itinerary between more than 200 islands. The larger, inhabited islands of Santorini, Mykonos and Naxos usually stand out as popular highlights although, sailing to Sifnos, Syros and around some of the Small/Lesser Cyclades is also hugely rewarding from a peaceful and more traditional perceptive. Over the course of one or two weeks it's possible to sail for approximately four hours between islands before anchoring either at the main harbour or at a secluded cove or surrounded by literally nothing other than water. Itineraries are often not fixed, as the very nature of a sailing holiday means you are dependent on which way the wind blows (and how hard!) – so not knowing where you'll land each day adds a real sense of adventure to these trips.

Hiking and cycling on dry land or simply swimming or snorkelling off the back of the boat, as well as scuba diving, can all feature within a typical itinerary, and your skipper will be able to make alternative suggestions depending on the weather and the wishes of the group. Flexibility is key to a successful sailing holiday in Greece with everything from volcanic calderas and scenic sunset spots, to time spent on secluded beaches - where clothes are entirely optional – ensuring you'll never be left 'all at sea'.
What are the benefits of sailing?
Numerous islands in Greece, particularly larger ones like Mykonos, Santorini and Naxos, get really busy during the summer with cruise ships clogging up the main ports and hundreds of backpackers pouring out of gigantic ferries. One of the benefits of sailing on a small boat is that you can anchor wherever you choose and sail to bays and beaches that will be completely inaccessible to a much larger vessel. There will be plenty of opportunities to discover traditional Greek culture, too, as you eat at authentic waterfront tavernas, without the need for bulk bookings and English-written menus. Mooring at remote fishing villages offers local people a chance to benefit financially, even though they're way off the traditional tourist track. And hikes to watch the sunset from a clifftop church or lazy afternoons strolling around whitewashed labyrinths are all the more enjoyable without worrying about what time larger cruise ships and ferries have to set sail.
Things to do
Combining a sailing trip with additional activities is a great way to break up the day with photography and painting just a couple of creative outlets that instantly go hand in hand with a sailing holiday in Greece. More organised activities, also, are really worthwhile blending into a typical island-hopping itinerary with opportunities to go cycling on Siphnos, Seriphos and Syros, certain to help you set sail from a whole new perspective. Snorkelling and scuba diving are just the perfect way to understand Greece, below the surface, whilst conservation holidays focus on protecting marine life and come complete with an on board expert biologist/naturalist.

Some holidays, especially on the luxury gulets, have their own Zodiac dinghies to transport you close to shore without disturbing the wildlife. You might also find SUP boards, wake boards and fishing equipment at your disposal. Basically, whatever you fancy can be arranged although, sometimes, just a good book and a glass of wine is all you need to top things off really, rather nicely.
When's the best time to go sailing in Greece?
Dianne Muldoon, from our sailing in Greece specialists, Intrepid Travel:
"For most travellers, the best time to go sailing in Greece is during July and August. The air and water temperatures are at their warmest and nothing beats jumping off the back of a yacht into the clear blue waters of the Aegean. However, if you've never been on a sailing boat before or are prone to seasickness, these months may not be the best time to travel as they coincide with the Meltemi winds – warm, dry winds that blow from the north. They can be unpredictable as they can occur in clear weather which is why having an experienced local skipper is a must. If the winds pick up too much skippers will pull into a sheltered bay until they pass. The Meltemi can make for some exhilarating sailing. However, if you want to avoid the midsummer heat and the Meltemi winds, May and September are probably the best times to go sailing in Greece."