Travelling in Greece with kids

From splashing in the Med to meeting the Minotaur, Greece is perfect to stimulate kids.

Travelling in Greece with kids
is a cinch. The family-oriented Greeks make children feel welcome and safe everywhere: exploring islands on land or sea, playing on fantastic beaches or rustic estates, tracking bears, or just enjoying delicious but oh-so-cheap taverna meals. Greece is also perfect for combining beach-related relaxation or burning up youthful energy with activities: hiking/biking mountain trails, rafting rivers or sea kayaking, adrenaline ocean fun like wind/kitesurfing. You can effortlessly add cultural spins too, tying stunning ancient ruins into the brilliant stories spun around them, from Minotaurs and gods to legendary kings and heroes.
For information on health & safety, please
see our Tips page
.
Our Greece family Holidays
Activities for families in Greece
Meet the (exciting) olds
If your kids think you're old and dull, Greece's past proves old isn't dull! Visit amazing spots once haunted by beasts like the Minotaur, search for the cave where Odysseus hid his Trojan plunder, visit prophecy central at Delphi – or the majestic home of the Gods on Mt Olympus.
Elbow Greece
Get kids' elbows and everything else working on an activity break. Put the wind up their sails with wind/kitesurfers or helping sail from idyllic island to idyllic island. Hit mountain or woodland trails, as easy or tough as they fancy, or plunge down a foaming river on a raft.
Nature boys (and girls)
Greece has wildlife to enchant any child with an interest in nature. Track bears on the mainland or find out about endangered marine life like monk seals and turtles while cruising around fantastic islands. Or spot eagles soaring above magic mountains and pelicans flapping in pretty lagoons.
Our top Greece family Holiday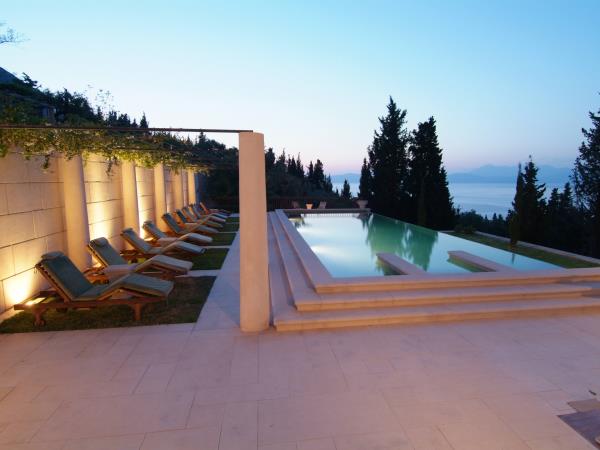 Organic country estate by the sea on Greek island of Ithaca
From
€1425

to

€2600
per person per week
Accommodation
If you'd like to chat about Greece or need help finding a holiday to suit you we're very happy to help.

Travelling in Greece with kids
Marilyn Raftopulos from our Ithaca supplier Levendis Estates believes offering something for both parents and kids to enjoy is the key to happy travelling in Greece with kids:
"Children are excited to feed the farm animals each morning or go exploring in the Estate's forest. And with four houses scattered around the grounds – though each house is very private - children often form strong holiday friendships. This means parents can relax into enjoying the activities provided for them! So they might welcome the morning with a yoga or Pilates class, meditation or massage, or taking a run before joining their children at the coffee shop for mid-morning snacks or to select from the menu so dinner will be delivered to them at a convenient time. And all that is just the morning! The afternoon could be beach, boating, kayaking or sea excursions to nearby islands - and always with a late afternoon stop-off at the village café on the way 'home' for a long cool drinks in the shade. Families return for years on end – one 12-year-old boy has come to Levendis for nine years!"
Nikos Kritsinelias of our supplier Land Life explains how travelling in Greece with kids can be a wonderfully stimulating educational experience:
"Our trips are excellent for teaching children about different cultures, food, history, geography, climate, environment and so much more! We aim to provide a venue for experiences that both parents and kids would never have had otherwise. Visiting world famous historical monuments like Mycenae and Epidavros, learning cultural activities like Greek traditional dances, and how olive oil or sweets are produced are something families always remember."