Volunteering holidays in Greece
There's a year practically etched into the Greek consciousness: 2009, the beginning of The Crisis. "There were tremendous changes in the country for everybody here," says Chantel Kyriakopoulou-Beuvink, the owner of our volunteering holiday specialists Natural Greece. "There's hardly any funding for nature and the environment."
The Greek economy remains in the doldrums, with conservation organisations struggling to get support from a strapped government and people. They've had to adapt, bidding for funding from elsewhere and – vitally – finding volunteers from abroad. Tempting people to Greece isn't the problem; the challenge is getting visitors to places where they can make a difference. That means swapping Greek Islands like Santorini and Mykonos for the hushed Pindos Mountains and Peloponnese peninsula.
The best volunteering holidays in Greece work in partnership with conservation charities and use Greek biologists and wildlife experts as guides. "People in the field are mainly biologists or ornithologists from these wildlife charities," says Chantel. "People get in touch with the real Greece and real Greeks."
No day is the same, either – whether you're on boat watching out for dolphins or
learning about bears
in the Northern Pindos Mountains. "Everything you do as a volunteer can contain surprises," says Chantel. "It could be that you don't see much one morning or you can see something that you never expected."
Types of volunteering holidays in Greece
When volunteering in Greece, you'll usually keep the sea within stone-skimming distance. This is where you'll find some of the country's most vulnerable creatures, including loggerhead turtles and dolphins. Other conservation projects take you up to the mountainous northern border, where you'll track brown bears and learn how biologists fight to keep both the human and goat-gobbling residents happy. Keep reading to find out more about the types of volunteering holidays in Greece.
Dive with dolphins
Go on a dolphin watching trip with a difference while making a difference. Instead of boarding a tourist boat, you'll get the chance to join a marine research vessel on field trips skippered by biologists on the hunt for pods of dolphins.
"I don't think there is a time when you stop feeling excited about seeing animals in their natural habitat," says Dimitra Christidi, a guide and conservationist at Natural Greece. "I think, for me at least, it's mesmerising every time."
After a briefing, you'll help log dolphin behaviour and numbers; by the end, you might get the hang of identifying dolphins by their dorsal fins. It's not all hard work, either. The boats are well-stocked with snorkels and flippers, meandering back to port via remote islands and beaches.
When:
June to September
Where:
Greek Islands – National Marine Park of Alonissos or the Ionian Islands
Who:
Anyone from 11 years old and upwards
Read more about
dolphin watching holidays in Greece.
Our Greece Holidays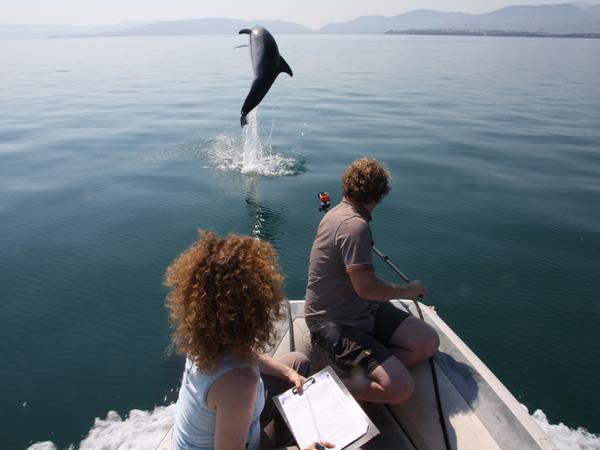 Dolphin research and conservation in western Greece
From
€720

to

€750
6 days
ex flights
If you'd like to chat about Greece or need help finding a holiday to suit you we're very happy to help.

Seek out bears
Believe it or not, there's a healthy – if people-shy – population of around 500 bears roaming around the Pindos Mountains, along the raggedy-edged northern border of Greece. Delve into this under-visited region, and you'll be matched up with conservationists and guides who work with charities like
Callisto.
"Callisto is an environmental NGO that works with bears and wolves in Greece," says Dimitra Christidi, a guide and conservationist who works with Chantel at Natural Greece. "It's a very well hidden secret. This is the whole idea behind these trips: to get to know faraway parts of Greece that are not very touristy."
Understanding the challenges of farmers, fruit growers and beekeepers in the region is a big part of the holiday; you'll soon discover that the success of the growing population of bears here is down to the conservationists working to balance the needs of bears with the needs of villagers.
When:
September and October
Where:
Northern Pindos Mountains
Who:
Anyone from 12 years old upwards
Read more about
bear tracking in Greece.