Responsible tourism in Greece
---
Travel right in Greece
With reports that UK holiday-makers are shunning travel to Greece, the tabloids publishing panic-inducing headlines and even the UK Government seemingly doing their best to deter tourists, at Responsible Travel we are keen to dispel some of the myths, and show solidarity with the Greeks as best we can.

Tourism makes up 18 percent of GDP (up to 80 percent of income on the islands), and 19 percent of the labour force is involved directly or indirectly in the industry. More worryingly, the negative press coverage of Greece has come right before the summer holidays – the two months of the year when businesses finally break even, and a drop in tourist numbers could mean a financial struggle, job losses to add to
Greek's heavy unemployment figures – or even bankruptcy.


But Responsible Travel genuinely believes that there is no better time to travel to Greece – for the Greeks, or for holidaymakers, as cash is much needed, and there are great deals to be had. Click here to discover
why you should go to Greece now
– with advice on what to take, where to stay, and how to have a responsible holiday in Greece.
Wildlife & environment
---
OVER-DEVELOPMENT AND NATURE ENCLAVES
Bravura Natura
---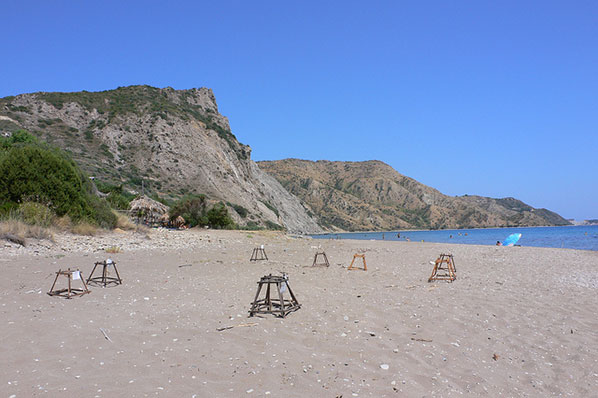 In 1992, EU governments adopted legislation designed to protect the most seriously threatened habitats and species across Europe, based around the creation of a network of protected sites called
Natura 2000
. Special Protection Areas (SPAs) focus on protecting and managing areas important for rare and vulnerable birds, while Special Areas of Conservation (SACs) provide for rare and vulnerable animals, plants and habitats.
Greece has proved an exemplary participant in Natura 2000, proposing an impressive 239 SACs comprising just over 20 percent of the national territory. A further 151 SPAs have been proposed, though not yet finalised.
Though Greece has done well in setting up its Natura 2000 framework, in an ideal world it would also be moving faster to work out its best options – and best practice – on the issue of connectivity between different protected habitats – a concept close to the heart of Natura 2000. This would cover such things as rivers that flow between different SAC/SPA sites, as well as buffer zones to offer extra protection to core areas where there are no clear connecting corridors like rivers or valleys.
The concept of connectivity is seen as the next step to boost the real effectiveness of the Natura 2000 ecological network. Greece is in the process of putting this in place via its national "Master Plan for the Protection of Nature". Responsible eco-tourism is a brilliant tool to show the economic benefits as well as ecological ones of putting the plan in place quickly.
Source:
CALLISTO
What you can do:
Be a responsible tourist in Greece. Responsible Travel works with companies and ethical tours that focus on working with local guides and small businesses that boost sustainable tourism which supports both the environment and broader local communities. Donate to groups working to protect the environment and wildlife in Greece.
Care For The Wild
have a fine Greek bear rescue programme where you can make a simple donation or adopt a bear, while
Archelon
help protect endangered Greek turtles.
CALLISTO
works to support the wider Greek environment and its wildlife.
Over-development
---
Greece has had problems with careless assaults on its landscape for thousands of years – sadly, problems with deforestation and soil erosion were present in classical times. Today, we really do know better; yet industrialisation and the growth of mass tourism continues to up the ante when it comes to human impact on fragile environments.
While official developments hardly cover themselves in eco-aware glory, there is also a huge issue with illegal building in both coastal and forest areas which has been going on since the 1970s. Despite laws being put in place and green protests made by environmentally-concerned locals, a combination of under-prioritising and simple corruption have meant little is often done to prevent land being taken and developed despite any rules to the contrary. Population growth and increasing urbanisation contribute to land pressures. Alarmingly, a number of illegal developments have in recent years been 'legalised' on the basis of so-called 'social need'. In a law voted by the Greek Parliament in June 2013, the Tourism Ministry chose to promote large holiday compounds all over the country, even within ecologically sensitive areas, many of which are protected under national and EU legislation.
But bad development not only physically blights coastal and other areas with concrete eyesores, but adds to severe strains on water supplies for all, as well as upping the threat to local wildlife from pollution or habitat destruction.

Chantel Kyriakopoulou-Beuvink from our supplier Natural Greece puts things succinctly:
"Sustainable and responsible tourism is an issue that deserves more attention than ever in Greece. In a country with 22 million visitors in 2014, tourism largely continues to operate with old paradigms, polluting natural habitats, destroying ecosystems and often replacing it with concrete buildings isolated from its place - from local culture, energy and natural flows. These developments have had their negative impacts on nature, the environment and local communities in Greece."
Short-term needs – and a desperate desire to make money in very hard times – are an understandable pressure in Greece today. But for the long-term future, everyone's interests are better served by greater thought and careful sustainable planning. While too much focus remains on large-scale mass tourist monoculture, there are some positive signs in the slow growth of interest in expanding agrotourism and culinary tourism which offer far more support for local communities and to the maintenance of rural ways of life.
Source:
Green Europe Journal
What you can do:
Responsible Travel promotes staying in small-scale, locally-owned and environmentally aware accommodation and using ethical local tour guides. Try to preserve resources (e.g. don't waste water) and leave as little trace as possible on any landscape you are going through. Avoid all-inclusive holidays in Greece – find out why
here
.
Responsible tourism tips
---
Travel better in Greece
The Ionian Islands are key breeding sites for the Mediterranean's endangered loggerhead turtle, and designated nesting beaches on islands like Zakynthos are off limit between dusk and dawn when the turtles come ashore to lay eggs. Nesting season is June to early August, with hatchlings emerging two months later – all events that coincide closely with peak holiday season. Also avoid taking boating trips in the Bay of Laganas because of the risk of collision with swimming turtles. On any Ionian beach, avoid using beach umbrellas on dry sand areas as you run the risk of piercing buried eggs – and flatten any sandcastles which could act as obstacles for nesting turtles. You can get further information from Archelon – the Sea Turtle Protection Society of Greece.
Wildfires are a major problem in Greece during the tinder-dry warmer months. In 2012, over 170 fires sped rapidly (like wildfire, in fact) across swathes of land, killing more than 50 people as well as taking an uncounted toll on wildlife. After-effects can last for years, with places like Mt Parnith and parts of the Peloponnese still scarred by conflagrations from back in 2007. Take huge care not to do anything that might spark a fire. Do not light fires in the wild or discard glass bottles which could concentrate sunlight and start a blaze. If you see glass lying in scrub pick it up and dispose of it elsewhere. If you come across a fire, call for help immediately from the fire brigade and locals. Do not try and fight it yourself.
Don't buy natural sponges from shops. They will almost certainly have been collected irresponsibly, with devastating results for the marine ecosystems. The same applies to any coral products.
Do all you can to support rural communities and traditions. Rural Greece has suffered for years – even more with recent austerity – due to migration from rural areas to cities because of lack of local opportunities to earn a living. Community-based tourism based on using accommodation, tours, restaurants and food from local producers can play a key role in providing money and opportunities to help locals – especially young people – believe they and their communities have a future where they are, thus helping maintain the life and traditions of rural Greece.
Consider a dolphin and whale watching tour in which you can aid research that contributes to monitoring and conservation of the local dolphin population. However, not all dolphin and whale trips can claim to fall under the banner of responsible tourism. Many tours that offer a chance to swim may also be poorly conceived and conducted, and therefore irresponsible. Please fully consider the environmental policies of any operator before considering a tour. There are also water parks in Greece that use captive dolphins to perform trips. Here at Responsible Travel we are against all such dolphinaria. Read our guide to responsible tourism dolphin watching here.