Things to see & do in
the Azores, Portugal
The Azores is not your typical beach holiday destination. This spectacular volcanic archipelago, a Portuguese autonomous region, is one for the active traveller, where the range of activities is as long as a blue whale from head to tail. Rugged, remote and undeniably romantic,
the Azores
is among the best places in the world for responsible whale watching. Over 25 species of whale and dolphin can be found in these waters, some for just a few months, and others such as sperm whales resident all year round. The deep waters (off Pico it's some 3km to the bottom) heated by the Gulf Stream are rich in nutrients, making for perfect feeding territory.
Most Azores holidays focus on the islands of Pico, Faial, São Miguel and São Jorge, travelling between them by boat with a few nights spent on each. The coastlines are dotted with vigia towers, a remnant of the Azores' whale hunting past which only came to an end as recently as the 1980s. Now hunters are turned watchers, and protecting the whales is the highest priority; there is a strict code of conduct at sea. Master spotters in the towers direct the whale watching boats, and are so knowledgeable that they can often accurately gauge where a whale will surface just by the angle of its dive so the boat can be there waiting for it.
There's no mistaking the archipelago's volcanic origins: all around you'll encounters deep lava caves, smoking fumaroles, and vast crater lakes. Try the local favourite cozido das Furnas, a stew boiled in geothermal steam. It all makes for a spectacular backdrop that encourages visitors to be out and about exploring all day long, and while the whales are understandably the big attraction here, they're by no means the only one. You might spend days kayaking on crater lakes, swimming in tidal pools, snorkelling with dolphins, canyoning, mountain biking, walking or wine tasting. It probably doesn't need saying, but the Azores archipelago is an exceptional place for a family holiday.
Pico
The inky-black waters off Pico are a paradise for deep diving whales in search of giant squid. Blue whales, the largest animal on the planet, are an unforgettable sight, but you can also see fin, sei, minke and beaked whales among others depending on the time of year. Pico is not so developed as other islands, and wildly beautiful. Another distinctive feature here is the UNESCO-rated vineyards, protected from the Atlantic elements by walls of black lava rock through which the vines creep in and out.
Faial
Known as the Ilha Azul – Blue Island – for the bright hydrangeas that carpet the island in summer, Faial is also notable for its black sand beaches and the immense volcanic caldeira in the centre of the island, a popular walking location. You may visit the harbour town of Horta in which case keep an eye out for the murals traditionally painted by passing sailors to record their adventures, and sfor crimshaw – artworks and handicrafts made from whale teeth.
Our top Portugal Holiday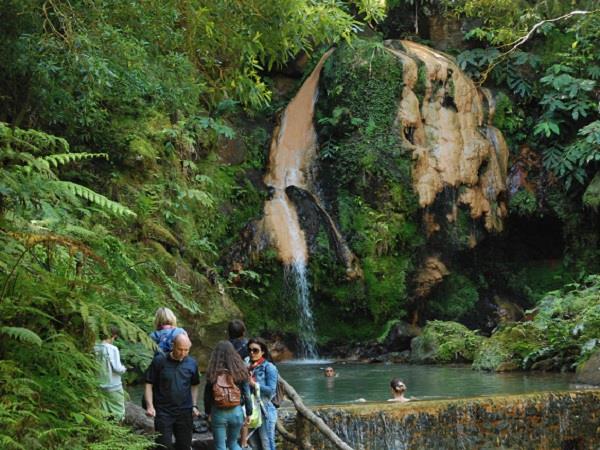 Dolphins, whales and explore fiery volcanic islands!
From
£665
7 days
ex flights
Small group travel:
2022: 2 Apr, 9 Apr, 16 Apr, 23 Apr, 30 Apr, 7 May, 14 May, 21 May, 28 May, 4 Jun, 11 Jun, 18 Jun, 25 Jun, 2 Jul, 9 Jul, 16 Jul, 23 Jul, 30 Jul, 6 Aug, 13 Aug, 20 Aug, 27 Aug, 3 Sep, 10 Sep, 17 Sep, 24 Sep, 1 Oct, 8 Oct, 15 Oct, 22 Oct, 29 Oct
If you'd like to chat about Portugal or need help finding a holiday to suit you we're very happy to help.

The climate in the Azores is unpredictable, though pretty mild throughout the year, and breezy with it. Visit in mid-March to mid-June for your best chance to see blue whales, drawn to the plankton blooms of spring. The water tends to be calmest for boat tours in summer – winter, which sees significant rainfall, means choppy waves that can make small boat trips uncomfortable, and the abilities of whale spotters on land are hindered by the rough sea and grey skies.

The tours around the island were all brilliant but the whale watching was unbelievably wonderful; really emotional and very special

"This was a fantastic holiday. All the staff, guides and marine biologists were brilliant. I did wonder if our 6 year old would be a bit too young but she really enjoyed it and can't wait to go back to school to tell everyone about all the different types of dolphins we saw. The land tour of the island was also well worth doing: swimming in natural thermal water, having a traditional lunch, visiting a tea plantation, drinking natural spring water straight from the ground, and plenty of beautiful scenery." – Fiona Bashford in a review of her whale watching holiday in the Azores

"The tours around the island were all brilliant but the whale watching was unbelievably wonderful; really emotional and very special. But all the activities and tours were excellent" – Fiona Godwin-Brown in a review of her Azores island hopping holiday