Types of walking holidays
Choosing a walking holiday feels a bit like when you go to buy a pair of hiking boots. There are so many choose from, to suit different budgets, different terrains and different seasons.. So we have categorized our walking holidays just to make your search a little easier. If you are just stepping out for the first time, you will want an introductory or moderate level walking holiday. If you want to work it a bit, training up before you go and stretching yourself a little on holiday, then go for something like our strenuous walking holidays or winter walking holidays. And if you really want to push the boat out and every single muscle in your body, go for one of our very challenging treks or climbing holidays. Whichever you choose, just make sure you have the right boots.
Introductory walking
If a long Sunday afternoon walk is about all you can manage, time wise or stamina wise, an
introductory walking
trip will help put a spring in your step. No experience required, but healthy enough to walk 4-5 hours on flat–ish trails such as the Almalfi or Croatian Coast Path, ancient mountain pathways such as the Nakansendo Trail in Japan, or simply combine walking with wine tasting in Tuscany. Rude not to, really.
Moderate walking
If you have pushed yourself up a few hills of a Sunday these
moderate walking holidays
will push you just a bit more, with 5-8 hours walking per day, and some days stretching those calves more than others, but leaving you a bit of rest in between, so you can take in the sights. The Alentjo region of Portugal or even the Mont Blanc circuit (not ascent) will whet your appetite as examples.
Walking plus one
There are more and more walking holidays for people who want to combine it with another activity, or learning a new skill. For example, you can combine Spanish classes with strolls along sections of Spain's famous Camino de Santiago. Or salute the sun in the French Alps from both a yoga studio and a mountainside. Hike with huskies in Finland, or combine walking with kayaking in Patagonia.
Self-guided walking
Many walking holidays are for groups, however, if you prefer to walk independently, then there are superb options out there. An organised self-guided walking holiday takes all the work out of it for you, providing maps, copious notes, accommodation, luggage transfers and food. So all you have to do is walk. It depends on the walk, but in general no previous experience is needed, although an ability to read a map does help!
Walking safari
This is how safaris used to be – experiencing wildlife by trekking and tracking with expert guides. For example, walk through Tanzania's Silela Forest following elephant and buffalo trails to secret waterholes, or walk 10 kms per day along Zambia's Mupamadzi River in search of lions, buffalo and extraordinary birdlife. Walking safaris range from a 3-4 hour walk from camp, to a mobile safari moving from camp to camp.
Centre-based walking
Basing yourself in one place, but taking different walks every day, centre-based walking holidays are great for people who want to explore but not keep unpacking and repacking. They range from basing yourself in a wilderness lodge in Canada's Rockies, an auberge in the Poitou-Charentes region of France, a 4 star hotel in Catalonia or a country hotel in the Rif Mountains of Morocco.
Our top Walking Holiday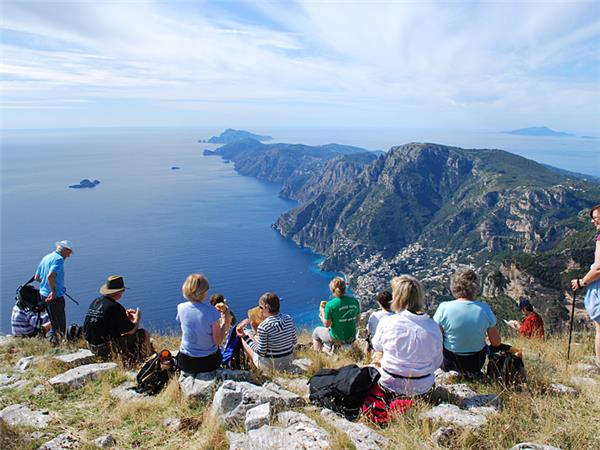 Walk in lemon groves and hillside villages
From
£1579

to

£2249
8 days
inc UK flights
Small group travel:
2023: 17 Jun, 24 Jun, 1 Jul, 22 Jul, 29 Jul, 5 Aug, 12 Aug, 19 Aug, 26 Aug, 2 Sep, 9 Sep, 14 Oct, 28 Oct, 4 Nov, 11 Nov, 18 Nov, 23 Dec, 30 Dec
2024: 10 Feb, 17 Feb, 24 Feb, 2 Mar, 9 Mar, 16 Mar, 23 Mar, 30 Mar, 6 Apr, 13 Apr, 20 Apr, 27 Apr, 4 May, 11 May, 18 May, 25 May, 1 Jun, 8 Jun, 15 Jun, 22 Jun, 29 Jun, 6 Jul, 13 Jul, 20 Jul, 27 Jul, 3 Aug, 10 Aug, 17 Aug, 24 Aug, 31 Aug, 7 Sep, 14 Sep, 21 Sep, 28 Sep, 5 Oct, 12 Oct ...
If you'd like to chat about Walking or need help finding a holiday to suit you we're very happy to help.

Strenuous walking
Treks like Everest Base Camp, Mount Toubkal in the Atlas Mountains or the remote peaks of Los Glaciares National Parks in Patagonia are definitely strenuous walking holidays, and definitely for regular gym goers, runners or serious hikers. These trips take you into challenging mountain terrain, usually at altitude, so you need good all round fitness to adjust to this too. These walking holidays are nearly always guided.
Wilderness trekking
The world's truly wild places are few and far between these days as we humans tend to get everywhere.
Wilderness trekking holidays
take place where you will meet virtually no other hikers, in locations that are almost raw in their beauty. Most require a reasonable but not super level of fitness, and often require camping. Examples include Yunnan Province in China, the Khangai Mountains of Mongolia or the Maliau Basin of Borneo.
Winter walking
You can still get your fix of the mountains in winter, even if you don't ski, on a 'wake up the senses' winter walking holiday. Learn new skills such as snowshoeing in the Mercantour region of the lower Alps, or using crampons and ice picks in Scotland's Cairngorms. Or just enjoy the mild winters and empty mountains around Andalucia or Alicante. Whichever you choose, these holidays usually require no experience, but reasonable fitness.
Pilgrimage walks
The most famous is, of course, the Camino de Santiago in Spain, which religious pilgrims still undertake, but worshippers of all things natural love walking love too. There are many other such
ancient pilgrimages
in the world, however, such as the Kumano Kodo Trail in Japan along the sacred and shrine filled Kii Peninsula or, closer to home, The Pilgrims Way in Kent.
Very challenging trekking
When does a strenuous walking holiday become a very challenging trek? Well, Mount Toubkal is strenuous, but in winter, it's a different ball game. Patagonia is out of this world, but trekking across its Ice Cap is another planet. And Kilimanjaro is what it is. Serious fitness, stamina and a desire to just keep going for 7-9 hours a day, sometimes for up to 14 days, are what's needed in these majestic mountain terrains.
High altitude trekking
It's tough at the top, and that is where you are headed on high altitude trekking holidays. Think High Inca Trail, Kilimanjaro, Everest Base Camp, Mt. Kinabalu in Borneo, or the Annapurna Base Camp. And then think serious training, as guided by holiday company experts, weekend trips to trek in local mountains before you go, cold temperatures, long days, high altitudes. Oh, and some of the most gobsmacking scenery in the world. Beauty never comes easy, after all.
Climbing
A trek turns into a climbing holiday when you start to add in all the gadgets, such as ropes, crampons and ice picks. You need to up your skills for these holidays, not just your stamina, although many climbing holidays do take beginners, spending some time training at lower altitudes. Fitness levels need to be high though. Climbing climaxes include the volcanoes of Ecuador, ice climbing on Mont Blanc, and the dramatic rock formations of Granada, Spain.