It doesn't matter how you want to spend your December, whether it's relaxing under sunny skies, discovering another culture or stepping into a magical snowscape, there's a holiday to suit. Our most popular tours range from seeing the Northern Lights to, more unusually, spending time with tribes in Morocco. We've picked our top 10 December holidays, from dancing in Cuba to penguin-spotting cruises, to help you decide.
1. See the Northern Lights
2. Spend Christmas in Cuba
Christmas is celebrated a little differently in Cuba – think delicious seafood and firework fiestas, rather than turkey and TV specials. If you're looking for an alternative way to spend December, but still want to feel festive, come and enjoy Cuban hospitality with a stay at a family-run homestay – with a side order of colourful island culture and some exceptional rum cocktails.
Our top selling trip:
Cuba tour

See all our trips:
Cuba holidays

Read more:
Cuba travel guide
and
Christmas in Cuba guide
3. Journey to the end of the world
If you've ever imagined yourself as an adventurer, it doesn't get much more adventurous than this: crossing ice-packed oceans in search of penguins and seal pups on an expedition cruise in Antarctica. In December, the warmer weather (and lighter, longer days) have already melted enough ice for small ships to pass through and see the polar wildlife. Passengers can even embark on small sea kayaking and camping trips.
Our top selling trip:
Antarctic Peninsula Cruise

See all our trips:
Antarctica holidays

Read more:
Antarctica travel guide
and
Expedition cruise guide
4. Dance away the December blues
Cuba is a fun-filled place to spend this time of the year – December is full of festivals, from fiery street parties to festive feasts. It's cooler now, too, so what better way to experience the local culture than by dancing the nights away – with your own personal tutor to guide you. Live music and salsa beats will lift your spirits, and offer you an insight into Cuban life.
Our top selling trip:
Cuba salsa dance holiday
See all our trips:
Cuba holidays

Read more:
Dancing holidays guide
and
Cuba cultural holidays guide
5. A Finnish family holiday with Santa
Finnish Lapland is a magical December destination for a family holiday, and kids will love the winter scenery that looks like a scene straight from Frozen. Steer clear of the mass-market attractions with a tour that takes you on sleigh rides through quiet, snow-dusted forests and past herds of reindeer. What could beat a week spent sledding and cross-country skiing, followed by a family visit to see Santa?
Our top selling trip:
Finland family multi activity holiday
See all our trips:
Finland holidays

Read more:
Finland family travel guide
and
Winter multi activity guide
6. Dodge the crowds in Jordan
December is a fab month to be in Jordan, provided you're happy with mild daily temperatures of around 15°C or so, and far quieter tourist sites. You'll want to wrap up warm around the fire when staying at a Bedouin desert camp, but otherwise it's a great experience to dodge the queues at Petra, and hike around Wadi Rum with only a few other visitors around at the start of winter. And in case you're wondering, swimming in the Red Sea (and floating in the Dead Sea) is still very comfortable in December.
Our top selling trip:
A week in Jordan

See all our trips:
Jordan holidays

Read more:
Jordan travel guide
7. Discover a different culture
First time travellers to Morocco might find the country's famous souks and tiny medina streets overwhelming – it's hard to know where to look first. But a tour that takes you out of the most visited cities is the best way to get a real feel for the local culture. Cold December weather is often preferred for trekking in the Atlas Mountains, where you can keep warm in traditional Berber tents.
Our top selling trip:
Morocco cultural tour

See all our trips:
Morocco holidays

Read more:
Morocco travel guide
and
Morocco culture guide
8. Take a walk on the wild side
Tours often start in San Jose, so you can sample some of the city life, but Costa Rica's main attraction? Its animal inhabitants, which are easier to see in December when the rainy season ends. Take a boat trip through Tortuguero National Park, named after its resident green sea turtles, or try a canopy walk through the cloud forests; you'll be above branches festooned with orchids and bromeliads – face to face with monkeys and colourful birds.
Our top selling trip:
Costa Rica highlights holiday
See all our trips:
Costa Rica holidays

Read more:
Costa Rica travel guide
and
Costa Rica wildlife guide
9. Speed through the snow on a husky safari
In your cosy forest cabin, you can curl up in comfort by a roaring log fire and listen to the sounds of the wild all around you. During the daylight hours, however, your holiday will pick up the pace, as you race through the trees on a husky safari. The fun doesn't have to stop when the sun goes down – dark December means moonlit safaris through the silent night.
Our top selling trip:
Husky safari holiday in Lapland

See all our trips:
Husky safari holidays
Read more:
Husky safari holidays guide
and
Multi activity holidays guide
10. Visit an ethical elephant sanctuary
Two weeks in Thailand is sure to cure any of the seasonal restlessness that comes with spending a winter indoors. It's the ideal December destination if you're craving some winter sun, but want much more than just your average beach holiday. White sands aside, a tailor made tour of Thailand could include a taste of city life, adventurous activities and wonderful wildlife.
Our top selling trip:
Thailand tailor made holiday

See all our trips:
Thailand holidays

Read more:
Thailand travel guide
and
Asia travel guide
More Best places to go in December articles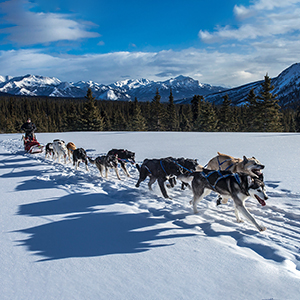 There's plenty to choose from, whether you're looking for warmth, winter or wildlife.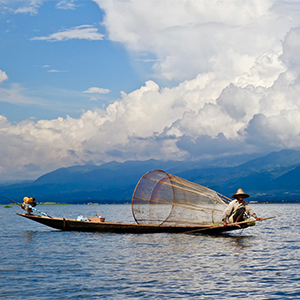 Our map and highlights guide will help you decide where to go in December.