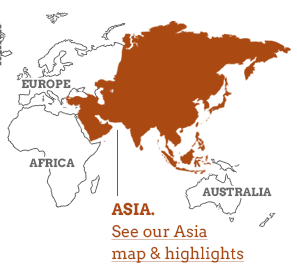 Asia is massive: a whopping great sprawl of a continent with some 4.4 billion people living across it – that's more than the population of every other continent combined. Some of Asia is chaotic and modern, a real introduction to fast-paced city life, other parts are all idyllic islands and remarkable opportunities to get involved with local life – a homestay along Southeast Asia's mighty Mekong for example, is to discover a whole word that exists far more on the water than it does on the land.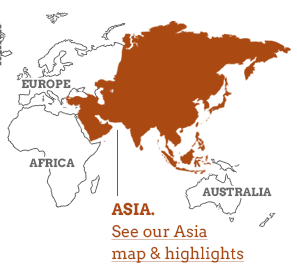 Asia is not going to be civilised after the methods of the West. There is too much Asia and she is too old.

– Rudyard Kipling, The Man Who Was
Asia is home to the majestic Himalaya and the wonderful village life that exists among its soaring peaks; pockets of undiscovered and impossibly beautiful wilderness; and some sacred and mysterious lands where there are no traffic lights, the locals still wear their national dress with pride, and the default mode of transport is horse and cart. Overall, it is a spiritual and hugely traditional continent where deeply ingrained tribes and tradition exist alongside dramatic landscapes and fascinating, rare wildlife – an explosion of rich and poor, calm and chaotic, natural and manmade, it has an ancient soul, a wild heart and a shrewd, insightful skin.

Explore a truly diverse world of holiday possibilities in our Asia travel guide.
Asia is...
a vast melting pot of diverse ethnic, religious and linguistic groups.
Asia isn't...
definable as one place: barring the ancient soul and complex history that binds them, it is a collection of very distinct destinations.
What we rate & what we don't
Japanese culture
Quirky, camp, cool – call it what you will, Japanese culture is one of the most fascinating and best-preserved cultures in the world. Their incredible tours and temples tell a chequered historical tale, but you only need look at the locals in today's Japan – preparing tea, wrapping a gift, making sushi – to really immerse yourself in their ritualistic and beautifully considered devotion to tradition.
Tribes & tradition
Tradition abounds globally – British default is to have a cup of tea when the proverbial hits the fan – but Asia's plethora of ethnicities and links to spirituality make its customs extraordinary. You can explore the Silk Road's melting pot of ancient and modern culture, pick tea at a traditional plantation in rural China, or stay with some of east India's oldest tribal communities – the options are endless.
Kerala
Famed for beautiful beaches, boats and homestays, many people haven't a clue that Kerala exists beyond its backwaters, but head north to Malabar and India's southern tip is even prettier. Stay south and hike freely through the spectacular Western Ghats Mountains, or grab a bike – a few hours out of town and you'll be pedalling peacefully through spice and coconut plantations.
The Silk Road
An intriguing story of historical trading from the mystical East to the enraptured West, a journey along the Silk Road is evocative and then some. Its architecture is a huge collection of bright azure mosques defined by intricate hand-painted porcelain; its people, from the sun-soaked elderly to modern merchants, are truly charming; and its tale becomes more fascinating the further you go.
Food
Excepting Mongolia (sorry, Mongolia, it's not you, it's the abundant, but limited range of preserved milk products), Asian food is exceptional. Spicy, salty, sweet and sour all at once, Indochina brings fragrant rice and noodle dishes to the table; China and Japan, weird and wonderful street food; and then India, the king of constantly evolving cuisine, where each region does each dish differently.
The Great Wall of China
We say China, you say Great Wall. They're synonymous – and rightly so. Winding its way 21,000km along an undulating east-west line, the Wall represents engineering at its finest and a culture at its most isolated. The further you wander from Beijing, the less crowded it becomes; to stand and contemplate northern China's mountainside from atop a fortification is a feeling like no other.
The Himalayas
The Himalayas: 40 million years old, the world's highest mountain range, and an area 10 times the size of France that spans India, Nepal, Bhutan, Tibet and Pakistan. Wherever you hike, walk, or simply stand and watch, you will be blown away, but northern Nepal's Himalayan belt, home to the Annapurnas, Manaslu and Everest to name but three, is the undisputed jewel in this colossal crown.
Indochina
First things first, Indochina is a group of four Asian countries – Thailand, Laos, Vietnam and Cambodia – all rolled into one chaotic, crumbling, modern, ancient package. Thailand's hill tribes will surprise you, Laos is utterly unspoilt, Vietnam is frenetic and friendly, and Cambodia is so much more than temples; you can explore them all over a month long adventure of river, road and rail.
Elephant rides
Elephants
used for riding are not and never have been domesticated; they are captive, wild animals that, sadly, have been broken in and controlled in order to be around humans, a process that can be horrifically cruel. Elephant trekking may seem like a quintessential Asian experience, but its not helping the elephant. Give it a miss and try elephant conservation work instead – or visit one of the superb elephant sanctuaries.
Orphanage volunteering
Sadly, many vulnerable children across countries including Cambodia, Thailand and Nepal have become a commodity. The number of orphanages there has risen, not according to a rise in orphans, but in line with the number of tourists that visit, and orphanage volunteering only exacerbates the situation. Read more about this deep and detailed issue in our guide to
volunteering with children
.
Tiger Temples, Thailand
The
Tiger Temple
in Kanchanaburi was very popular with tourists for all of the wrong reasons. Over a hundred tigers spent most of their time chained up in stark enclosures in 40 degree heat, as visitors posed with them for photos, while there were indications of illegal breeding programmes taking place for cash. Thankfully it has now been closed down for good, but there are rumours another zoo may soon open nearby. We're watching…
Overdeveloped beaches
Asia is home to some of the world's most desirable beaches – all clean, white sand and iridescent sea – but with that beauty comes a price and that price is sprawling, soulless resorts and littering lager louts (*cough* Kuta *cough*). Not everywhere though – seek and you will find paradise, but don't add to the swathes of unimaginative masses by opting for the obvious choices.
Eating & drinking
China's baijiu makes tequila look refreshing – the local firewater has a 110-proof wallop so pungent that it's flammable.

Thali is like Indian tapas, with a collection of small bowls of different foods (katori) served on a round tray.

What ketchup is to tomatoes, sambal is to chilies and a big dollop of the ferociously hot, sharp, tangy and sweet sauce will be served with most, if not all, of your food around Malaysia, Sri Lanka and Indonesia.

It is customary for women to give men chocolate on Valentine's Day in Japan. The man then offers her a gift one month later on White Day

If you'd like to chat about Asia or need help finding a holiday to suit you we're very happy to help.

People & language
Think of a religion and its likely it originated from Asia – Buddhism, Christianity, Islam, Judaism and Hinduism, plus many more – it is the world's largest and most populous continent, home to some 4.4 billion people all following a diverse range of religions, creeds and customs and sub-divided into hundreds of different tribes and ethnicities.

Hindi is the main language spoken in India, although there are 21 other official languages.

While 92 percent of the 1.4 billion people in China are made up of Han Chinese, the remaining 8 percent is made up of a whopping 55 recognised minority groups.
Gifts & shopping
Lake Inle is a hub for Burmese crafts. Silversmithing and cheroot cigar-rolling workshops line the lake. More unusually, women create silk from the sap of the lotus stem, which is stretched, twisted and woven.

Hoi An in Vietnam is famous for its bespoke tailoring, from Italian cotton suits to full-length silk dresses. The key is not to choose the cheapest shop: get off the main street and be very precise about your needs – or bring a favourite item for them to copy. Stay in the city for two or three days to allow for fittings.

14 million more people live in the Netherlands than in Mongolia, but you could fit the Netherlands into Mongolia 37 times.

How much does it cost?
Glass of bia hoi beer: 12p (Vietnam)

Good quality thali lunch: £3.50 (India)

Entry to Angkor Wat: £11.90 (Cambodia)

Bike hire: £1.85 - £9.25 (China)

One-way train ticket from Tokyo to Kyoto: £100 (Japan)