Language barrier advice
Andy Burt from our supplier, Intrepid, shares his Asia travel advice:
"For me, the interaction with the locals in China is one of the highlights of a trip. It's hard to anticipate how little language you have in common, yet with body language and a sense of humour you can still have a meaningful interaction with people. A lot of people presume that Chinese people are quite rude and a bit standoffish, but they're not at all. Where the Japanese are reservedly polite and don't want to lose face by having bad English, the Chinese don't care, they just speak Mandarin at you like you'll understand it, which of course you don't much to their amusement, but within that you find a way to communicate. There's a lot of spitting in public in China, it's just what they do, so leave your cultural baggage at the door and appreciate them for who they are."
Environmental advice
Richard Goodey, from our supplier Lost Earth Adventures shares his Nepal travel advice:
"The problem with rubbish in Nepal isn't monumental, but it is an issue. What we advise tourists to do is eat as the locals do: eat the rice, the lentils, the fresh fruit and vegetables. Tourists tend to bring with them plastic water bottles, packets of crisps and chocolate bars for energy, so without thinking, they are adding to the rubbish problem and the Nepalese are picking up on this – if they can sell you a Mars Bar for 50p, to them that's massive money. It's fine to eat foods like that, but take your rubbish with you back to Kathmandu and throw in the bin there because up in the Himalaya, they bury it in the ground, or they burn it – and that's no good."
Wildlife advice
Mark Huggins, from our supplier Undiscovered Destinations, shares his Burma travel advice: "Near Kalaw there is a locally-run project which looks after former working elephants. It was one of the best things I did – you learn about the elephants and help wash them in the river, which is amazing – and in a really beautiful setting. It also supports local community projects and microfinance initiatives. The elephants are very well looked after, a vet comes to see them every week, and only a certain number of tourists are allowed to see them every day. It's not well promoted; the local people are just trying to use the project to protect the forest. After visiting hours, the elephants wander back into the forest, and the mahouts fetch them the next morning. It looked very well done; you can see the medical books for all the elephants with the vets' notes about their conditions."
Itinerary advice
Sophie Hartman, owner of our supplier Chinkara Journeys, who specialise in central India:
"Do not attempt to cram in too much in too short a time – road travel in India is not its best feature, so much better to focus on a couple of places and stay there."
HEALTH
Visit your GP or travel clinic at least 6-8 weeks before departure to ensure you have all the necessary vaccinations and that they are up to date.
Many travellers experience stomach upsets in Asia. These are not usually serious, but do be prepared, and bring medication including rehydration and diarrhoea remedies to ensure this disrupts your trip as little as possible.
Familiarise yourself with the dangers of altitude sickness, especially if you are trekking in remote areas.
Make sure you have adequate travel health insurance and accessible funds to cover the cost of any medical treatment abroad, or emergency medical evacuation. If you do need to receive medical treatment in Asia, up-front payment may be required even if it is covered by your insurance.
The quality of hospitals varies greatly from region to region – ensure you have comprehensive travel insurance, which covers emergency medical evacuation as you may not be able be treated locally. In Indochina for example, Thailand's private hospitals are excellent, while Vietnam's cities provide decent basic healthcare. If travelling in Cambodia or Laos, or in any rural area, health services are extremely limited.
If you will be travelling in rural areas, where getting hold of medicines can be difficult, it's worth taking a first-aid kit with you. Include bandages, plasters, painkillers, rehydration sachets, medication for upset stomachs and antiseptic cream.
Only drink bottled water and avoid ice cubes. Do not eat fruits or vegetables unless they have been peeled or cooked. Avoid cooked foods that are no longer piping hot, as well as undercooked meat and fish.
Apply insect repellent to skin and clothing to avoid being bitten: wear long sleeves, long trousers, hats and shoes (rather than sandals), and for rural and forested areas, boots are preferable, with trousers tucked in, to prevent tick bites.
The high levels of air pollution in some cities, including across China, Kathmandu and Indonesia, can aggravate bronchial, sinus or asthma conditions. Children, the elderly and those with pre-existing medical conditions are usually the worst affected and it is worth buying an anti-pollution facemask if you're going to be spending time in cities.
Don't underestimate the strength of the sun during Asia's spring and summer months. Temperature and humidity can take time to adjust to, so apply sunscreen regularly, wear loose clothing and drink lots of water. The sun is also particularly fierce at high altitude – even when the air is cold, making it especially dangerous.
SAFETY
Safety across Asia is not as bad as you might be led to believe, and issues vary per region. Petty theft is the most common, so you need to protect yourself from that. Padlock your luggage and keep valuables next to the skin.
It is the Buddhist belief to respect all forms of life, and this includes stray dogs – a problem in Bhutan, in particular. It's best to avoid contact and not to feed them; they might look cute, but they may bite.
One of the most dangerous things you can do in many Asian cities is cross a road: many motorists pay little attention to pedestrian crossings and a green light for you to cross still means that cars are permitted to turn in to or out of the road, particularly in China. Add to this mopeds, rickshaws and loads of other people and you have dangerous combination – keep your wits about you.
Unexploded landmines are still found across the countryside in Cambodia, Laos and central Vietnam along the Laos border. Keep to marked pathways in rural areas and national parks, and always keep an eye on children. Be extremely careful in more remote regions – always consult a local guide before trekking in less-visited areas as mined areas are not always marked away from the tourist trail.
Politics is a very sensitive issue in Central Asia and it's advisable not to involve yourself in conversations about or speak out against the government as it is considered a crime. Likewise with the Thai royal family who are highly revered.
For further information on health and safety in specific countries across Asia, please have a look at our detailed travel guides and visit the
FCO
or the
CDC
websites.
Our top trip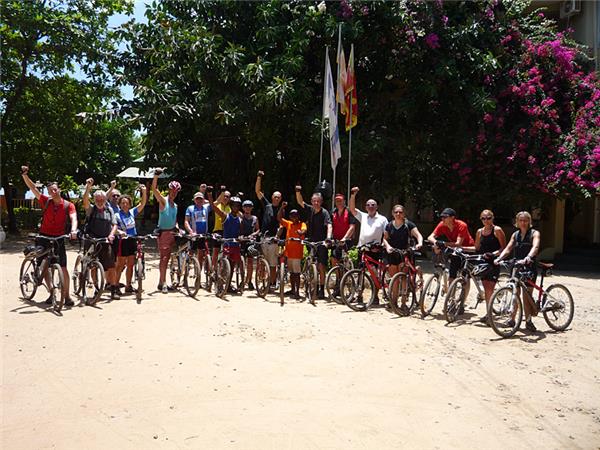 Ride the cool highlands, jungle parks and ancient Buddhist cities
From
£3199

to

£4099
15 days
inc UK flights
Small group travel:
2023: 9 Dec
2024: 20 Jan, 23 Mar, 30 Mar, 6 Apr, 20 Jul, 14 Sep, 12 Oct, 2 Nov, 9 Nov, 16 Nov, 30 Nov, 7 Dec, 14 Dec, 28 Dec
If you'd like to chat about Asia or need help finding a holiday to suit you we're very happy to help.

Tips from our travellers in Asia
At Responsible Travel, we think the best people to advise our travellers are often... other travellers. They always return from our tours with packing tips, weather reports, ideas about what to do - and opinions about what not to.

We have selected some of the most useful Asia travel tips that our guests have provided over the years to help you make the very most of your holiday - and the space inside your suitcase.

Sri Lanka is extremely hot in early April, so ensure you use plenty of sunblock. Be prepared for very early mornings and quite tiring drives and boat rides if you are whale or wildlife watching; it is worth it in the end though.

"If you're going to Burma, Bring waterproof clothing in the rainy season and eat authentic curries at local restaurants wherever possible." – Stephanie Diggon

"Plan what areas you want to visit, discuss with your operator as to what you can see and do within the timeframe of your visit. They will have a better understanding of how feasible your plans are!" – Graham Goddard

"If you're visiting The Great Wall, be prepared for some scrambling, and a little rock climbing in parts, but for the most be ready for lots of steps of varying heights. You will need plenty of energy, but it well worth the experience!" – Phyllis Ryan

"We did a homestay tour in Kerala and only stayed for 2 nights at each location. With hindsight, maybe 3 nights and fewer stops would have been better to really get a feel for each place." – Brian Summers

Mongolia is a big country with poor infrastructure. Make sure your trip doesn't involve too much driving or you will spend your whole time on a bus. Covering 400km in one day, while possible, is not pleasant.

"In Vietnam, choose Hanoi or Ho Chi Minh City unless you are and absolute city junkie. We preferred Hanoi, a mad city but almost manageable and a great insight into how people are flourishing under capitalism. We regretted not spending more time in the mountains." – Di Bligh

"If you're heading to Cambodia, consider adding a day at the beginning and/or end of the tour. You'll have a chance to settle in at the beginning, so it doesn't feel rushed, and at the end you can spend the extra day back at Angkor (you get a 3-day pass but only use 2 on the tour) or taking an optional excursion - as we did." – Richard Evans