Types of activities in Croatia
Zeljko Kelemen was a pioneer when he first started running canoe tours on the Zrmanja River. No one else was doing it. Over time he diversified from canoeing tours to a variety of other outdoor activities, including mountain biking, sea kayaking and white water rafting. With the help of experienced and qualified local guides and instructors, Zeljko now organises these activities all over Croatia in largely undiscovered hinterland areas, as well as on islands like Sipan and Vis.

Finding unspoiled areas for outdoor activities to take place, and for small groups to be based, is just as important as the activities themselves. Zeljko is the owner of our holiday experts Huck Finn Adventure Travel, and over the years he and his team have been on numerous scouting missions to find new routes down the rivers and through the valleys. They've met local people and asked them whether they'd like to accept guests at their farms. This has led to lifelong relationships and for better living conditions for local people without impacting on traditional ways of life.
Una Ivanic splits her time between Zagreb and Dubrovnik, and has worked for Huck Finn Adventure Travel for more than three years. She says: "We've seen the impact that tourism can have on people living in really, really, isolated areas, especially the tiny villages of just a few houses that are situated close to the Zrmanja River. These were once inaccessible agricultural communities who made a living out of their livestock and growing fruit and vegetables. Now there are roads and paths that have been developed to allow them to benefit from guests. People can stay overnight or visit for lunch. The accommodation is basic – we're not talking five-stars here – but that is what makes the experience special. Tourism hasn't impacted on the area too greatly. Traditional ways of living are just as they've always been, but now local people are able to supplement their income and have much better access to the outside world than they had before."
Wherever you're based, a multi activity holiday gives you a chance to explore either on land or on water; sometimes both in the same day. Bring your walking boots and oldest trainers, as well as a small rucksack for snacks, a towel (swimming costume should be worn in readiness), and refillable water bottles. Sun cream and a peaked cap should be packed for hiking, rafting and cycling, and mozzie spray is also recommended, especially if you're in the pines or based beside a lake.
Below are a few of the outdoor activities that our holiday specialists feature on a multi activity week in Croatia. Remember, you don't have to be an expert; you just need to be able to listen to instructions, smile, and go with the flow. In some cases, literally.
Our Croatia multi activity Holidays
All at sea
Once you get the hang of it,
sea kayaking
can be almost effortless and is certainly not as tiring as you may think. All you need to get started is a buoyancy aid, kayak and paddles – and you're good to go. Instructors are always on hand to ensure that you're comfortable and fairly confident before starting out. They'll also accompany the group throughout the experience, guiding you from shallow clear-water bays and out towards natural stone arches and into secret coves close to the coast.
Vis island and the Elaphiti Islands – Sipan, Lopud and Kolocep – are ideal spots for
sea kayaking in Croatia
. You'll usually spend a couple of hours at a time paddling from bay to bay before having a break for lunch or a swim and a snorkel. It's a fun activity and although your upper arm muscles might ache a wee bit it will only serve to remind you of your day spent all at sea on the Adriatic.
The same goes for
SUPing (stand up paddleboarding)
. Once you get the hang of it, you'll be off. You can kneel down at first before tentatively getting to your feet and balancing upright on the board. Core muscles will feel it on this activity and sometimes speed is the hardest thing to get right. The best advice is to look at the water in front of the board instead of where you're putting the paddle. Again, your instructor will help you in shallow water first before you head out together, as a group. No one gets left behind or goes too far in front; that's pretty much the mantra for every activity, really. Find out more about
stand up paddle boarding
.
Croatia's coastline can be super clear, especially around the islands, and
snorkelling
is the best way to see what lies beneath. Although you won't be spending an entire day just snorkelling, you'll still have lots of opportunities to don a mask and snorkel, often as part of a sea kayaking expedition, or island hopping boat ride, or just to borrow for a free day at the beach.
Una Ivanic, from our Croatia multi activity tour experts Huck Finn Adventure Travel, explains: "Snorkelling equipment is free for guests to use throughout the whole holiday. Sea kayaks can also be taken out, but the guide will make sure all safety measures are followed and advise them on the route. Also, the guide needs to make sure that the weather and sea conditions are suitable before you set off."
Down by the river
Discovering Croatia's canyons and fast-moving rivers – like the 100km Cetina River – on an inflatable rigid white water raft is just as fun as it sounds. You'll be fully kitted out with a helmet, buoyancy aid and Neoprene wet suit before being placed on either side of the craft with your instructor at the front. Balancing the boat is important, but your instructor will call out instructions as you glide down the river: "Left side, paddle!"; "Right side, paddle!"; "STOP PADDLING!". That sort of thing.

White water rafting is exciting and gets the adrenaline pumping. However, it's also a great way to meander downstream and observe life on the riverbank from a peaceful waterside perspective. You'll also get the chance to stop for a swim or even to jump off a high boulder into a deep plunge pool. It will be a spot that's been tried and tested many times; it's up to you if you're brave enough to jump into the often icy water and swim back to shore against the current.

During the summer, Croatia's rivers run a little slower. They're fuelled by freshwater springs which come from deep underground. This means that they might still be cold even in July and August. However, this can be really refreshing on a hot day, up country, away from the coast. Basically, the slower the river the warmer it will be. Summer tends to be a better time of year for river kayaking or canoeing or SUP boarding through high canyons.

Tubing is also perfect for slower moving rivers in the summer. Tubing basically involves sitting in a large inflatable tractor tyre inner tube and floating down the river using your hands to steer. You'll still be kitted out with a buoyancy aid and helmet. Just watch out for bumping your bum on hidden boulders – you have been warned.
Our top Croatia multi activity Holiday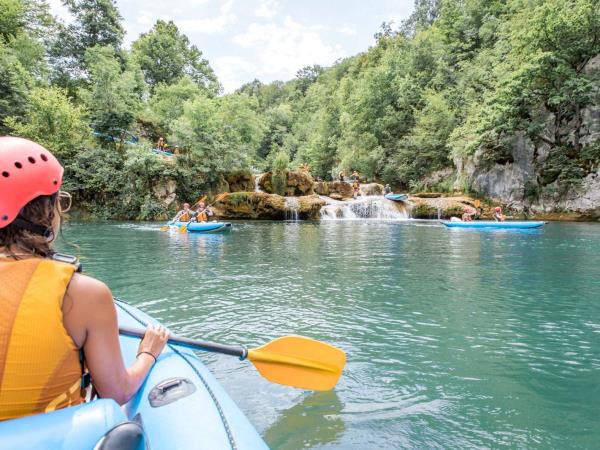 Multi activity adventure: kayak, sup, raft, hike in Croatia
From
€850
8 days
ex flights
Small group travel:
2023: 23 Sep, 30 Sep
If you'd like to chat about Croatia multi activity or need help finding a holiday to suit you we're very happy to help.

Landlubbers
Swapping paddles for pedals makes for a great way to explore on dry land. Lots of coastal cycling routes around the islands and quiet rural roads through the countryside provide ample opportunities to get out and about by bike. Safety helmets are provided and bikes will be fitted to ensure they're comfortable and safe for riding. Guides will take you on a tour but bikes are also available to use in your free time, which is great for getting down to the beach or village without needing a car.

A day in the saddle isn't going to be a head-down, uphill slog. You'll usually be pedalling to a town, like Komiža on Vis island, or to a farm for lunch in the Mreznica River area. There might be some inclines but nothing too steep. Distances will be no more than 15km and there will always be plenty of rests, especially if you're not used to cycling for more than 30 minutes at a time.

Maria Budimir-Bekan, from our Croatia experts Green World Holidays, is an experienced family activity holiday guide, especially around the Cetina River. She says: "On our holidays we never cycle for more than 35-40 minutes in one go. There are lots of stops at the river, with time to jump in and refresh yourself, because it is not just about cycling all day, it is about using bikes to explore inland."

Much like the cycling, you're not going to spend all day, every day hiking whilst on a multi activity holiday. It's much more likely that you'll spend one or two days on foot exploring in the countryside or strolling around an island's coastline. Guides will be a mine of local information and will have lots of stories and folklore tales related to the landscapes and rural scenes. A trek to the top of Mount Hum on Vis island, for example, takes you close to where Tito had his secret cave hideout (now inaccessible due to a rockslide), before you ascend to the summit where you'll find the Chapel of the Holy Spirit as well as sublime surrounding sea views.

Iva Stefan, from our Croatia activity holiday specialists Huck Finn Adventure Travel, shares her favourite walking route: "Hiking on Kolocep Island is great. You walk in pine woods along high cliffs, observing the horizon. The Adriatic Sea below is turquoise. Once you get down to the seaside, you can take a swim on a sandy beach. The best thing is, you probably won't meet anyone on your hike before you reach the village."
More about Croatia multi activity