Multi activity holidays in Croatia travel advice
Undiscovered Croatia
Una Ivanic is from our multi activity tour pioneers Huck Finn Adventure Travel. She explains how they aim to keep Croatia undiscovered: "If anything, some stretches of the Zrmanja River are now getting too well-known. Other tour companies also use the river. It's an amazing place for rafting and in summer it can get a bit overcrowded. We're at a crossroads where we need to decide whether to stay in the area or have a change. This is how we've always done it. We go on scouting missions and find new routes down the rivers and through the valleys. We meet local people and find out whether they'd like to accept guests into their farms. Our guests don't want to stay in places where there are lots of other tourists. They want to stay in traditional communities and undertake activities in undiscovered places."
Keeping cool
Xania Wear, joint owner of our family-run multi activity tour experts, Wear Active, shares advice on how to keep cool in a Croatian summer: "It gets really hot in summer, so we try and encourage our guests to do what local people do. We get up early in the mornings, and then have a siesta because that is what everybody else is doing. Some families resist this a little because they want to do as much as possible during their holiday time. Or they might want to have their evening meal at seven, yet it is still pretty hot here at that time and it is the best time to go swimming. And local people would eat later here. So we encourage people to break out of their normal routines a little."
River recommendations
Maria Budimir-Bekan lives in Trilj, on the Cetina River. She's a tour leader with our Croatia family holiday experts Green World Holidays: "On our holidays with teens we never cycle for more than 35-40 minutes in one go. There are lots of stops, with time to jump in the river and refresh yourself. It's not just about cycling all day; it is about using bikes to explore. Sometimes people need to be encouraged to say yes to canyoning – it's the most challenging activity of the week but also the most rewarding.
Una Ivanic is from our multi activity tour pioneers Huck Finn Adventure Travel. Here are her river recommendations: "The faster the river, the colder it will be. Fast rivers are cold all year round. They're fed by underground springs and come down from the mountains where it's much colder than in the valleys. Fast rivers are great for kayaking and white water rafting. Slow rivers are better for swimming and tubing. We know several jump points that are great for cooling off in the summer. You can't do that in fast running rivers. We usually go rafting on the Zrmanja River as it's nice and fast. The Mreznica River, on the other hand, is much slower, more static, and therefore better for kayaking and swimming. It's much warmer too."
Sipan's secrets
Iva Stefan, from our Croatia activity holiday specialists Huck Finn Adventure, shares her Sipan secrets: "Sipan Island is an incredibly rich and fertile island, thanks to its freshwater springs. It was lucky enough to reach its peak of development at the time when the Republic of Dubrovnik was at its richest. There are still real fishermen living in Luka Sipanska and Sudjuradj, drying their colourful nets out in the open. Lopud Island also has nice sandy beaches, no cars on the island and is an excellent place for the families. Both islands are very nice, with beaches, hiking and biking."

Una Ivanic, from our multi activity tour pioneers Huck Finn Adventure Travel, tells us more about Sipan: "Sipan, the largest island in the Elaphiti archipelago, is a good example of somewhere that we stay that doesn't have many tourists. We've been there for years and Matko is always searching for new cycling routes and locations to go kayaking that no one has heard of before. We've even seen Sipan getting more touristy. It's still not as popular as many of the other islands, even though it's just an hour's ferry ride from Dubrovnik, but we always want to have our activities in places that are untouched and unspoiled."
Our top trip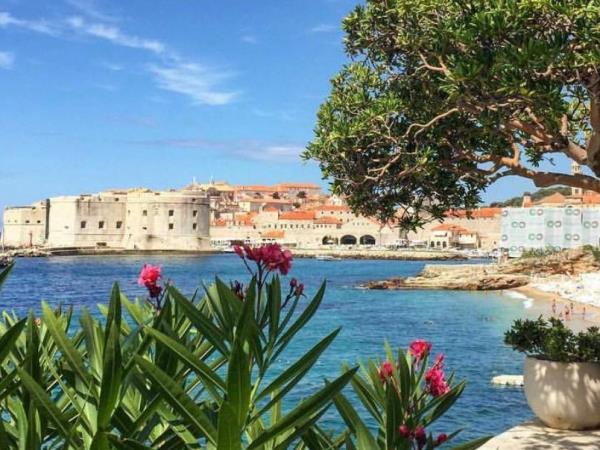 Dubrovnik to Zagreb with daily outdoor activities
From
€1390

to

€1490
8 days
ex flights
Small group travel:
2024: 4 May, 11 May, 18 May, 25 May, 1 Jun, 8 Jun, 15 Jun, 22 Jun, 29 Jun, 6 Jul, 13 Jul, 20 Jul, 27 Jul, 3 Aug, 10 Aug, 17 Aug, 24 Aug, 31 Aug, 7 Sep, 21 Sep, 28 Sep
If you'd like to chat about Croatia multi activity or need help finding a holiday to suit you we're very happy to help.

Health & safety on multi activity holidays in Croatia
HEALTH
Croatia gets seriously hot in summer, so stay hydrated, apply waterproof suntan lotion, cover up and wear a hat. The wind off the sea can be deceptive and sometimes you won't realise just how hot it is. It's advisable to wear a t-shirt, especially when snorkelling, swimming or sea kayaking.
If you're on a mountain bike, hydration backpacks are great as you can just keep the straw close to your lips and keep sipping as you cycle. Tap water is top quality in Croatia, and in many national parks you can drink neat spring water direct from the source – but always check with your guide first.
A European Health Insurance Card (EHIC) will allow EU citizens to access Croatian public healthcare at a reduced cost, or sometimes for free. But always take out comprehensive travel insurance, and ensure that it covers all activities you may be participating in.
SAFETY
If you are sea kayaking or white water rafting, always wear a buoyancy aid and ensure it's fastened properly. Especially with children, who can slip out of them easily. A responsible holiday company will do stringent checks on your jackets before going out to sea. If you're mountain biking, wear a helmet. Your instructor will make sure it is fitted correctly – as well as ensuring the bike size is suitable – and please speak up if helmets are uncomfortable or loose. It is important to really listen to safety briefings from your activity instructors, as they really know what's what when it comes to Croatian terrain and weather conditions. Waterproof shoes or old trainers come in very handy if sea kayaking. Croatia's coastlines can be quite rocky and stony so keeping feet covered is the best way to get a grip and prevent cuts and bruises.
Tips from our multi activity
travellers in Croatia
At Responsible Travel, we think the best people to advise our travellers are often... other travellers. They always return from our tours with packing tips, weather reports, ideas about what to do – and opinions about what not to.

We have selected some of the most useful multi activity holidays in Croatia travel tips that our guests have provided over the years to help you make the very most of your holiday – and the space inside your suitcase.

Excellent holidays, loads to do but no pressure if you'd like a sleep-in or an afternoon off! Absolutely amazing food – will definitely open your eyes to the world of plant-based meals.

– Phillipa Colby on a small group activity week in Vis
"Having never taken part in a group holiday before, it exceeded my expectations. The families were well-matched, with children of similar ages. Daniel, our guide, was super helpful. A nice balance of activities and down time. Already worrying how I trump this next year. My girls, 13 and 15, loved it!"
– Tracy O'Sullivan on a multi activity holiday with teens

"Zipwire was good, canyoning was good, my kids liked just hanging out with the other kids. All activities were very well organised and professional. Consistently high standard. Both guides were lovely and made an effort to get to know everyone. Drivers very professional, the great transport really added to the trip. Get ready for an energetic week." – Joanne Atkinson on a multi activity holiday with teens

"Excellent holidays, loads to do but no pressure if you'd like a sleep-in or an afternoon off! Absolutely amazing food – will definitely open your eyes to the world of plant-based meals. A reasonable level of fitness will probably mean you'll get the most out of what is on offer, although all activities are tailored to the group and there is no pressure to participate. Most beaches are stony so do bring water shoes!"
– Phillipa Colby on a small group activity week in Vis

"There are lots of enjoyable times to remember from this holiday, but probably the main one for me is swimming several times each day in the warm, clear waters 10 minutes' walk from the base in Rukavac. Join in the activities, have a go, but do as much or as little as you want. I liked the informal shorts and t-shirts environment. I really enjoyed it. It's definitely what it says on the tin – relaxingly active."
– Dave Duggan on a small group activity week in Vis

"There were two really good aspects of the holiday which made it memorable: firstly, a well-balanced set of varied, challenging and enjoyable activities; and, secondly, our tour guide Mirko, who really made the holiday fun with his good spirit, helpfulness and knowledge. Staying in a local village among local people certainly helped them. It also gave us a flavour of local life that we wouldn't otherwise have got." – Cormac Lucey on a multi sport tour in Croatia

We loved seeing the beauty of Croatia, from the Elaphiti Islands to Plitvice Lakes and sites in between. The pace and variety of activities (biking, rafting, hiking, sea kayaking) were excellent.

– Sue Johnson on a multi sport tour in Croatia
"Kayaking down the Zrmanja River was incredibly fun. Got to go through some exciting rapids, but also had calm parts where you could really stop and appreciate the beauty around you. The two National Parks, Krka and Plitvice Lakes, were also incredibly memorable and unique. The colour of the water is like nothing I have ever seen before, a gorgeous blue-green, yet very clear. This is a great trip that has a perfect mix of activities with downtime to be able to relax. The trip covers a lot of ground, but you are never stuck in the car for too many hours on end. Our guides Luka and Victor were knowledgeable, incredibly friendly, and also very professional. I highly recommend this trip!" – Samantha Sherman on a multi sport tour in Croatia

"We loved seeing the beauty of Croatia, from the Elaphiti Islands to Plitvice Lakes and sites in between. The pace and variety of activities (biking, rafting, hiking, sea kayaking) were excellent. The food was outstanding as well. Pack as light as you can and plan to rinse items out overnight to reuse. Our leaders and group members also cleaned up litter at sites in several places, benefiting the local environment. And by patronising national parks (and paying the park fees), we supported Croatian conservation efforts. We especially want to recognise our guides, Dino and Tomislav, who were amazing: incredibly well organised, informative, patient, funny, flexible, and excellent leaders." – Sue Johnson on a multi sport tour in Croatia

"The whole holiday was great, with the guide being informative, helpful and always polite, going out of his way to ensure everyone in the group was happy. Have a go! Our kids (12 and 14) surprised themselves every day with what they could do. The village we stayed in was beautiful and staying with local families does make a huge impact on their lives, as earning a livelihood is difficult in this area of Croatia, especially as many of the old industries which existed before the war do not provide employment anymore." – JH Blight on a multi activity holiday based in Korana

"We visited an elderly couple who ran a farm with olive trees, goats and chickens. We paid to have lunch there, which was delicious and almost entirely from their own produce. Our guide gave the money directly to the couple and this allows them to supplement their income. Our guide was very aware of environmental issues and we did discuss local environmental issues such as recycling. We all chose not to do the day trip to Dubrovnik on the optional day, as the island we stayed on was so beautiful and we were able to use the kayaks, SUP and bikes there. Our guide also arranged a fishing trip for us." – Gill Tomkins on a multi activity holiday based in Korana
More Croatia multi activity articles