Family multi activity
holidays in Croatia
Like it or not, we all become multi-taskers as parents or carers. It's just something that happens to us from the minute we clamp the cord. Holidays are meant to be a break from all that plate spinning and juggling, of course, and yet, ironically, multi activity holidays, where you're jumping from one adventure to the next, are the ultimate way to switch off. And that's basically because everything's organised for you. All you need to do is turn up, jump in, laugh a lot. Jump in, laugh a lot. And then, when in doubt, jump in and laugh a lot more.
Sandra Oxton went on our
activity holiday for families with teenagers in Croatia
: "All I can say is that our boys feel like it was the best holiday they've been on and we concur. In the literature we were given at the start, it said that on average you laugh 13 times a day but on this holiday you laugh 53 times – actually we laughed a lot, lot more!"
Here are a few of the FAQs you might have before going on a multi activity family holiday in Croatia.
Our Croatia multi activity family Holidays
What sort of activities will we be doing?
Croatia is an aqua adventure land. So many of the activities are water-based, from sea kayaking and SUPing on the blissful island of Vis, to paddling around the Elaphiti Islands just off Dubrovnik. However, there are exciting water activities inland too, with the rivers Cetina and Mreznica both favourite white water kayaking, tubing and rafting spots.
There are endless waterfalls to go in search of and soak under in Plitvice Lakes National Park, not to mention its 16 lakes. But because activity holidays are for everyone, most tour operators will include a day of hiking or biking within some of the islands' forests or through the karst limestone valleys of Paklenica National Park. And then there is canyoning – most kids' favourite – in which you slowly and carefully navigate your way downriver using just your body, a bit of courage and ecstatic screams as you jump into cold-water pools. Most importantly, on small group multi activity trips the holiday company will discuss your ages and interests before going there, try and match you up with similar families, and keep everyone happy.
Maria Budimir-Bekan is a tour leader for our Croatia 'families with teens' multi activity experts, Green World Holidays. She says: "Most kids say that the white water rafting is the best bit of the trip. Or mini rafting, which is in smaller boats and in smaller rapids. Plus, in mini rafts you are a skipper in your own boat. Parents always love the canyoning because of the scenery. And also the cycling day, which has a bar at the end of it; the dads often say that is the best bit. For me personally, there is one rock on the canyoning trip, just before you exit the canyon, where you can see the river really calm on one part, and then beyond the rock where you are standing, it turns to rapids. This is on the last day, and it is as if we are saving the best moment for the last day."
Do you stay put or move around?
Most inland multi activity holidays are based in one place, such as Trilj on the River Cetina or in the village of Licko Lesce on the outskirts of Plitvice Lakes National Park. On the coast, you may be based on one island, such as Lopud, Sipan or Vis, or spend a few days on the mainland in Dubrovnik and then hop over to different islands and spend the rest of the trip there. This is popular in Istria too, where Porec is a perfect base to take kayaking trips out to the islands of the Rovinj archipelago.

Always check with our holiday specialists if the trip is centre based or moving from one location to another, as it might affect the way you pack.
Our top Croatia multi activity family Holiday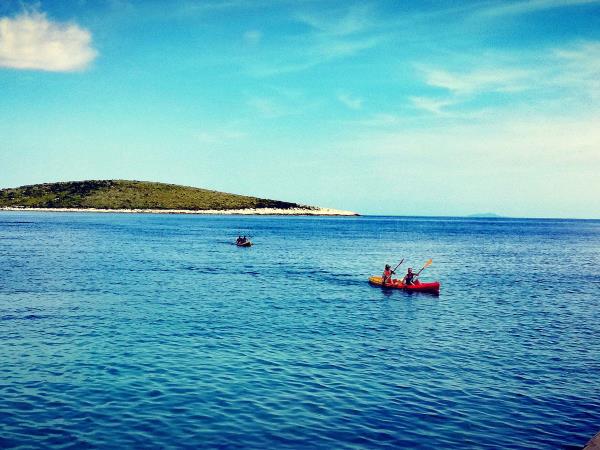 An active holiday on the beautiful island of Vis
From
€1099

to

€1699
7 days
ex flights
Tailor made:
This trip can be tailor made from 1st of May – 30th of October
If you'd like to chat about Croatia multi activity or need help finding a holiday to suit you we're very happy to help.

What are the minimum ages on these holidays?
Well, this is Croatia and it really is a country for water babies. But water babies who have grown up a little. When children are tiny this can be stressful, but when they have got their swimming badges safely sewn onto their swimsuits, you can relax a bit more. Multi activity holidays tend to be for older children, usually eight and above, but this varies with each holiday company. And some specialise in teenage groups, where you can get a bit of yoga in while you wait for your kids to wake up and get ready to play. And yes, those days do come.

Xania Wear, from our Croatia multi activity experts, Wear Active, shares her thoughts on sea kayaking as a family: "Sea kayaking is great for families because it's inclusive for everyone. We have double and single kayaks, which means that younger paddlers can sit in front of the kayak and take occasional breaks, while parents do a bit more of the work. Everyone therefore has a chance to get close to nature."
We were thinking about bringing grandparents. Is this madness?
Grandparents are far from grinding to a halt these days, with everything from triathlons, kayaking clubs and swimming clubs as much the terrain of the over 60s as anyone else. We think that multi activity holidays and multi generations make a happy marriage. You just need to chat with one of our activity specialists first – but there is never a maximum age when it comes to these holidays, as long as you have a good level of fitness and an even better sense of adventure.
Maria Budimir-Bekan is a tour leader for our Croatia 'families with teens' multi activity experts, Green World Holidays: "We had a grandfather on the trip this year, with his grandson who was around 12. The grandfather, John, who was 67, was brilliant at all the activities too. John phoned because he was a bit worried that he might not be able to do all the activities. But as soon as I knew he was outdoorsy, enjoyed nature and had done some kind of sport, I knew he could do it. I reassured him that if at any stage he felt uncomfortable, we have professional guides and support, so he could step away and the guides would help out his grandson. So he decided to come, and fair play to him. The best part is that he was a really lovely man, and he had amazing stories to share with everyone, and everyone enjoyed his company, from the teenagers to the mums and dads.
When the cycling day came, he was worried, and I told him there was a support van if the heat got too much for him or anything. But do you know what, he was probably the best on the cycling day. He did everything on the trip, and canyoning and white water rafting were his favourite activities. At the end of the week, he gave our guides a gift, and told them, 'You know, if you need some help next year, I can come to help you!' So age means nothing, really. It is just a number."
More about Croatia multi activity