Why choose a small ship cruise to Dubrovnik?
We'll put it plainly: it's not responsible to sail into Dubrovnik on a big cruise ship. This is a city that struggles with overtourism on a thrice-a-day basis between May and September. And it's no secret. As travellers, we should know better than to barge our way into Dubrovnik on an 8,000-passenger monolith. We've heard about the cruise crowds and the Game of Thrones set-jetters intent on only admiring the city's fictional doppelganger. They've been in the headlines for years.

Powell Ettinger, founder of our partners the Small Cruise Ship Collection, says:
"Dubrovnik is one of those iconic places that everyone's heard of and everyone wants to go to. Game of Thrones has driven more people there, so that all just contributes to overcrowding, and it's not that big a place. A lot of that is derived from big ships. The city is trying to address this. They are limiting the number of ships that can visit per day, which will help. They're putting prices up on some of the attractions, like the walls."

But it's not just about the city – it's about you. Your holiday will be better when you swap the ship's floating buffet for a (literally) hole-in-the-wall café above the Adriatic. Or if you tour the Old Town with a Croatian guide who remembers the Siege of Dubrovnik. Or if you disembark onto a jetty with 15 shipmates, instead of queuing up for the fleet of 50-seater coaches idling beside the dock.

Read on to find out exactly why you should choose a small ship cruise to Dubrovnik.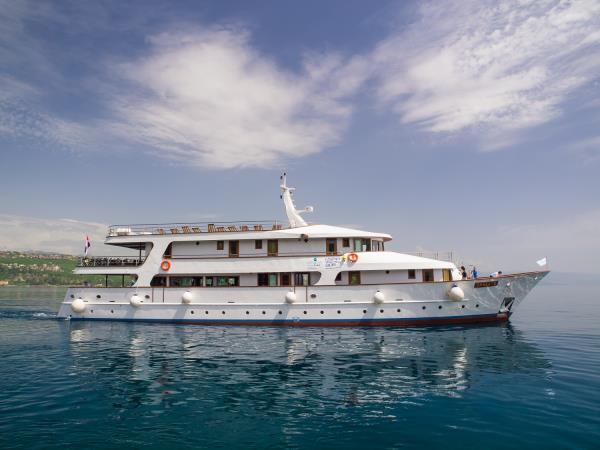 Dubrovnik to Split (or vv) on a beautiful small ship cruise
From
£735

to

£949
8 days
ex flights
You'll avoid the crowds
Small ships will house anything from eight to 40 to 100 passengers. In our opinion, it's a case of the smaller the ship the better. You could try a luxury cruise with roomy en suites and a splash pool on the top deck, or glide down the Dalmatian Coast with the family on a
flotilla sailing holiday
. Your crew will tell you how to avoid the predictable cruise crowds and offer alternative options (say, a bike ride around the Peljesac Peninsula) if you don't feel like braving the often packed Old Town.
Small ship cruises also ease the congestion around Dubrovnik by avoiding using coaches to transfer passengers from Gruz port to Dubrovnik Old Town. After all, the walled city centre is only a 20-minute bus ride or 35-minute walk away. Read more about how big cruise ships contribute to overtourism in our
responsible tourism guide to Dubrovnik
.
You'll support local businesses
Big cruise liners usually register their ships in a place that's not their home country, opting to fly the so-called "
flag of convenience
". Some would tentatively argue that it's an example of a successful free market. Others would say that it's not a good thing to worm out of the tax, work, environmental and safety laws of your home country – especially if you're choosing to register in a nation with bare-bones regulations. It's no coincidence that some of the biggest cruise lines are registered under Bahamas and Panama flags – tax havens with watertight financial privacy laws. Because of these workarounds, staff wages and working hours in the big cruise industry can be inhumane.
Small ships, on the other hand, are usually registered in the home country they stick to exploring. The crew will probably be Croatian. The chef will pick up breakfast ingredients and wine from small shops and daily markets while you're exploring on shore, and the skipper will match you up with tour guides who know Dubrovnik inside-out. You won't have all meals included, so you can eat at pavement restaurants and spend your free time searching for the finest island-made lace. Shipbuilding is a significant (
and struggling
) Croatian industry. By sailing on a local vessel, you'll also support engineers and shipbuilders who work on island shipyards like Korcula.
Our top trip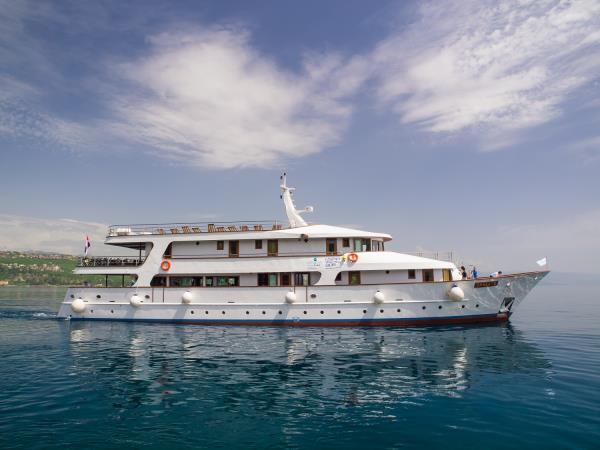 Dubrovnik to Split (or vv) on a beautiful small ship cruise
From
£735

to

£949
8 days
ex flights
Small group travel:
2024: 27 Apr, 18 May, 29 Jun, 5 Oct, 19 Oct
If you'd like to chat about Dubrovnik or need help finding a holiday to suit you we're very happy to help.

You'll see dolphins (probably)
Dolphins have a nose for the massive cruise ships crashing through the Adriatic, and prefer to steer well clear. Small ships, on the other hand, slide near-seamlessly through their sensitive habitat. You're not going to see humpbacks back-flipping off the bow, but it's not uncommon to see a pod of dolphins surfing the wake from your boat or playing in the bays around Hvar in the early morning. Monk seals are rare but there, too.
The relatively tiny environmental footprint of these small cruise ships is largely down to the Croatian crew, who care deeply about their homeland. The Adriatic Sea is their backyard and they're pretty zealous about keeping it clean. Small boats also give you immediate access to those crystal waters. You'll be able to don your snorkel, and step off the sea ladder and straight into the sea.
Powell Ettinger, from the Small Cruise Ship Collection, thinks there's another environmental reason to support small ship cruises: "On the smaller islands in particular, and especially on the Croatian coast, they're quite dependent on tourism. There are not enough hotels for people that would like to go and stay there, and if they built hotels it would be detrimental to the environment in a variety of ways, and they'd be empty half the year. Whereas the cruise ships bring people in and out and so they don't need to build extra hotels. That's part of the theory, anyway."
You'll feel like part of the crew
The people of Dubrovnik and the Dalmatian Coast have always been seafarers. And the sailing community is a tight-knit bunch. Your crew lives in each others' pockets for five months of the year, cooking elbow-to-elbow in a miniscule galley kitchen and sharing shore leave. When you step aboard a small ship, you become an honorary member of the crew. You'll share anecdotes with your shipmates over meals, get the chance to help unfurl the sails, put your children to work under the expert eye of a flotilla captain, and listen to talks by conservation experts. It feels like a real privilege to be welcomed into their floating home.

Small ship cruise expert Powell Ettinger agrees:
"All the crew are Croatian, so not only do they know the place, language, how things work, history and culture – they also have a vested interest in keeping it clean and a nice place to visit. On a small ship, travellers really just enjoy mixing with other passengers, because – bizarrely – you meet more people than on a big ship."