Things to do on the Dalmatian Coast
For some visitors, the best thing about Dubrovnik is leaving Dubrovnik. If you time your visit for high summer – or you don't read up on
how to avoid the crowds
– there's a very good chance that all you'll see of the city is a sea of floppy hats and sunburned necks crammed onto slippery limestone streets.
There is life beyond Dubrovnik, though – and you'll appreciate the city even more when you have time to digest it and realise it in context. After all, Dubrovnik is only a speck on the very southern tip of the Dalmatian Coast that flips and flops 230km up to Split. Keep reading to find out what Dalmatian Coast holidays are like.
Small ship cruises & sailing
It's like this southern part of Croatia was carved for sailing boats. Islands are chipped with hushed coves and villages that still fish for a living. Many week-long
small ship cruises
loop their way between Split, in the far north of the Dalmatian Coast, and Dubrovnik, near the Montenegro border.
Cities like Dubrovnik, Zadar and Split are maritime masterpieces, known for their shipbuilding and trading prowess since Roman times. You'll probably also swing by Korcula, with its walled island capital and grk vineyards. Or Hvar, where busy beaches are softened with remote bays and lavender fields. Mljet National Park, meanwhile, is all hilly pine forests topped with a monastery.
We spoke to Powell Ettinger, founder of the Small Cruise Ship Collection, who said he'd choose the Dalmatian Coast over Dubrovnik any day of the week: "I actually prefer Split to Dubrovnik myself. It's pretty, it has a similar interesting old town. But it's a big city – it's more lived-in than a cartoon-style city. It does have a fantastic centre, but then there are normal things and normal people around, doing normal things. It's not so reliant on tourism."
But any small cruise ship worth its salt will also take you to the off-piste towns. These are Croatian-crewed voyages, so they'll know the lonely bays and when to time your trip into Dubrovnik to avoid the crowds. You'll also be free to choose your own restaurants – a vital difference that'll make your trip. You can sit by the harbour at golden hour, eating fresh scampi and sipping rose liqueur while watching the ships and their reheated buffets depart over the horizon.

Powell Ettinger of the Small Cruise Ship Collection says:
"We're getting more people now who want to go elsewhere. There are several other islands and lots of smaller places that are much less visited but are really nice small harbours with a couple of fish restaurants and a mountainous backdrop."

Really, the completely clear, dolphin-friendly waters of the Adriatic are the star of the show on a Dalmatian Coast cruise. You can dive off the bow of your 40-person (or even eight-person) yacht into completely clear waters favoured by dolphins and rare monk seals. Just make sure you travel at either end of the sailing season – so April to May or September to October. You'll encounter more rain, but fewer cruise liners.
Self drive holidays
Electric cars are a little like unicorns in Croatia, so it's difficult to minimise your carbon footprint on a self drive holiday, other than piling as many people into the vehicle as legally possible. On the other hand, you'll visit villages and stay in locally owned guest houses in parts of Croatia unvisited and unsupported by tourism. Many of these are still recovering from the evacuation of people during the Yugoslav Wars.

Self drive holidays down the Dalmatian Coast are tailor made, so you can take your sweet time and spend anything from one to two (or more) weeks meandering down the coast. This is how you'll get real insight into the lives of everyday Croatians – not just those who work in the tourist industry.

Detailed driving notes – from parking information to ferry schedules – will be provided, and the specialist tour operator will work with you to create an itinerary that's right up your street. That could be a drive along the Peljesac Peninsula, where mini Dubrovniks guard the coast, or national parks unvisited by cruise coaches – say, mountainous Velebit, canyon-cut Paklenica or the uninhabited islands of Kornati.

One thing: just make sure you avoid driving into Dubrovnik. A great tour company will recommend finishing your trip here, so you can return your car and explore the city on foot.
Activity holidays
Activity holidays are usually tailor made, so you can pick 'n' mix any activities that suit you over the course of a week or so. Some stick to an island like Vis that's ducked under the high beams of mass tourism (and remains unshaken by its stint in Mamma Mia! Here We Go Again). You'll probably see more dolphins than tourists here. You might start your days with yoga, kayak the sun-spiked Green Cave, snorkel and swim lagoons and lakes, go rock climbing, or cycle from stone town to walled city to vineyard.
Other trips are small group holidays that concentrate on one particular holiday – perhaps cycling between the plavac vineyards of the Peljesac Peninsula or skimming the cypress-shaded mountain roads towards the Montenegro border.
Tomi Coric, founder and cycling guide at our activity holiday specialists Epic Croatia, recommends cycling the Dalmatian Coast: "With cycling...you spend enough time to get a sense of Dubrovnik, but you explore some smaller areas which need to be shown because they're beautiful and less busy. We do tours where people spend a night or two on the islands, and we mostly use local food and B&Bs. You have your breakfast there, and very often dinners. You can go to wineries and taste local wines, olive oil or traditional dishes.
"This Peljesac Peninsula is a winegrowing area between Dubrovnik and Korcula island. The route through the peninsula vineyards is great – one of my favourites. I also really like the countryside between Dubrovnik and the Montenegro border. It's nice and green, with cypress trees, villages, small farms and vineyards."
Alternatively, set out on a self guided walking holiday that comes with
Elpahiti Islands
and Adriatic views all the way. Luggage transfers are always included, so you don't have to worry about picking up that extra bottle of grk wine.
Our top Dubrovnik Holiday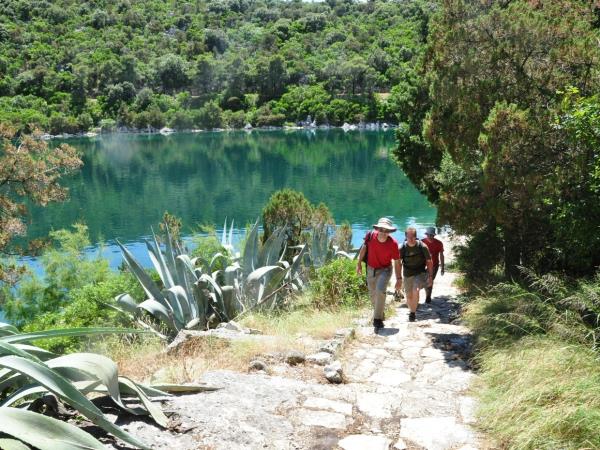 Walking holiday in Dubrovnik and islands in Croatia
From
€710

to

€880
8 days
ex flights
Small group travel:
2023: 30 Apr, 13 May, 10 Jun, 2 Sep, 9 Sep, 23 Sep, 7 Oct
If you'd like to chat about Dubrovnik or need help finding a holiday to suit you we're very happy to help.

Family holidays
Let's face it: you're not climbing Everest, sailing to Antarctica or tracking lynx through the sub-zero Carpathians. Holidays to the Dalmatian Coast lock you into the mindset of the islanders who live here year-round, so think island hopping, sea kayaking and walking – and largely done at a pretty lazy pace. You'll start to understand why aristocrats traditionally reclined along the region for their holidays.
But while most Dalmatian Coast holidays are very suitable for families, some are specifically designed for them. They'll adapt their itineraries for you, rather than you trying to wrangle your eight-year-old into a kayaking holiday better suited for teenagers. For that reason, tailor made is often best; everything from your Dalmatian villa to your itinerary will be tweaked to your capabilities and tolerance levels.
Small group family holidays tend to have a set itinerary and an adventurous theme, as they have to pre-book groups into the rock climbing and sea kayaking sessions. They're great for adaptable families or solo parents keen to share their adventure with others.