Things to do on the Elaphiti Islands
Elaphiti, Elafiti, Elaphites – whichever way you spell it, the Elaphiti Islands are usually your way in or out of Dubrovnik. A great holiday to Dubrovnik will never just stick to the city. It's been a seafaring region for several millennia; to understand Dubrovnik and its place in the world, you have to look beyond the walls.

The Elaphiti Islands are the first archipelago you see offshore – a craggy, pine-coated splatter of isles west and north of Dubrovnik. You can cruise there, but not on the floating hotels that cast shadows over the city in the summer. Instead, glide into monastery-topped ports on a Croatian-crewed yacht for 30. Or hoist your bike onto the ferry and spend a couple of days island hopping, rolling around the country lanes or kayaking around uninhabited islets like serene lighthouse-topped Olipa and the World War II execution island of Daksa.

There are only three inhabited islands in the Elaphitis, so most holidays set sail for them. Keep reading to see what flavour of Croatian island life you'll get at each.
Cycling & seafood in Sipan
Sipan swipes out across the Adriatic like a brushstroke. Back in the 14th century, it was a summer favourite with the aristocrats who swanned around the region when the Republic of Dubrovnik was at its richest. Villas, castles, chapels and monasteries popped up in their wake, pushing up close to the beaches and glassy snorkelling waters that are the Elaphiti standard.
You have to stay for a few nights to really get the hang of the pace of life here, which goes from slow to even slower. The best tour operators will seek out the islander-owned hotels or guesthouses and suggest the tiny tavernas by the harbour. They'll also show you the best cycling routes. The mini harbour towns of Suduradj and Luka Sipanska are tied together by an empty road that winds past olive groves, hilltop farms and sun-bleached churches with peeling facades.
Luka Sipanska, with its palm-tasselled fishing harbour, is the place to pause and take in just how far from Dubrovnik you feel – despite the fact that its crowds are only a 90-minute ferry journey over the horizon. This is the sunset side of Sipan, so you can pull up a chair for dinner (AKA whatever wriggles off the boat that day) and watch the yachts sail back to the mainland.
Iva Stefan, from our Croatia activity holiday specialists Huck Finn Adventure, says:
"Sipan Island is an incredibly rich and fertile island thanks to its freshwater springs. It was lucky enough to reach its peak of development at the time when the Republic of Dubrovnik was at its richest. There are still real fishermen living in Luka Sipanska and Sudjuradj, drying their colourful nets out in the open."
Hiking & beaches in Lopud
Lopud is shaped a little like a wonky hourglass, which makes for some interesting terrain. Sunj Beach bends along the scooped-out north coast; you can walk out between clouds of fish for half a mile at low tide. It's a seasonal beauty, though – think sunloungers and parasols in summer and a shabby beach bar and powdery sands just for you in spring and autumn.

As with every island in the Elaphitis, hiking in Lopud equates to low hill climbing. Use a tour operator that can match you up with a self guided or guided route complete with a narrative of what you're seeing as you go up and down paths that buck up to the top of the island and back again. Lopud was also an escape for the wealthy in the 16th century, so you'll pass fortified monasteries and abandoned mansions squeezed between the cypress and pine forests.
Sea kayaking in Kolocep
Kolocep is for sea kayakers. At only a 30-minute ferry ride from Dubrovnik, you'd think it'd be overrun by day-trippers. But the many that do appear in summer stick fast to the Italianate harbour and its crescent moon of waterside cafés. Away from the ferry port, the coast is dented with cliffs, caves, coves and beaches only accessible by kayak or paddle board. Some holidays will match you up with a catamaran that'll take you out on a sunset sail through dolphin waters.
Iva Stefan, from our Croatia activity holiday specialists Huck Finn Adventure, says:
"Hiking on Kolocep island is a true authentic local experience. You walk in pine woods along high cliffs, observing the horizon. The Adriatic Sea below is turquoise… Once you get down to the seaside, you can take a swim on a sandy beach. The best thing is, you probably won't meet anyone on your hike before you reach the village."
Our top Dubrovnik Holiday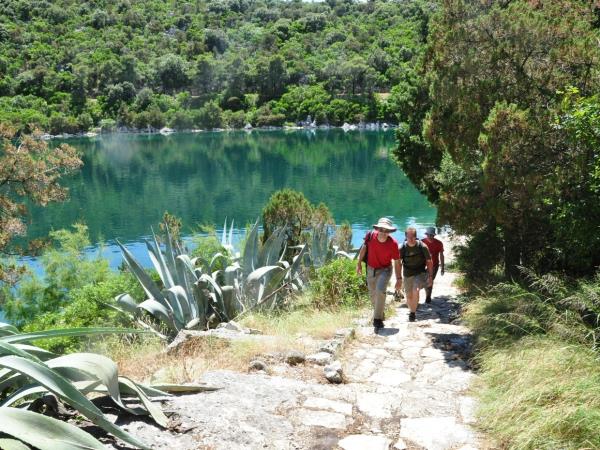 Walking holiday in Dubrovnik and islands in Croatia
From
€710

to

€880
8 days
ex flights
Small group travel:
2023: 30 Apr, 13 May, 10 Jun, 2 Sep, 9 Sep, 23 Sep, 7 Oct
If you'd like to chat about Dubrovnik or need help finding a holiday to suit you we're very happy to help.

Elaphiti Islands responsible tourism tips
The Elaphiti Islands do get busy in the summer. Aim for May or late September and October for cruise ship-free crossings and crowd-free beaches. After all, you're there to shed yourself of the madding crowd.
Pick a holiday that lets you stay overnight in the Elaphiti Islands. You'll get peace and quiet, sunsets all for yourself and a startlingly starry sky.
The nooks and crannies of the Elaphiti Islands are like magnets for the growing amount of plastic pollution in the Adriatic Sea – mostly fishing gear and bottles. Help out with the summer clean ups by bringing a bag and gloves when you go sea kayaking and pick up any rubbish you see. It'll only take minutes and you're doing your bit to give thanks to the place you're in. When beach cleaning, it's always best to leave broken glass and sharp items be; alert the tourist information office to their location instead.
The Ministry of Maritime Affairs, Transport and Infrastructure bookmarked a whopping €24 million to "renovate and reconstruct" the tiny port of Donje Celo on Kolocep island in 2019. Exciting times for islanders who feel like they lose investment to neighbouring Dubrovnik; worrying times for travellers who go to Kolocep to avoid the big cruise ships. Go to Kolocep now, before the floating hotels find a way in.