Things to do in the Old Town, Dubrovnik
Dubrovnik stretches out along the coast from Sveti Jakov beach in the south to the pine forests and spacious suburbs of Lapad to the north. But what most travellers mean when they refer to Dubrovnik is the walled Old Town. Its terracotta-topped houses, marble streets, burnished churches and secret synagogues squeeze neatly into a hook of land completely enclosed in stone walls.
First thing first: read our guide on
how to avoid the crowds in Dubrovnik
. Secondly: travel with a tour operator that'll help you avoid the ugly side of tourism in Croatia. Because the crowd-crushed Old Town isn't the Dubrovnik that Croatians want you to know. It's not a Dubrovnik that they want to know, so don't help contribute to overtourism if at all possible.
The beauty of the Old Town reveals itself in the low periods that are like a released breath: spring, autumn and winter; early morning and evening. When the mass of tourists retreats back to its cruise ships, residents emerge and travellers can see what made even the wealthy Venetian Republic hanker after Dubrovnik's riches.
Things to see in Old Town, Dubrovnik
The best holidays pair you up with a tour guide who'll take you for a whirl of the Old Town – and spend more than a couple of hours there. They'll show you the coffee shop that Old Towners spend the morning in, and the sea-view bar that is quite literally a hole on the wall. And they won't whitewash the tricky subjects, including overtourism and the war wounds still visible from the Croatian War of Independence in the 1990s. Here's what we think shouldn't be missed on a walking tour of Old Town, Dubrovnik.
Walls of Dubrovnik
The 15th-century walls mark the boundary of the Old Town, built by the Republic of Dubrovnik to protect the riches of the city in a 2km-long embrace. Fortresses pinion each turn of the wall; ideal watchtowers for taking a breather and absorbing outstanding views over the street-striped Old Town and Lokrum island.
A great guide will avoid the busy Pile Gate entrance completely, and take you around to Ploce Gate. This way, you'll always be a good kilometre ahead of any large groups coming in. There's nothing fun about being pushed along the walls by a 60-person shore excursion. You should also consider walking the walls when the big cruise ships have left, around 8am or 5pm. The opening hours change with the seasons, with the walls often closing at 3pm in winter.
Old Port
The Old Port of Dubrovnik is a world away from Gruz harbour, where you'll likely sail in. For starters, all cruises apart from the little Lokrum passenger ferry and small-scale tour boats are banned. Secondly, it's mainly used by the citizens of Dubrovnik, so you'll find more hand-me-down yachts and fishing boats than superyachts and cruise liners. Peruse the Maritime Museum to see why the Dubrovnik Republic was renowned for shipbuilding and trading, take a walk along the breakwater for a crowd-free seat, or come on a warm evening for homemade cherry ice cream.
War Photo Limited
A great tour operator will use Croatian guides who are able to explain to you the significance of the toothy gaps in the city you see from the walls. They'll also point you towards War Photo Limited, a gallery on a mission to educate people about the humanities and inhumanities of war courtesy of some of the best photography in the world.

The permanent exhibition covers the breakup of former Yugoslavia via the lens of photojournalists like Alexandra Boulat and Christopher Morris. You can also take stock of rolling exhibitions from war photographers like Tim Page, the American Vietnam War activist who shoved at press freedom limits in his determination to show his home country the truth of wars fought abroad. Note: War Photo Limited is usually closed between November and March.
Ferry to Lokrum
Forest-crowned Lokrum island plonks itself south of Dubrovnik. After a 15-minute ferry ride from the Old Port, it's easy to lose the visitors headed for the Game of Thrones Museum by disappearing into the shaded footpaths that web the island. You'll find absolute stillness in some of pine needle-padded routes – plus some tales about the monks who cursed the island when they were booted out a couple of centuries ago. Root out the cloistered Benedictine monastery, spot peacocks in the Gardens of Maximilian, test the floating power of the high-salinity Dead Sea lake, and wander botanical gardens and twisted olive groves. It's a tonic to the closed-in crowds in Dubrovnik Old Town.
Our top Dubrovnik Holiday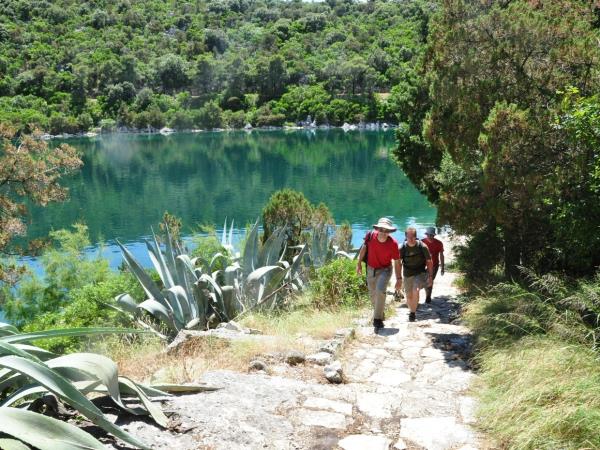 Walking holiday in Dubrovnik and islands in Croatia
From
€710

to

€880
8 days
ex flights
Small group travel:
2023: 10 Jun, 2 Sep, 9 Sep, 23 Sep, 7 Oct
If you'd like to chat about Dubrovnik or need help finding a holiday to suit you we're very happy to help.

St Blaise
As the beloved patron saint of Dubrovnik, you'll see statues of the venerable St Blaise peering down from every crevice, from church domes and facades to restaurant menus and souvenir shop shelves. He's been keeping an eye on the city since 971, when legend has it that he appeared to a Dubrovnik priest, warning of a Venetian attack. His defence has been celebrated on that day – February 3rd, if you fancy taking part in the wintry processions – ever the since.
Don't fancy a February trip to Dubrovnik? You could always pay your respects in St Blaise's Church, where the marble altars and decorations are as baroque as they come. Or there's always the Cathedral of the Assumption, which was rebuilt after a 17th-century earthquake. The treasury glitters with gold...and the grizzly relics (head, throat bone, hand and all) of St Blaise and friends.
Seafood dinners
The best holidays to Dubrovnik leave you free time in the evenings to find your own food. There's something distinctly Croatian about late dinners on warm evenings among the marble streets of the Old Town. Overfishing of lobster has led to depleted populations, so avoid that if possible. Instead, opt for locally caught monkfish and cuttlefish – usually cooked in a brodet seafood stew or as part of a plateau de fruits de mer style platter. Don't be surprised if you're greeted with an almond liqueur aperitif and bid adieu with a pine rakija brandy. A rich red Malvasia is grown just outside Dubrovnik's walls, or you could match that seafood with a glass of posip – a dry white wine made on Korcula island.
Dominican Monastery
Don't confuse this with the Franciscan Monastery – the Dominican Monastery is at the opposite end of the city, near Ploce Gate. It was built at around the same time as the walls, so looks more like a Romanesque fortress than a religious complex. However, inside you'll find cool – and, more importantly, quiet – 15th-century cloisters lining a bepalmed courtyard garden. The religious artefacts, artwork, illuminated manuscripts and ex voto coral jewellery here are priceless; you'll need a great tour guide to tell you about their fraught history.