How to avoid the crowds in Dubrovnik
Anyone who's timed their holiday to Dubrovnik just wrong will know that sinking feeling of standing on the city walls, watching as a sixth cruise ship rocks up to the horizon, turning the ant's trail of tourists entering the city into a critical mass.
Like Venice and Barcelona before it, Dubrovnik has become
synonymous with overtourism
. News reports crow about the city breaking tourism records every year, as if this is a measure of success. Tiny Dubrovnik (population: 28,428) hailed 1.27 million visitors in 2018, with most arriving in summer. That's an eight percent increase on the year before. Hooray?
On the flip side, the idea that tourism has ruined the city – or that you shouldn't visit at all – isn't quite right. Dubrovnik is still one of the prettiest cities in the world, spun with impossibly picturesque streets. Staircases stagger past synagogues and myriad churches dedicated to St Blaise. Its people are tellers of vital stories that should be heard, from its beginnings as a bolthole for Roman refugees in 641 to the 1991-5 Croatian War of Independence. You just need to travel with a holiday company that knows how to handle the city with care.
Natasha Black from our small group travel specialists Exodus says:
"Avoiding a destination altogether, whilst sometimes necessary, often will actually lead to more issues than solutions. If we were to abandon visiting Dubrovnik, then in all likelihood tourists who continued to visit the city will do so in a more damaging way, focusing pressure on very few places, not contributing as much to the local economy (such as cruise ships) or learning as much. Dubrovnik is also a highlight which can attract people to Croatia who will then go and explore other parts of the country. On our tours we only spend one or two days in Dubrovnik before visiting lesser known parts of Croatia, thereby spreading the benefits of tourism to other communities."
Responsible holiday companies will be honest about when to go walking, eating and drinking in the city. By avoiding summer and staying in locally run accommodation, for example, you'll experience Dubrovnik's true, best side. And Dubrovnik – not international hotel chains or cruise companies registered in Panama – will benefit from your kunas.
Keep reading to find out how to avoid the crowds in Dubrovnik.
Watch the cruise calendar
The curse of the pharaohs has nothing on the curse of the Dubrovnik cruise crowds. Despite being one of the tiniest towns in Croatia, it's one of the most popular cruise stops, with around 60 percent of all cruise passengers to Croatia unloaded here. The good news is, these beasts of burden are also creatures of habit and book into port a good year or two in advance. That means you can avoid them.
So check the
cruise calendar
. You'll see that there's a theme: boats pile in during late May, July, August and early September – sometimes six ships a day – and ease off in other months. You can drill that down even further. Most cruise ships don't dock overnight in Dubrovnik, so even in high summer it'll only be hectic from nine to five, before the thousands of day-trippers sidle off to flatten another city.
These shoulder times are the best time to be in town for both you and Dubrovnik. You can snag a restaurant table on the steps of the Old Town, watch the swifts swirl around the rooftops at twilight, go for a sunrise swim in empty waters, or salute the sunset at a cliff-side bar flagged only by a door in the wall.
Powell Ettinger, founder of our partners the Small Cruise Ship Collection, says timing is everything:
"If you go early in the morning or later in the afternoon or evening, then you can avoid the crowds to a certain extent. There are still lots of people around in the evenings, but you don't usually get the overcrowding from the big ships."
Avoid high summer
Thanks to its spot in the deep south of Croatia, Dubrovnik serves up some of the sunniest, warmest days in the country. Summer heralds six ships a day arriving in Gruz port, families freed from school and work commitments, packed beaches and city streets that give Venice a run for its money in terms of crowds.
Crowds aside, it's not the best time to be on the Dalmatian Coast anyway. July and August see highs of 28°C, which turns the crowds in the city and beaches into a new kind of torment. Activity holidays sometimes take a siesta during this time; hiking with heatstroke is no fun.
There aren't just reasons
not
to go in summer; there are plenty of reasons
to
go in autumn, winter and spring. Shopkeepers and residents hang dexterously decorated eggs in their windows during the Easter season; you can ring in the New Year and the Feast of St Blaise in winter; and wildflowers spring eternal in the cracks of the shell-dented Old Town in early May. Just bring a raincoat for the occasional out-of-nowhere downpour. Read more about the
best time to go to Dubrovnik
.
Tomi Coric, founder and cycling guide at our activity holiday specialists Epic Croatia, says October is a good time to go to Dubrovnik: "You can have some rainy days, but it's nicer to have rainier days than busier days. In October, days are a little bit shorter and the temperature is about 20°C-25°C – and that is a great time of year for cycling, hiking or any kind of outdoor activities."
Learn about the war
It's a sad fact that many tourists don't have much of a stomach for learning about the war that unexpectedly hit Dubrovnik during the breakup of Yugoslavia in the early 1990s. Many want to see the beauty and learn about fictional histories, without questioning why roofs are a patchwork of old and new tiles or why rose gardens have replaced missing houses.

But you won't truly understand Dubrovnik without learning about the war – and its best museums are some of the most under-visited parts of the city. Go to War Photo Limited, a gallery on a mission to educate people about war photojournalism and the myth of victory. Or use a holiday company that uses local guides who are able to explain to you the significance of the toothy gaps in the city you see from the walls.
Enter the Old Town through Ploce Gate
Gruz, the cruise ship harbour, plonks itself to the north of the city, so the biggest crowds of tourists pile in through the northerly – you've got it – Pile Gate, usually via a snaking Disneyland queuing system. Choose to do as city folk do and enter through Ploce gate instead.
Our top Dubrovnik Holiday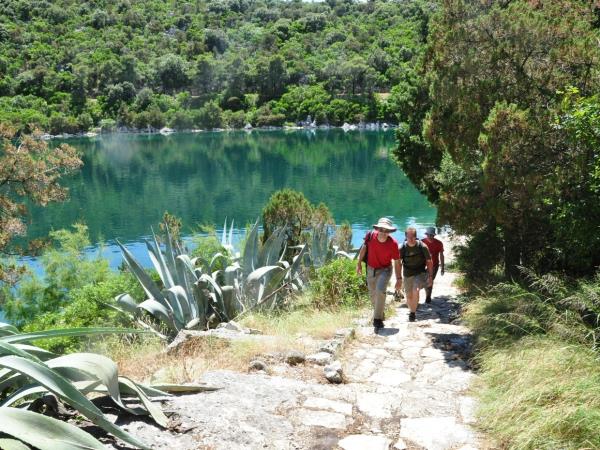 Walking holiday in Dubrovnik and islands in Croatia
From
€710

to

€880
8 days
ex flights
Small group travel:
2023: 10 Jun, 2 Sep, 9 Sep, 23 Sep, 7 Oct
If you'd like to chat about Dubrovnik or need help finding a holiday to suit you we're very happy to help.

Stay a few nights
On the face of things, staying longer in Dubrovnik might seem like you're adding to the city's weight of tourists. But actually, you're spreading the load. Cruise ship passengers and day-trippers eat breakfast at their floating hotel, pay for excursions remotely, often use on-board tour guides, and leave before sunset.
Stay a few nights in Dubrovnik, however, and you'll get to see some of the everyday elements that reveal the city's heart. Watch the swifts screech and swoop around the rooftops at golden hour. Hear the tinny song of an early morning wedding procession collecting friends and relatives as it processes through the narrow streets. Sit among the silent mass goers, lit candles and incense at St Blaise's Church. Salute the leaving cruise ships with a pomegranate liqueur at one of the secret cliffside bars that cling to the Old Town like wallflowers. This is the locals' Dubrovnik, made to be explored – slowly.
Remember that Dubrovnik is bigger than the Old Town
Take the cable car up to Srd Hill for sunset, where long-range views across Dubrovnik and the Elaphiti Islands are laid out almost half a kilometre below. Some holidays will put you up in Lapad, a pine-coated suburb and peninsula between the Old Town and Gruz port. You'll find tourists packed sunlounger-to-sunlounger on its pebble beaches in summer, but between late September and May it's a real pleasure to trace the path that sneaks between pine trees and the sea.
Move on
Don't think that Dubrovnik is the be all and end all of Croatia. It's the pretty face of it, to be sure, but the best holidays take you up the
Dalmatian Coast
to see how life is lived in Mljet National Park or how islanders split their time between fishing and guiding kayak tours. Tailor made holidays to Croatia can take you even further north, to lesser-visited cities like Zadar or Rovinj, which see half the number of tourists that Dubrovnik is inundated with a year.
Tomi Coric, founder and cycling guide at our activity holiday specialists Epic Croatia, says:
"Our travellers like to see more, to discover more. They don't like to stay in one place much. They like to see highlights, such as Dubrovnik or a national park, but they understand there are also some nice places that are less touristy: the 'real Croatia', where they can speak with locals and taste lots of local products in restaurants. They have better interactions with the place they visit."