The most wonderful thing about homestays is the cultural exchange – you're learning about life in their community from your hosts, but they're also learning a little about where you come from. You'll find that our top eight homestays are usually located in remote, rural areas, where traditional, near self-sufficient ways of life dominate, and where guests are often encouraged to get involved with day-to-day activities from preparing meals to picking fruit or taking cattle out into the pastures to graze. This kind of holiday is the very essence of responsible travel: immensely beneficial to both the visitor and the community that welcomes them, and spreading the income of tourism to areas that typically don't see a great deal of it.

Learn more with our best homestays.
1. Kerala homestay tour
Kerala is one of India's most beguiling regions, with houseboat tours on the backwaters especially popular. You can stay at no fewer than six residences across a two-week trip, sometimes in the same house as your hosts, occasionally in a separate building. Activities to bring you closer to the local community are often included too, from cookery classes to performances of Indian dance and martial arts.
When to go:
All year round
Our top selling trip:
Kerala homestay tour
See all our trips:
Kerala holidays
Read more:
Kerala travel guide
2.Cuba casas particulares
Cuban homestays, or
casas particulares,
have long been the preferred accommodation for many travellers to the Caribbean island. You'll stay in private homes, sometimes sharing a bathroom with other guests. Most Cubans don't have the luxury of travelling abroad, so your stay can be a valuable way for them to stay in touch with other cultures, although many will only speak a little English.
When to go:
All year round
Our top selling trip:
Cuba cultural holiday
See all our trips:
Cuba holidays
Read more:
Cuba casas particulares travel guide
3. Nepal homestay & trekking
Nepal homestays are a wonderful way to explore the culture and grasp the traditions of remote Himalayan communities as you trek from place to place. Another option is to stay in a community-owned house, constructed from wood and mud, in Bardiya National Park. These homestays are run by local women, empowering them to find employment and earn income from tourism.
When to go:
September to June
Our top selling trip:
Nepal homestay trekking holiday
See all our trips:
Nepal holidays
Read more:
Nepal travel guide
4. Laos cycling and homestay trip
Discover the serene natural beauty of Luang Prabang well away from the tourist trail, with a short cycling tour along dirt roads through the countryside. Every night you'll stay with a different local family, sharing a homecooked meal and learning about their lives. As well as benefitting your host families, your trip also provides funds for a range of community projects such as clean water and schooling.
When to go:
All year-round
Our top selling trip:
Laos cycling and village experience tour
See all our trips:
Laos holidays
Read more:
Laos travel guide
5. Morocco mountain homestay
Homestays in Morocco's High Atlas Mountains are an immersive, culturally enriching experience, with every host having their own take on how to introduce guests to life in their communities. You'll also have a chance to visit local markets, and hike around the region, pausing in Berber villages. Highlights include homecooked Moroccan cuisine, and you can learn how to make and use your own tajine.
When to go:
All year round
Our top selling trip:
High Atlas homestay in Morocco
See all our trips:
Morocco holidays
Read more:
Morocco travel guide
6. Northern Thailand homestay
The Thai Lue community in northern Thailand is noted for its commitment to traditional self-sufficient lifestyles, but this is under threat from modern culture. Homestays here don't just provide valuable tourism income or allow for interesting cultural exchange. They're also helpful in keeping old ways of life going, and encouraging younger people to remain instead of leaving to find jobs elsewhere.
When to go:
All year round
Our top selling trip:
Northern Thailand homestay holiday in Phayao
See all our trips:
Thailand holidays
Read more:
Thailand travel guide
7. Mongolia homestay… with eagles
Western Mongolia is the home of the Kazakh eagle hunters – families that develop close relationships with their golden eagles. Responsible homestays in Mongolia will often be organised during the low winter season, when tourism income can be extremely useful, as families have greater requirement for income to buy fuel and warm clothing. For the traveller, they are a priceless introduction to one of Asia's most fascinating cultures.
When to go:
March
Our top selling trip:
Eagle hunter homestay in Mongolia
See all our trips:
Mongolia holidays
Read more:
Mongolia travel guide
8. Vietnam homestay tour
Stay with families from Tai Lü ethnic minority tribes in rural areas of Vietnam for an immersive take on life outside the big cities. There are some wonderful experiences to be had as you make your way between Hanoi and Ho Chi Minh City. Cycle past rice fields to the coast, join local fishermen in their basket boats, pick fruits from orchards, and visit villages known for their specialities (such as fish sauce).
When to go:
All year round
Our top selling trip:
Vietnam homestay tour
See all our trips:
Vietnam holidays
Read more:
Vietnam travel guide
More about Homestays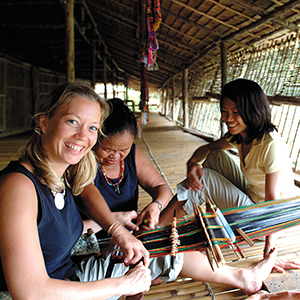 There are few better ways to experience the culture of the place you're visiting than by booking a homestay – being invited into a family's home, sharing their lives for a few days, and getting a real feel for their community. Our homestays travel guide explores the different places you can enjoy this kind of holiday, and the many benefits of seeing the world through the eyes of your hosts.