Wildlife tips
Andrew Appleyard, from our supplier Exodus, shares Tanzania travel advice on his favourite way to watch wildlife: "It is one of those incredible things to see the huge migrations lines. When I led one of my last safaris down there we saw the big five within a few hours and so I asked the group what they wanted to do. They asked me "what would you do?" I said I'd park the vehicle up in the middle of the migration, turn the engine off and sit there for two or three hours and just watch it pass. And that would be my top tip. I'd also ban photography for an hour – get everyone to put their cameras down. Too many people just shoot Africa through a lens and come back with 7,000 images – but don't actually just sit there and take it all in. So I make everyone put their cameras down and just sit there and watch it with their engines off."
Tips on exploring the south
Amanda Marks, from our supplier Tribes Travel, has these insights into luxury travel in Tanzania, including what to expect and how far to travel: "There are some stunning luxury camps and lodges to stay at, which give a very high level of service, both in terms of hospitality in the lodge and with regard to the level of wildlife guiding. A luxury safari will generally mean sharing your wildlife experience with fewer people, and possibly having a vehicle and guide (usually of high quality) to yourself. It can also mean less road travel (choosing flights instead, to use your time to be on safari). Depending on the reserve you're at, it can also mean having more diversity in the types of activities you can choose from."
Tips on visiting the Ngorongoro Crater
Amanda Marks, from our supplier Tribes Travel, shares her Tanzania travel advice:
"Some people think the crater can be overrated, but really that's to do with having the wrong expectations. Some people go in there and aren't expecting the hundreds and hundreds of vehicles – so they can be disappointed, as they're up against a lot of other people seeing the wildlife. But it's down to the guides as well. If our guides go into the crater and see a huddle of cars around a leopard, they won't go there. But most other guides will join the fray –which in my opinion is a horrible experience. So you have to understand that the crater is actually quite busy."
Tips on how to climb Kili - successfully
Andrew Appleyard, from our supplier Exodus, on being prepared for the mountain:
"I've seen plenty of tears before bedtime on the mountain, sometimes the person who you don't think is going to make it to the top walks up there with the greatest of ease, and sometimes the fittest person is the one who's struggling. Altitude sickness is a complete unknown. But if you do a longer route and have longer to acclimatise, your success rates are higher. My top tip is that if you're going to do it, do not scrimp on cost. Don't try and carry tons of your own gear so that you can cut down on porters; it's just not worth it. There were 11 in our group – I took ten of those to the summit. The other group on the mountain had 19 people – and only three made it. They told us they came up too quickly, they had altitude sickness, they didn't eat enough food, ran out of water… a whole load of things."
Health & safety in Tanzania
HEALTH
Visit your GP 6-8 weeks before travelling to Tanzania to ensure you have all the necessary vaccinations and medication. You may be requested to show an up to date Yellow Fever certificate on entry to Tanzania, so we recommend getting this vaccination as well.
Malaria is present in Tanzania below altitudes of 2,000m – antimalarial medication should be taken. Wear long sleeves and trousers and use your mosquito nets. Dengue fever (also carried by mosquitoes) is also present, particularly in cities, and tse-tse flies have a painful bite, as well as carrying sleeping sickness. They are attracted to the colour blue – so don't wear it!
Purchase comprehensive travel insurance which includes any activities you will be participating in (climbing, diving etc). Ensure this covers emergency medical repatriation; you may have to be evacuated if the hospitals in Dar es Salaam are unable to provide adequate care.
Only drink bottled water and avoid ice in drinks.
Tanzania is close to the equator and the sun is fierce – especially on Kilimanjaro, where it's magnified by the altitude, despite the cold. Remember to bring sunscreen, a hat, good quality sunglasses and chap stick with SPF to protect your lips. They will thank you for it!
Mount Kilimanjaro stands at 5,895m – altitude sickness can kick in at less than half that height. Ascending slowly reduces the chances of feeling ill, but if you do, the best cure is to descend – even a couple of hundred metres can make a difference. For this reason, we recommend the longer routes to Kilimanjaro. Younger, fitter climbers are actually likely to be at more risk, due to their ability to ascend more rapidly – age and fitness have no effect on altitude sickness. Keep well hydrated and let your guide know if you are feeling unwell.
Due to Kilimanjaro's popularity, many people assume it is merely a long hike. However, just because it is not a technical climb does not mean it is easy. It is extremely physically demanding, and not all climbers actually make it to Uhuru Peak – the highest point. However, that number drops to less than half for those on the shortest (5 day) routes – and highest (95 percent) for those on 8-day routes
Do not bathe in rivers or lakes – there is a significant danger from wildlife as well as water-borne diseases such as bilharzia.
SAFETY
Most visits are trouble free, however terrorism is sadly a reality of travelling in these times. Tanzania has suffered at the hands of terrorists' activities, although not as severely as parts of Kenya. Most acts of terrorism have been perpetrated by Al-Shabaab, which is affiliated with Al-Qaeda, and aimed at the country's military, with numerous attacks of this nature throughout 2015-16. Always get up to date information at the Foreign and Commonwealth Office (FCO) travel advisory department before travelling to Tanzania.
Tanzania is a conservative country, and all travellers should dress modestly. Women in particular should not wear shorts or sleeveless tops. This is especially important in coastal areas and on the islands – including Zanzibar – where the population is largely Muslim, and during the holy month of Ramadan (this changes date each year).
In the cities it is not recommended to walk alone or at night, and only carry the valuable or cash that you need. Be discrete with these, as muggings and pickpocketing do occur. Be particularly careful in Stone Town and on quiet beaches as well.
Always follow your driver or guide's advice when in national parks and around wildlife, especially on walking safaris.
Ferry accidents do happen between the mainland and the islands. Although your operator will be booking a reputable company, it's still just as well to keep an eye on where the life jackets and emergency exits are located on the boats.
Be sure to use a reputable company for climbing Mount Kilimanjaro. Ill-equipped or untrained guides put lives at risk.
Homosexuality is illegal in Tanzania; same sex couples should act discretely.
Our top trip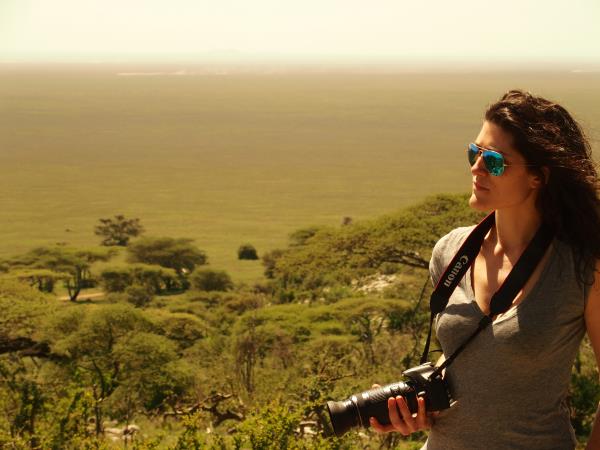 Your tailor-made Tanzania safari & Zanzibar beach holiday
From
£4400
13 days
ex flights
Tailor made:
This trip can be tailor made throughout the year to suit your requirements
If you'd like to chat about Tanzania or need help finding a holiday to suit you we're very happy to help.

Tanzania tips from our travellers
At Responsible Travel, we think the best people to advise our travellers are often... other travellers. They always return from our tours with packing tips, weather reports, ideas about what to do - and opinions about what not to.

We have selected some of the most useful Tanzania travel tips that our guests have provided over the years to help you make the very most of your holiday - and the space inside your suitcase.

Be prepared for the train trip! First class in Tanzania railways is not the same as UK first class. It's a bit of a culture shock

"We went in December and the scenery was really beautiful because it rained a bit once in a while. It was nice and green, but it was extremely humid and hot. If you cannot stand this very well, it's probably better to go in another season." - Natalie Lefevre

"We booked the six day camping safari followed by four days on the beach which worked really well as we spent long days on safari, getting up at 6.30am every day - so the relaxation time at the end was very welcome." - Nicola Wilks

"Be prepared for the train trip! First class in Tanzania railways is not the same as UK first class. It's a bit of a culture shock, especially the toilets. Take snacks too! Take a pack of pencils - if you go to the Massai village the children really appreciate them." – Michael Moulsley

Read itinerary carefully and be prepared for long, dusty truck journeys fondly referred to as having an "African massage" as roads are very bumpy.

"Positive attitude is essential [when climbing Kilimanjaro]. Bring snacks; there is plenty of food but nice to have home comforts and to share with guides and porters." - Mair James

"Research, research, research and find the right safari for you. Get exact information/itineraries. check all prices and facts… it is worth talking personally to operators, rather than relying online." - Sally Moir

"Aim to enjoy every part of the holiday, whether it is the flight in a prop plane and landing on an air strip with elephants and giraffes standing to on either side, or hundreds of hairy caterpillars in procession. Big or small, take it all in and enjoy watching and listening. The animals will be doing something different every time you see them and remember that it is a privilege to be in their environment. Don't worry about dressing up for travel or evening meals, and forget make-up and hair styling too. I would also recommend taking a travel washing line and biodegradable washing liquid – clothes dry quickly. And ladies, wear a sports bra... " - Joanne Davenport