Overtourism in Dubrovnik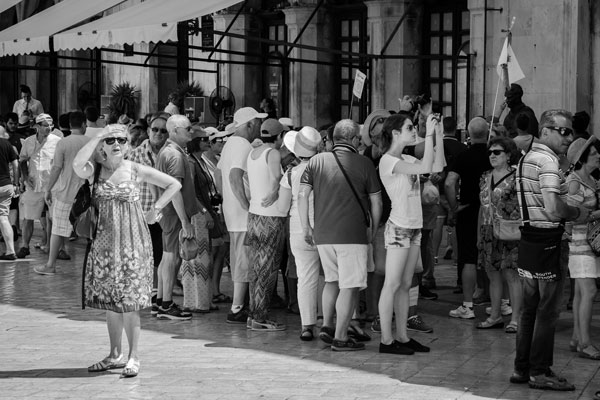 It's an odd experience to stand just outside Dubrovnik's Old Town, with tour guides shouting "winter is coming!" as you swelter in 40°C heat and bump up against armies of sweating tourists. The touts are selling
Game of Thrones
tours – Dubrovnik starred as King's Landing in the TV series – but fans of the show are only partly responsible for the huge increase in visitor numbers here; an increase that marks Dubrovnik out as yet another casualty of overtourism.
Overtourism occurs when there are too many visitors to a particular destination – you can read more about the phenomenon in depth
here.
Essentially Dubrovnik, in common with Barcelona, Reykjavik and even the Isle of Skye, is at the mercy of multiple forces which combine to bring thousands of tourists in each day. In August 2016, over 10,000 visitors bought tickets to walk Dubrovnik's famous city walls in a single day [1]. In the same year, UNESCO threatened to remove Dubrovnik's World Heritage Site status unless it curbed tourist numbers. Happily, change is slowly happening and local authorities are beginning to address the overtourism crisis, aware that unlike in
Game of Thrones
, it's not winter that's coming, it's tourists – and lots of them.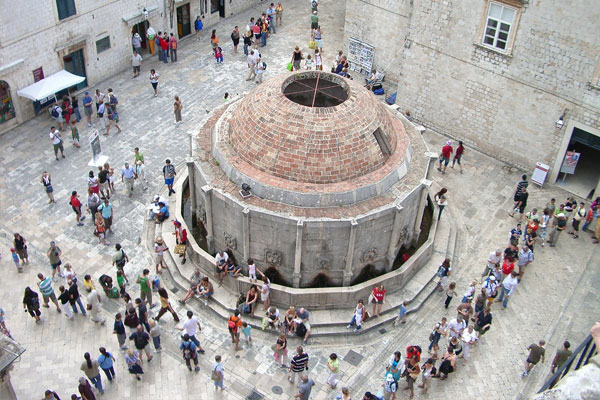 Why is Dubrovnik swamped?
There's no question that the success of
Game of Thrones
has drawn tourists to Dubrovnik and swelled total visitor numbers. Its location filming brings in 60,000 tourists a year, according to a study by Zagreb Institute of Economics, but this isn't the main reason for the overtourism this Croatian city now experiences in the summer months. A trio of culprits is in effect here; the same trio that affects Venice, further up the Adriatic.
The cheap flights that have saturated Europe in recent years are one cause of overtourism, as they make it easy and affordable to reach Dubrovnik for a short break. In fact, the average stay in Dubrovnik in 2017 was less than three days. Many visitors choose to stay in accommodation booked through Airbnb – another classic overtourism player – in a peer-to-peer transaction that is often not subject to any kind of planning, permits or taxes. Alternatively, visitors are staying in guesthouses and apartments created to meet tourist demand, in buildings that once provided vital accommodation for local people.
Cruise ships are another key cause of overtourism in Dubrovnik, disgorging thousands of tourists each day. In 2017, the city received 742,000 passengers on 538 ships [2]. These visitors typically spend very little time or money here (they may not even fit in a
Game of Thrones
tour), yet ensure that Dubrovnik's historic streets, monuments, cafes and shops are rammed with people, creating an unpleasant experience for residents and visitors alike. You can read an
interview
with novelist Louise Doughty about her experience of and thoughts on overtourism in Dubrovnik and the wider Croatian coast, after a summer holiday there in 2017.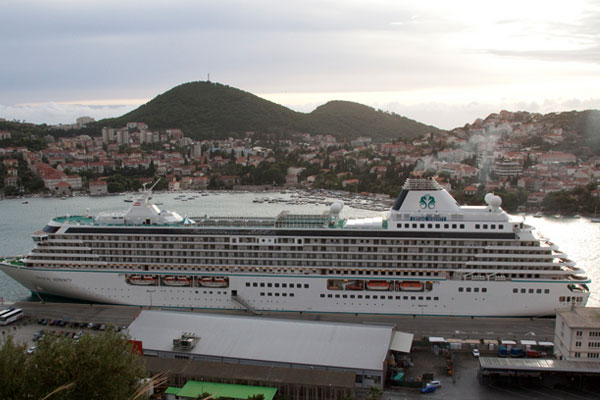 The trouble with overtourism
Local and national governments and tourist boards have long believed that more is better. A 'successful' year in tourism is generally considered to be one in which numbers have increased substantially. It's when those numbers become simply too great, with too many people concentrated into too small an area and wildly outnumbering the locals, that simple tourism becomes toxic overtourism.
Overtourism alienates and drives out local people. In Dubrovnik today, just 1,557 people live in the Old Town, down from 5,000 in 1991. Homes and flats are turned over to tourist accommodation which destroys any sense of community and pushes up property prices. Everyday life is impacted by the presence of thousands of tourists swamping the streets by day and partying by night, and local amenities and jobs are lost.
Overtourism also overloads infrastructure, damages nature and threatens culture and heritage. In Dubrovnik, the rough limestone of the Old Town's main street, the Stradun, has been buffed by thousands of flip-flops and sandals to a marble like finish. This becomes slippery when wet and has to be 'roughed up' manually each year before the summer season by workers using sharp hammers, to create some accident-resistant texture.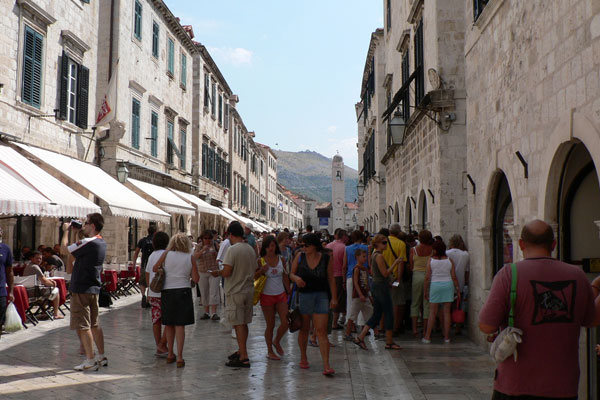 The tourist influx is not the only issue; it's the amount of time tourists stay that is significant, too. Cruise ship passengers drastically swell the population of Dubrovnik in insane spikes of just a few hours, pouring onto land after breakfast and returning to the ship at 3pm for their all-inclusive dinner. While in Dubrovnik, these visitors might have a beer or an ice cream, but that's it. They contribute very little to the local economy but their presence means that those amenities that once catered for local people, or at least benefitted them financially, are gone – traditional cafes have become fast food outlets, and craft shops now sell cheap souvenir tat instead. In the context of a long cruise, Dubrovnik becomes just another stopping off point, and for every visitor delighted to be there, there's another who might be indifferent. Overheard comments in the Old Town include: "Excuse me, what country are we in?" and "What do you mean, you don't take Euros? The whole of Italy takes Euros."
In Dubrovnik, as in any other overcrowded hotspot, overtourism also threatens to kill off the goose that laid the golden egg. If travellers only experience over-sold destinations where they have a poor experience and meet jaded local people, they might stop visiting altogether.
Changes planned
In 2016, when UNESCO warned Dubrovnik that its World Heritage Status was at risk, it recommended the city restrict visitor numbers to 8,000 per day, arguing that when more than 8,000 visitors are inside the walls of the Old Town, 'tourist blight' becomes inevitable. In response, in January 2017, the former mayor of Dubrovnik, Andro Vlahusić launched a plan to limit numbers in line with UNESCO's recommendation, as well as installing 116 surveillance cameras to count people entering and leaving the fortified complex.
Cruise ships docking are to be capped at two a day, with a maximum of 5000 passengers each and staggered arrival and departure times. It's intended this will reduce numbers by a fifth.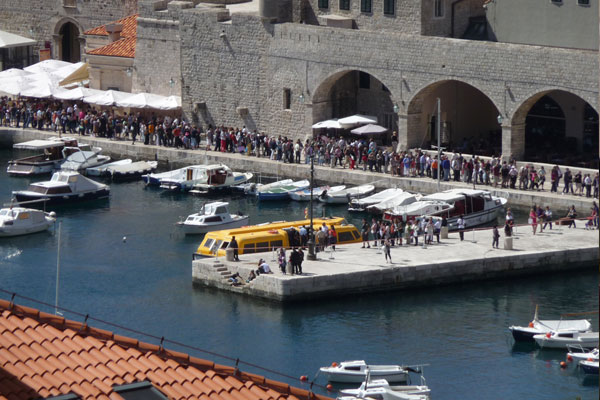 In June 2017, Dubrovnik voted in Mato Franković as its new mayor, and he has been more radical in his approach to overtourism, announcing a cap of numbers to 4,000 per day by 2019, and saying that the city needs to 'reset'. Dubrovnik aims to launch a smartphone app by the end of 2018 that lets users know when the Old Town is crowded and suggests alternative sights outside the city walls. It also plans to test a car sharing scheme to entice tourists to explore the surrounding areas.
What can you do?
To avoid contributing to overtourism in Dubrovnik, travel smart and travel responsibly. Come outside the peak summer months of July and August if you can, and explore hotspots such as the Old Town at the start and end of the day, when cruise passengers aren't present and the streets are quieter. Invest your time, money and consideration in Dubrovnik, too, by staying here for a few nights, eating and shopping locally, and taking time to chat with residents. Seek out the city's museums, festivals and local restaurants for an authentic experience that benefits you, the traveller, but also local people. Venture beyond the overcrowded Old Town to the beaches of the Lapad peninsula, which can be easily reached by public bus, or hop on a ferry and explore the islands off the coast. In this way, you'll spread your money further and swerve the crowds. You can also simply join a small group holiday, with a local guide who can steer you to Dubrovnik's hidden corners, before travelling further into Croatia or along the coast.
Sources
[1]
The Telegraph
[2]
Travel Weekly