Best time to visit Australia

Australia's tropical north is best visited during the drier winter season from Jun-Oct whereas wine regions are an absolute picture from Mar-May

Darwin, Cairns and the Great Barrier Reef tend to be sweltering all year round and wet in the winter and the rest of Australia follows a fairly similar pattern. September through to November is very pleasant; March through to May is also very pleasant; whilst June through to August can get 'chilly' which means you might need some form of jacket. Basically, the best time to visit Australia is whenever you get the chance, although if you're looking for something more specific check out our month by month guide below.
Australia, month by month
January and February are hot and humid in northern Australia so head to Tasmania, Perth or Melbourne for a much more comfortable climate. School holidays, Australia Day and Chinese New Year all mean time off for Australians so public parks and beaches will much be busier in January. After the tropical rains die down in March, the north is at its most luscious, with rainforests in Queensland alive with colour and places like Kakadu National Park featuring vibrant wetlands, bulging rivers and tumultuous waterfalls. March is also the start of whale watching season off the Victoria coast with Adelaide, Kangaroo Island and Barossa Valley all great locations to visit. Although temperatures are starting to drop during April and May it's hardly noticeable for visitors from the Northern Hemisphere with whales still appearing off Victoria while the east coast, either side of Brisbane, tends to be dry, clear and sunny. Autumn is in full swing during June and July with Sydney's parks and nearby wine regions, such as Hunter Valley, ablaze with fiery foliage. The decreasing temperatures make this the best time to visit Australia's Northern Territory with Uluru, Nitmiluk National Park and Darwin all much more comfortable over the winter months. Winter is also the best time to visit the Great Barrier Reef for clearer water and milder currents, and whales make the journey north from New South Wales into Queensland. The best time to visit Western Australia is in August and September as wild flowers appear across the countryside around Perth as spring kicks into gear. Spring is also a great to visit Sydney and the Blue Mountains as temperatures are creeping up but hiking is still pleasant before the warmer months of October and November. November is notorious for schoolies on the Gold Coast so avoid New South Wales and head south to South Australia or Tasmania, especially before things really start to get busy during December.
Our top Australia Holiday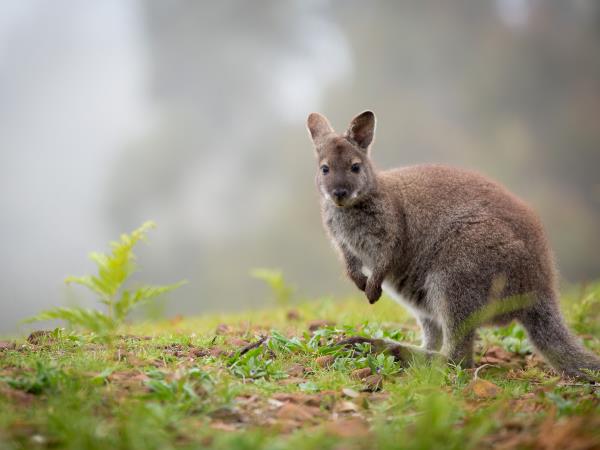 Explore coastal expanses and mountainous magnificence on this Tassie tailor made trip
From AU $1495 to AU $6000 10 days ex flights
Tailor made:
This trip can be tailor made throughout the year to suit your requirements
If you'd like to chat about Australia or need help finding a holiday to suit you we're very happy to help.

WHAT HAPPENS WHEN IN AUSTRALIA
When to visit the Great Barrier Reef
The Great Barrier Reef is well worth a visit all year round, though the rainy season, Jan – March, can get very hot, with a few more 'stingers', and water visibility won't be as clear due to run off from the rivers. After the rains have passed, during April and May, conditions are more comfortable and water clarity is at its best, ideal for snorkelling. The calmest seas follow in June to November to coincide with the arrival of humpback whales which migrate from Antarctica to give birth from May to September where they give birth.
FESTIVALS & EVENTS IN AUSTRALIA
Tjungu Festival and the Dreaming Festival
Aimy Hasson, from our supplier Lekker Boutique travel, explains: "Tjungu Festival coincides with ANZAC Day to provide an Aboriginal alternative to traditional remembrance ceremonies.
Anangu people are considered to be the Aboriginal owners of Uluru, and in Anangu language 'Tjungu' means 'meeting together' with Inma dancing, bush food stalls, artists, performers, musicians and sporting events all held at the Ayers Rock Resort over a long weekend in April.
Alongside the December/January Dreaming Festival in Woodford, Queensland, Tjungu is one of Australia's cultural highlights and not only attracts Aboriginal people from all over the
world but plenty of travellers and
white Australians too."