Responsible tourism in Australia
Responsible tourism in Australia
---
Travel right in Australia
Although Australia has a reputation for natural beauty and incredible landscapes it still has its fair share of environmental and ethical issues, two of which we've highlighted here. Progress with Aboriginal rights has been moving in the right direction for some time now but still the past is not easily forgotten and we urge responsible travellers to do their research before travelling to Australia as well as taking time out to visit Aboriginal events and cultural centres whilst in the country. Mining in Australia has also proved to be highly contentious and despite continued attempts to thwart big businesses' thirst for profit, and the Government's drive to reduce unemployment, vast areas of land, including the Great Barrier Reef, remain under threat by the affects of the mining industry.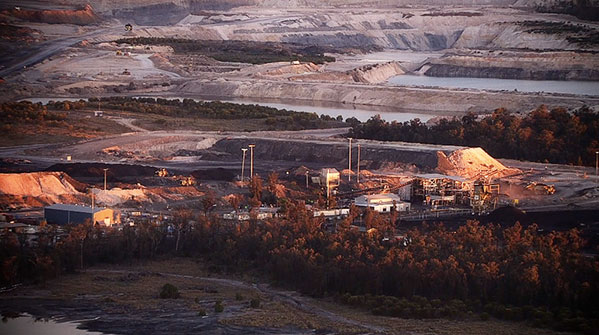 PEOPLE & CULTURE
---
ABORIGINAL RIGHTS
Aboriginal groups have lived in Australia for some 40,000 years depending on wild animals, plant roots and fresh water sources to survive. These communities were often semi-nomadic, with each tribe developing and adapting fishing, hunting and gathering techniques within a chosen territory, whilst many of the rivers and land areas were considered sacred places, holding great spiritual significance. As there were no recognisable farms or boundaries in place when the British began to settle around the coastlines of Australia, all land was considered fair game or, in Latin,
terra nullius
(empty land). Aborigines were pushed out of their territories, often into reserves, without a thought for their rights or for their ownership of the land.
Children were taken from their parents
and placed into colonial schools where they were punished for speaking their own language and made to conform to European religions rather than Aboriginal spirituality (Dreamtime) which believed that all objects are alive sharing the soul and spirit of Aboriginal people. Ever since the arrival of Europeans, native Australians have been fighting for their land rights and their human rights within colonised white Australia. The
Aboriginal Land Rights Act of 1976
was the first of its kind to allow Aboriginal people to claim entitlement to land based upon traditional association, with half of the Northern Territory and the majority of its coastal regions officially recognised as belonging to Aboriginal communities. Before the British arrived, Aboriginal people worked with the land, sustainably, moving from place to place to hunt animals using spears and boomerangs or to search for watering holes where fish and fresh water would prove pivotal in their continued survival. Although on the surface Australia is today an inclusive society where apologies have been made for the crimes of the past, and Aborigines represented at the highest levels, it's still a far cry from the land that was first 'discovered' way back when, and many indigenous people continue to live in appalling conditions across the country.
Sources:
Australia.Gov
and
Central Land Council
What you can do
Read the book 'Follow the Rabbit-Proof Fence' by Doris Pilkington Garimara (the daughter of one of the protagonists) or watch the film adaptation to learn more about Australia's 'Stolen Generation'. Visit the Northern Territory with an Aboriginal guide and book tours of the Outback with smaller, locally owned operators who support, understand and respect Aboriginal communities and put profits back into initiatives based upon continuing to promote and preserve the rights of Aboriginal Australians. Buy authentic art and wood carvings from Aboriginal cultural centres and learn more about Dreamtime and the Aborigines' relationship with the land and wildlife. Respect privacy when visiting Aboriginal communities and respect cultural traditions when attending a ceremonial event or visiting a sacred site. Pay heed to signs asking you not to photograph, climb or deface important Aboriginal landmarks – Uluru being an obvious example and yet still people insist on climbing it. Consider the outdoors as a cathedral or temple, you wouldn't clamber all over an altar to get a good photo or bath in holy water to cool off, so don't do it when you're visiting sacred sites in Aboriginal Australia. Ask questions. Respect traditions. And step gently on the soul of the red soil.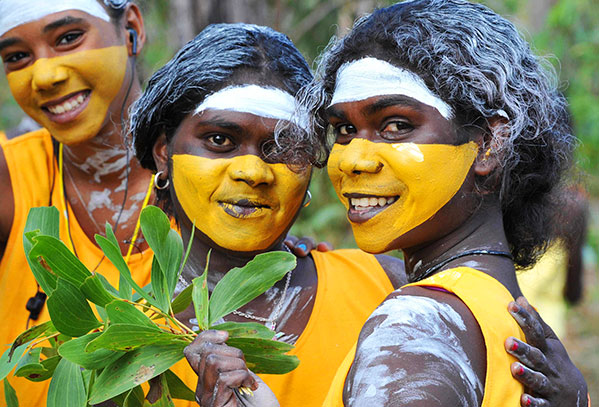 WILDLIFE & ENVIRONMENT
---
THE GREAT BARRIER REEF
THE GREAT BARRIER REEF
---
The Great Barrier Reef is Australia's, and the world's, underwater symbol of hope. Hope that miracles do exist and hope that there's much more to life than only what exists on dry land. However, climate change, as we all know, exists. And a consequence of climate change is warmer sea temperatures, of which a further consequence is the severe bleaching of coral. A recent aerial survey undertaken by reef specialist Professor Terry Hughes showed that over 80 percent of the more northerly sections of the Great Barrier Reef, where the water is warmer, has succumbed to severe bleaching. The cooler southern sections remain free from bleaching.
What is bleaching?
Bleaching refers to coral becoming white as it becomes stressed through overheating and in turn rejects the colourful algae that feeds it. Without algae, coral reefs become bereft of energy before being reduced to a skeletal state whereupon they're at the mercy of seaweed. Although bleaching can be reversed as sea temperatures fall and water becomes cleaner, not all coral types will survive with softer coral one of the first to die out completely.
What causes it?
Sometimes natural climate cycles, such as El Niño, cause a blast of warm water to wash through the Great Barrier Reef leaving a trail of white coral in its wake. However, humans are just as much to blame with the proposed coal mining project in Queensland's Rockhampton dangerously close to emitting almost 130 tonnes of CO2 into the surrounding atmosphere, year on year. The government of Queensland has also said that the corporation responsible for the mining project, Adani, is entitled to unlimited water access for the next 60 years.
Once coral dies, smaller creatures that rely on it for survival die with it. In turn, the tropical fish that feed on the smaller creatures and use the coral for shelter won't survive which means that the larger fish that feed off the smaller fish will also die. Do you see where this is going? Coral bleaching is far more serious than a responsible tourism issue where snorkellers, divers and glass-bottomed boat passengers will no longer be attracted to the world's largest coral reef. This is a matter of survival, and affects us all, no matter where we sit in the food chain.
What you can do
If you are holidaying in Australia, visit the Great Barrier Reef for yourself and support sustainable tour operators who love the environment in which they work. Join Greenpeace and
Save the Reef
or visit the
Australian Marine Conservation Society's website
and find out how you can join in the Fight for the Reef. Run a marathon, have a cake sale and raise awareness and funds for the cause. Read about what local Queensland residents and the Australian Conservation Foundation have to say and why they're determined to
say no to Adani
. Find out more about Global Coral Bleaching and study the statistics, the images and the undeniable truth that needs to be heard and acted upon, before it's too late.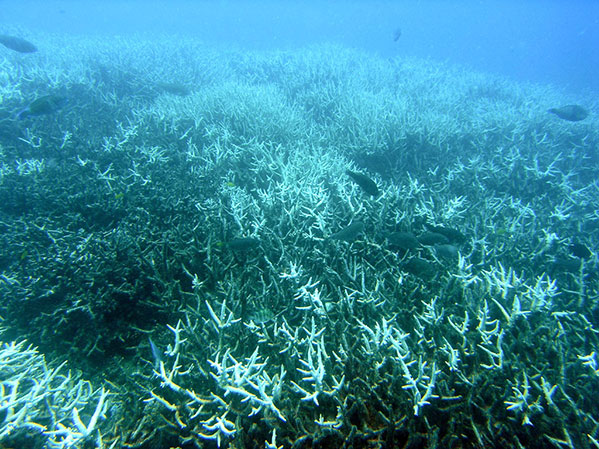 Responsible tourism tips
---
Travel better in Australia
Don't feed any animals in the wild and don't attempt to touch them either, including marine creatures and live coral.
Bush fires can occur at any time but especially during drier periods and over the course of the summer; do your bit to prevent fires by only using designated BBQ pits and grills and being careful when walking in the Bush or stopping for a break by the side of the road. Don't leave glass lying around and make sure cigarettes are fully extinguished with water – just for starters.
Avoid using a flash when taking photos of animals and don't take photos of people without asking their permission first. Also, some objects and Aboriginal events may be off limits for photographers so respect restrictions before snapping away regardless.
Respect sacred Aboriginal sites and signs relating to entering Aboriginal land. Also, don't expect all Aboriginal people to be able to use English as their native tongue.
Don't clamber over sacred rocks, including Uluru, and don't touch rock paintings or think about inscribing your own. Don't take anything from sacred sites including stones, shells or sticks.
Respect the beach, parks and picnic areas by not leaving any rubbish or food.
Although we don't feature or promote any zoos, in general, or wildlife centres that allow visitors to cuddle, touch or swim with animals (seriously, there's a crocodile park in Darwin where you can tease crocs with meat on sticks and get in a cage next to a captive croc), there is an excellent Tasmanian devil breeding program that we thoroughly endorse. Devil Ark in Tomalla (NSW) near Barrington Tops National Park is an exceptional sanctuary, with fully escorted tours the best way to learn about one of Australia's animal talismans and help fund future conservation initiatives.