Seeing tigers in the wild is rare. But tigers are rare with just over 3000 in the wild, worldwide. India is home to half of these and, with poaching still a serious threat, it is vital to support conservation efforts through tourism. In the past it was even more difficult to spot the elusive tiger, but they have now become more used to jeeps and people, and are braving the open spaces, sometimes even with their cubs. The most usual way to see tigers is from a vehicle, either a jeep or a minibus although some parks are installing tree viewing platforms.
The best places for viewing are Bandhavgarh National Park, Corbett Tiger Reserve, Bandipur National Park, Kanha National Park, Periyar National Park and Pench Tiger Reserve. One other issue related to tiger watching is the use of elephants in national parks where tigers have their habitats. Although we do not endorse elephant trekking at Responsible Travel, as you will see from our '
Elephants in tourism
' guide, we do recognise that, at Periyar, for example, the survival of the remaining tigers is simply too precarious to risk withdrawing the funding gained through elephant rides from the park; to do so would risk an instant increase in poaching and the demise of the species. Allowing elephant back safaris is far from an ideal situation, but we believe it is the "least bad" solution to a complex problem. Read more about the use of elephants in conservation
here
.
We highly recommend using the services of expert tour operators and guides to arrange a tiger safari as they know all the issues in their specific area. These should also be organisations that wholly engage with local communities, however, not just with national park authorities as the development of tiger tourism as an income source for local communities is vital.
While you are on a tiger safari, a few days at least is recommended, and the usual wildlife watching guidelines apply. Your guide should not take you too close and never tip guides more money to take you closer towards a tiger. And, and of course animals should not be fed, touched or teased in any way. Silence is the golden.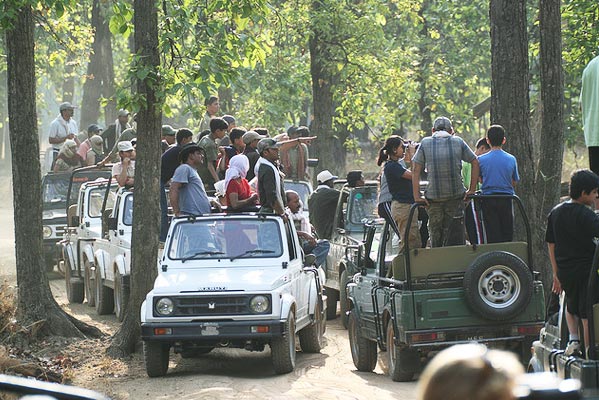 What you can do
Make sure you use a tiger safari company with a strong knowledge not only of responsible tourism but also of conservation issues within the area of India that you are hoping to visit. A very useful website is the
Travel Operators for Tigers (TOFT)
, which not only leads strong campaigns for responsible tiger tourism in India, but has also developed rating system of rating that measures the 'footprint' of individual lodges and hotels in India's wilderness regions, called the PUG Rating. You can also donate to reputable tiger conservation charities such as the WWF, Born Free and many others listed on TOFT website.