South Australia responsible travel guide
Let's be completely honest here: if you want to join queues of tourists to climb a bridge, if you're keen to squeeze into a huge theme park, or lie on surf beaches packed with other Brits, then we're probably not for you. If, however, you want to see the Australia you always imagined – a place of blue skies, big horizons and a sense that anything's possible, a place where you can see Australian wildlife in the wild – then maybe it's time to say g'day.
South Australia is a world of possibilities crossed by roads less travelled. Ours is a state of a million square kilometres populated by just 1.5m people – which is kind of like the population of greater Liverpool spread over Britain, France, Netherlands and Greece combined.

We're home to deserts, salt lakes, ancient ranges, valleys, winelands and over 2,300 miles of mostly empty coastline.

And here's where you'll find famous Kangaroo Island, the massive chunk of sun-kissed country where Australian wildlife flourishes.

Most of us live in our capital city, Adelaide. Compared to Sydney or Melbourne, it's tiny: drive 20 minutes one way and you're a thousand feet up in sublime wine country; drive 20 minutes the other way and you're at the beach; bang in the middle is the world's most gorgeous cricket ground which is filled to bursting during The Ashes. (Life's tough for us in Adelaide, but we struggle on.)

It's this intimacy that makes us the friendliest state and we invite you to spend some time with South Australians – people who have a serious love for their state but never take it too seriously.

They rarely button their collars, they've always got a joke or two, and they have a mystical ability to anticipate the exact moment when you'd really love a cold beer. Even at some of our most exclusive, upmarket retreats, you'll meet hosts who are authentic, accessible and basically bursting with a zest for life.
Your hosts in South Australia can show you what you want to see as well as the sort of stuff you've never dreamt of.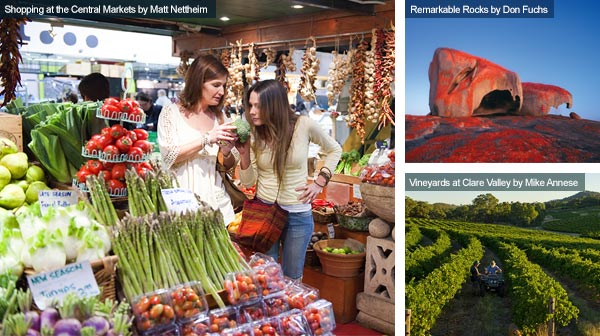 They'll take you looking for koalas in the eucalypt forests or walking among sea lions on the bone-white beaches of Kangaroo Island. They'll not only introduce you to world-renowned wines in the Barossa Valley they'll introduce you to the world-renowned winemaker, too. And they can show you their favourite five-star restaurant (it's the one where you can splash in the surf between courses).
If you've got the nerve, you'll be swimming with mighty tuna off Port Lincoln, or come face-to-face with the great white sharks made famous by Steven Spielberg. (Don't worry, Spielberg had a steel cage so you'll get one as well).

You'll be fossicking for opals or exploring ranges with an Aboriginal guide. When the stars fill the sky over the Flinders Ranges, you'll be sitting around a campfire spinning stories. Or lounging outside the outback pub in Parachilna (population four) to watch the world's longest coal train chug past. And, please – remember to wave.

Welcome to the Insider's Guide to Kangaroo Island and South Australia. There's a lot to pack in – so let's get started…
Responsible Travel would like to thank the South Australia tourist board for their sponsorship of this guide