Buddhism & cultural tourism in Sri Lanka
It is reassuring in this day and age where, in tourism, the branded often overshadows the bone fide, that cultural holidays in Sri Lanka have something truly meaningful at their core. And that is Buddhism. It has been, and continues to be, the leading light that guides tourists here. Many are followers of Buddha from around the world, others simply fascinated by the religion's history, the architecture associated with it as well as contemporary sacred practices.
No matter what your beliefs, it is hard not to be struck by the serenity, spiritualism and committed service of Buddhist monks seen at many of the country's temples, whether they are ancient museum pieces or contemporary places of worship. Beira Lake, a landmark in the capital city of Colombo, for example, is home to hundreds of monks at Gangaramaya Temple. And there are thousands of monks in and around the Kandy region, where the Sri Dalada Maligawa or Temple of the Tooth is located, housing the sacred tooth belonging to Buddha. There are, in fact, 6,000 Buddhist monasteries in Sri Lanka with approximately 15,000 monks and, in many places, from the jungles to the beaches, you will hear chanting coming from all directions at sunrise.
The ancient Buddhist sites
A sapling of the Bodhi or Bo tree, sacred in Buddhism, was brought to Sri Lanka in the 3rd century BCE by the son of great Indian emperor Ashoka leading to the establishment of Sri Lanka's first Buddhist monasteries and shrines. During this period, the kingdom was ruled by Sinhalese Kings at Anuradhapura. The ruins of this ancient city, part of the Cultural Triangle, are a very important place of pilgrimage in Sri Lanka still today. Particularly for people to honour Buddha at the Bo tree shoot.
Polonnaruwa is another important place for Buddhist pilgrims, as it took over as capital and strived to protect Buddhism after it suffered under invading forces between 5th and 11th centuries. A magnificent and compact site, with superbly kept ruins, the stone carvings of Buddha are highly revered, and the whole site has gained UNESCO World Heritage status.
Dambulla Caves and the Golden Temple date back to the 1st century BCE, so pilgrims have been trekking here barefoot for millennia now. A magnificent site, this is a sacred cave complex packed with Buddhist statues, adorned with hand painted frescoes depicting the life of Buddha, and was the hiding place of a Sinhalese King hiding from Hindu Tamils.
Mihintale is the hill top temple site where Buddhism was first introduced to Sri Lanka in the 3rd century BCE. A beautiful location surrounded by verdant hills, and the climb up 1,840 steps (ideally barefooted) to see the giant Buddha, is certainly an uplifting experience.
Our top trip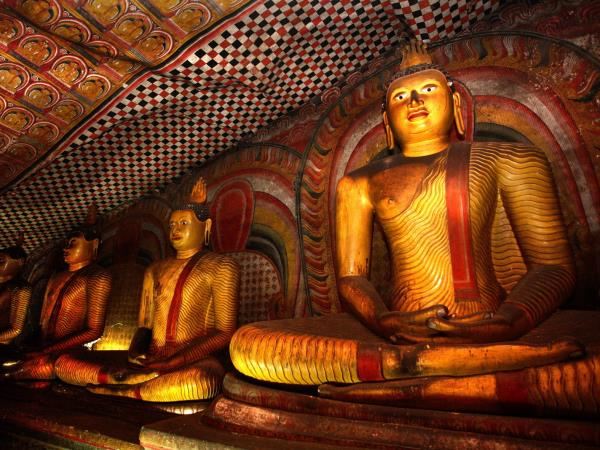 Independent tailor made holidays to Sri Lanka
From
£1995
14 days
ex flights
Tailor made:
Our tailor made Sri Lanka holidays can be arranged at any time to suit you, and adapted to your requirements as necessary although we do not offer trips for under 10 days.
If you'd like to chat about Sri Lanka or need help finding a holiday to suit you we're very happy to help.

Kandy & Buddhism
Kandy is like a central node from which Buddhism emanates out to all corners of Sri Lanka. This is because it was the 15th century capital city, founded by the Kings of Kandy who also battled to preserve Buddhism during this and following centuries as Dutch, Portuguese and British colonists attempted to erase it. This culminated in the British capturing Kandy in 1815, deposing the Sinhalese king whose line had ruled here for over 2,000 years. As with all previous colonisers, conversion to Christianity was encouraged and, in order to gain good positions of work for example, was compulsory.
The Buddhist revival
The 19th century saw a Buddhist revival, thanks to the progressive Panadura debate in 1873, held in the town of the same name, just south of Colombo. This peaceful working together of Christian and Buddhist leaders led to a slow but sure resurrection of Buddhism. In 1880, for example, there were only three Buddhist schools left, and by 1940 there were over 400. It also led to Buddhist marriages being legally recognised once more.
Vesak & Buddhist festivals
Another feature of the Buddhist revival was recognition of Vesak as a public holiday, which is still one of the most important events in the Sri Lankan and worldwide Buddhist calendar. Celebrated on the day of May's full moon, it commemorates various Buddhist events on one occasion, including Siddhartha Gautama's birth and then him becoming Buddha, the Enlightened One. Vesak is also known as Buddha Day, and it is a time when you will see many monks and pilgrims in Sri Lanka, the giving of alms, lanterns being lit and much chanting and devotional songs.
Other Buddhist festivals in Sri Lanka include Poya, held every full moon. Each Poya is given its own name, such as Madin in March and Bak in April. Poson Full Moon Poya, in June, is particular to Sri Lanka as it celebrates Buddhism's introduction to the country in the 3rd century BCE. This is celebrated throughout the country but the most famous spot to do so is Mihintale, where Buddhism was introduced. New Year, or Aluth Avurudda is celebrated in April, by both Sinhalese Buddhists and Tamil Hindus. This coincides with the annual harvest, so abundant fruit and vegetables are on offer along with traditional music, dancing and all round merriment.
Etiquette at Buddhist sites & temples
These great sites in Sri Lanka are not Pisas or Eiffels. They are very sacred sites, and need to be treated with respect, as do those who come to worship here. So please be sensitive. Men and women should dress modestly, keeping arms, legs and just about everything covered, in fact – with the exception of your feet, as you must remove your shoes. And ideally your clothes should be white. You can buy plenty of white clothes in local markets for this purpose.
You shouldn't take photos of Buddha statues, nor should you have (or reveal) a Buddha tattoo. Please be aware that you shouldn't enter a temple having eaten meat or drunk alcohol, and do be sensitive about taking photos of monks or nuns – or, indeed, pilgrims.
Bo Leaves
The leaves of the sacred Bo or Bodhi tree are represented on the Sri Lankan flag. They represent the four pillars of Buddhism, which translate as Kindness, Friendliness, Equanimity and Happiness. No wonder Sri Lanka is such a wonderful place to holiday.