Things to do in Sri Lanka

Don't panic about which site to see in Sri Lanka. Follow the example of the Buddhist pilgrims who come in their thousands, and get more Zen about it.

Tourists love to debate over which archaeological site is the best in Sri Lanka. But they are all amazing in their own way really. The Cultural Triangle is the starting point for most people on cultural tours in Sri Lanka, which is the ancient artery of Sinhalese civilisation, with the vast palaces of Anuradhapura, the ruins of Polonnaruwa and the citadel at Sigiriya, the three main points.
Immerse yourself in Ayurveda
This ancient art of healing the mind and body is part of Sri Lankan life and there are Ayurvedic pharmacies everywhere. An ancient Hindu form of traditional medicine, it is not considered alternative medicine as it is in the Europe. Brought to the island in 6th century BCE from India by Prince Vijaya who then went on to become the first king of the island. As it merges philosophy, psychology, spirituality along with plant and herbal medicines you can immerse yourself totally at retreats that not only offer escape from the world landscapes, but greet you with yoga experts, healers, meditation masters and nutrition experts, all of whom play important roles in Ayurveda. You can have a 'drop in' Ayurvedic massage at many places in Sri Lanka, as well as other traditional therapies such as steam baths, saunas and herbal baths.
Our top Sri Lanka Holiday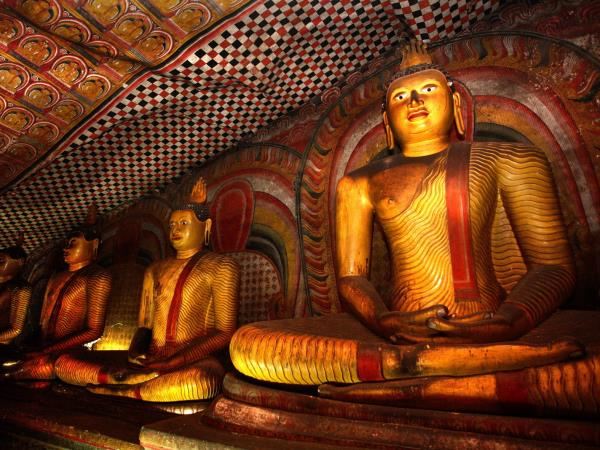 Independent tailor made holidays to Sri Lanka
From
£1995
14 days
ex flights
Tailor made:
Our tailor made Sri Lanka holidays can be arranged at any time to suit you, and adapted to your requirements as necessary although we do not offer trips for under 10 days.
If you'd like to chat about Sri Lanka or need help finding a holiday to suit you we're very happy to help.


It feels less invasive arriving at Sri Lanka's sacred sites on a bike somehow.

Sri Lanka is famous, now sadly infamous, for being a place to ride elephants. Stick to vehicles designed to be ridden and cycle your way around tropical backroads, up through tea plantations around Ella or through cultural highlights such as Anuradhapura. There is nothing like approaching Sigirya Rock by bike. Pootle along coastal wetlands of Bundala National Park, with cool off sessions on Sri Lankan beaches such as Mirissa.
Although Sri Lanka is not famous for its whale watching, it's the icing on the cake for many visitors. You can see up to ten different species including fin whales, Bryde's whales, minkes, humpback, sperm whales, long-nosed spinner dolphins, long-beaked common dolphins, common bottlenose dolphins, striped dolphins and, best of all, blue whales. Whale watching is becoming big business here, especially around Mirissa and Galle, so be careful whom you go out on the seas with, as it is important for you and the whales that your whale watching experience is a responsible one. See, for example, if the trip is accredited by the Whale and Dolphin Conservation Society (WDCS) and if it has a responsible tourism policy.
At the moment there is almost no government regulation in place with regards to whale watching, so the more people who ask for responsible whale watching, the better. See our guide to
whale watching
for more details. The best time for whale and dolphin watching is late November to mid-April – with blue whales closest to shore from late February to mid-March.