Sri Lanka tea plantations
Not long after the British occupied the 'Teardrop Isle' in the early 19th century, they realised Sri Lanka's highlands were ideal for growing tea. Plantations were terraced into the mountainsides, factories and rudimentary accommodations built for pickers, and a rail network engineered to transport leaves down to Colombo. The stretch of line between Kandy and Ella is considered one of the most beautiful in the world.
Tea remains a significant part of the Sri Lanka's economy – they call it 'green gold'. And over the last decade, it's become a significant feature on holiday itineraries. The most popular plantations to visit are those around Nuwara Eliya, Kandy and Ella, where a cool, misty climate makes for excellent growing conditions.
Sri Lanka is one of only a few countries where tea is still plucked by hand, from bushes planted along the contours of the slopes. A highly skilled workforce, predominantly Tamil women, moves along rows of bushes, stripping two leaves and a bud from each plant and often covering over 10km in a day. After picking, the leaves are immediately carried to the nearby factories where they are dried, processed and packed into crates ready for transportation.
Visiting the plantations, you can be guided around by a former worker and take a tour of a working factory. Just say no to tea picking activities. Tea pickers are some of the most disadvantaged people in Sri Lanka – largely Tamil workers who usually work long hours, receive poor accommodation, are paid some of the lowest wages Sri Lanka, and face discrimination because of their ethnicity. Do your research and only visit plantations that are committed to worker welfare (a Fairtrade stamp doesn't always guarantee it).

We went for early morning walks alone up the paths.

– Kate Mills on a tailormade holiday to Sri Lanka
Nuwara Eliya is the highest town in Sri Lanka, situated 1,900m above sea level. Known as the 'City of Light', its flower gardens, red letterboxes, golf club and prolific Morris Minors give it an unsettlingly English character. Sought-after orange pekoe is a specialty in this prime growing area, where the terraces are frequently split by tumbling waterfalls.
The train journey up to Nuwara Eliya is one of the most scenic train journeys in the world. Delays are standard as the train slows, stops and starts again for mysterious reasons – but that just means all the more time for looking out the open doors over swooping jungle-clad mountainsides and striped plantations. British colonists originally put down the train line in the 19th century to deliver tea and workers to and from the plantations, but we have the Sri Lankan engineer B.D. Rampala to thank for kitting out the trains and stations for people rather than plants.
Bird watchers love it here too, with many endemic and migratory species such as Kashmir flycatchers and Indian blue robins regularly turning up in the town's Victoria Park. Nuwara Eliya is a good base for seeing the wildlife of nearby Horton Plains National Park and Uda Walawe National Park is a few hours away.
Our top Sri Lanka Holiday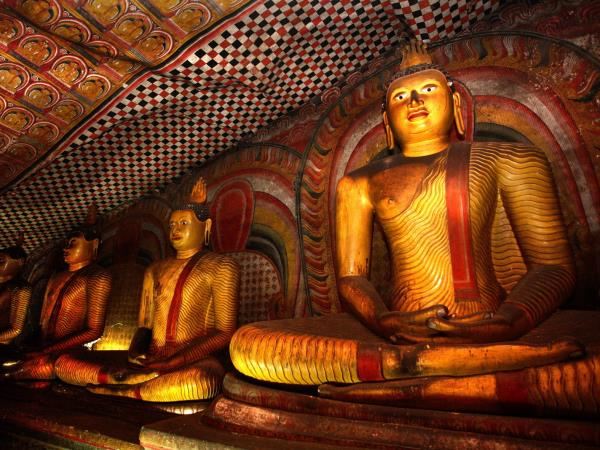 Independent tailor made holidays to Sri Lanka
From
£1995
14 days
ex flights
Tailor made:
Our tailor made Sri Lanka holidays can be arranged at any time to suit you, and adapted to your requirements as necessary although we do not offer trips for under 10 days.
If you'd like to chat about Sri Lanka or need help finding a holiday to suit you we're very happy to help.

What to see and do in Sri Lanka tea country

We experienced so many different sights, activities and scenery it's hard to pinpoint one highlight but probably the train journey from Nuwara Eliya to Kandy through the tea plantation. Seeing the beautifully manicured clipped and extraordinary undulating green terrain is hard to beat

– Jane Tosetti, in her Sri Lanka holiday review
Visits to the tea plantations usually form part of a longer Sri Lanka holiday, and often provide some of the most memorable imagery. Guided day trips may feature some of the following sites:
Adam's Peak
Near the summit of this mountain there is a rock formation in the shape of a footprint, variously ascribed to Adam, Buddha or the Hindu god Shiva, and therefore very sacred. Climbing up Adam's Peak, past various monuments and shrines, is best done in the dry season between December and May.
Haputale
Less visited than other hill stations and so retaining more of a genuine Sri Lankan feel, Haputale is a good place to be located for seeing the World's End and Adam's Peak. You can also take a 40-minute scenic tuk tuk ride to Bambarakanda Falls. At 263m, it's the tallest waterfall in Sri Lanka and surrounded by peaceful pine forests. Or choose Diyaluma Falls, where you can take a 45-minute hike to the top viewpoint.
Ella
Ella is a charmingly laidback hill country village, ideal for hiking through plantations or swimming in waterfalls. It has become a victim of its own popularity in some respects, with several unattractive accommodations popping up, but the panoramas through the famous Ella Gap, all the way to the south coast, are absolutely mind-blowing.
Demodara Loop
A very scenic train journey just outside Ella, taking you along a unique track that carves around the mountain and over a well known nine-arch bridge.
Knuckles Mountains
So named because their shape resembles a clenched fist, the Knuckles Mountains are close to the city of Kandy, a good base for hiking or mountain biking around the tea plantations. You can wander picturesque villages and admire the flora and fauna of several cloud forests.
Horton Plains National Park
Horton Plains National Park
Close to Nuwara Eliya, Horton Plains National Park is a fantastic place for walking and wildlife-watching. Key attractions include the huge Baker's Falls, and the World's End, a precipitous cliff-edge that drops almost 1,000m and serves up dramatic views as far as the Indian Ocean.
When to visit the Sri Lanka tea plantations

Visit the hill country and get off the beaten track... Be prepared, however, for the rain!

– Anna Phillips in her Sri Lanka holiday review
The high quality teas originating from Sri Lanka's central highlands are not entirely the result of inspiration and hard labour. Climate plays a big role too. This elevated region is cooler than any other part of the country, humid and rainy.
Looking specifically at Nuwara Eliya, which is among the most popular destinations here, March and April are the warmest months of the year, averaging around 17°C in the daytime. They are also the months when humidity tends to be lowest. Early April however is Sinhalese and Tamil New Year, and accommodation is usually tight. October through to December meanwhile see the most rain. The best time to visit the Sri Lanka plantations is generally between February and May, but if you don't mind putting up with the monsoons, the temperatures are suitable year round. June is the most humid month of the year.
People come to Sri Lanka for family holidays, honeymoons, bird watching, cycling or trekking holidays, and the Tea Country will often feature midway through their itineraries – the central highlands are the perfect breakpoint to cool off and slow down for a while.