Things to see & do in
Northern Sri Lanka
Northern Sri Lanka is open for business, its natural and cultural beauty having survived the many years of war that broke out in 1976. And, most importantly, ended in 2009. There are seven provinces in Sri Lanka, and when Sri Lankans talk about Northern Sri Lanka they are predominantly talking about the Northern Province. In terms of tourism, 'the north' also includes parts of the northeast which were previously inaccessible due to the war, and which actually lie in the Eastern Province north of Trincomalee. Or North Central Province, the heart of which for tourists is the great ancient city of Anuradhapura. The great Wilpattu National park was also closed during the war, and it is located in both the North Western and North Central Provinces. In short, if you want to find true north of Sri Lanka, you will be following the right point on the compass, because there is a lot of it to discover. And a lot more still to be discovered.
Why was Northern Sri Lanka closed to visitors?
Why was Northern Sri Lanka closed to visitors?
The decades long civil war began with Tamil riots in the 1970s over a lack of representation in Sri Lankan government, and the fact that Buddhism was given primary place as the country's religion. Tamils are a minority ethnic group, with the majority of Sri Lankans identifying as Sinhalese. Tamils are predominantly Hindu although there are also some Tamil Christians and Buddhists. Their full name is Eelam Tamils and, for the most part, they originally came to the island as traders during South India's Chola dynasty, the longest ruling dynasty in India's history. In the Northern Province however, Tamils are very much in the majority, and this was home to activists fighting for recognition and autonomy during the war. These activists called themselves the Liberation Tigers of Tamil Eelam (LTTE) and were formed in 1976, becoming known internationally as the Tamil Tigers. By 1983, the conflict had become a civil war, which lasted until 2009.
Many atrocities took place during this time, and up to 100,000 people were killed. The UN announced a full on investigation into alleged abuses of human rights on both sides in June 2014. It is hoped that this will finally allow for ghosts to be put to rest, and for northern Sri Lanka to become a thriving, multiethnic beacon of reconciliation and responsible restoration. For more details on the UN decision, see
Amnesty International
.
Where to go in Northern Sri Lanka
Northern beaches
Trincomalee is famous for its beaches, attracting swimmers and surfers for a long time now. Popular beauty spots include Uppuveli , with clear shallow waters and waterfront accommodations or nearby Pigeon Island famous for its coral reefs and sea turtle populations. Right up on that northern tip, beach seekers will want to head to the islands off the Jaffna Peninsula. These low lying idylls sit like floating candles on turquoise waters, in the country's most remote locations. They have palm trees, flamingos and lots of sandy stretches. Delft, for example is a coral and limestone island, named by its Dutch colonists but also known as Neduntivu in Tamil. Here you can stroll around its palm fringed beaches, admire the wild ponies brought originally by the Portuguese, or just take in daily life on this remote spot in the Palk Strait.
Northern towns
Jaffna is top of the tourist trail when it comes to northern towns and it is also pretty much top of the map. However, as with most of Northern Sri Lanka, it is still very quiet. Jaffna was a LTTE stronghold during the civil war and many buildings were destroyed along with records of the town's history. But you can feel the elegance that once was here, and which will no doubt be here again some day. One of the coups of its ongoing restoration is the library, now considered the hub of Tamil culture and academia. Colonised by Portuguese, Dutch and British, its impressive fort was built by the Portuguese in 1618 and then rebuilt by the Dutch in 1680. Taken over by the British it became a garrison in 1948 and you can visit buildings such as the Governor's residence and Queen's House there, although older findings are being made all the time as it is in constant archaeological upheaval.
Modern day Jaffna boasts some gorgeous hotels, a proliferation of magnificent Hindu temples, parks and markets. And coast of course, as Jaffna is gateway to the paradise islands that lie in wait off its eponymous peninsula.
Trincomalee is a port city and gateway to the northeast coast and a wonderful place to spend time with lagoons, bays and beaches all popular with swimmers, surfers and swimmers. And cetaceans. Otherwise known as Trinco, this natural harbour was also conquered by European colonists over the years. There are various sacred sites of note, including the Koneswaram Hindu Temple, as well as numerous Buddhist monasteries and temples such as Girihadu Seya which is said to be the oldest monastery in the country. Another great sight in Trincomalee is Fort Frederick, which was built by colonial Portuguese but, like so many of these great buildings, was then reoccupied by invaders in their wake.
Northern wildlife
The most spectacular wildlife spot in Sri Lanka is Wilpattu National Park, although to call it a spot is to undersell it somewhat. It is actually the country's largest national park at over 1,300km2. Its name translates as 'Land of the Lakes' is it boasts hundreds of 'willus' or ponds scattered throughout its borders. Consequently, it is one vast waterhole for wildlife and is a famous hotspot for leopard. But also sloth bears, water buffalo, elephants, crocodiles, sambar, spotted deer and a bevy of beautiful birdlife. In fact birders may just wet themselves at this wetland wonder with popular species including egrets, ibis, pin tails and whistling teal. Closed for years during the war, Wilpattu's gates reopened in 2010 and it remains unexplored by many tourists who still to flock to Yala National Park down in the south, in their droves.
Trincomalee is also becoming a very popular whale watching destination, as blue and sperm whales come to mate in its very deep natural harbour. The best times to see whales here are between June and October; they're pretty close to shore, too.
Our top Sri Lanka Holiday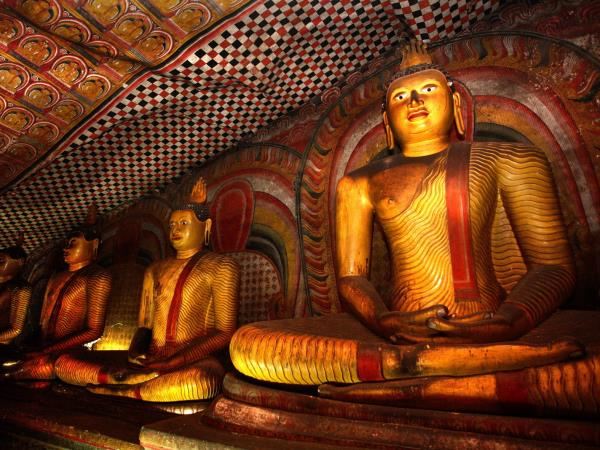 Independent tailor made holidays to Sri Lanka
From
£1995
14 days
ex flights
Tailor made:
Our tailor made Sri Lanka holidays can be arranged at any time to suit you, and adapted to your requirements as necessary although we do not offer trips for under 10 days.
If you'd like to chat about Sri Lanka or need help finding a holiday to suit you we're very happy to help.

Northern star
The northern star of Sri Lanka's Cultural Triangle is Anuradhapura, a once majestic ancient city ruled by Sinhalese Kings and dating back over 2,000 years. It is an important place of pilgrimage for Buddhists, with worshippers coming to honour the only live shoot of the tree under which the Buddha was enlightened in 544 BC. Although in ruins, with much of it still to be uncovered, you do get a sense of just how magnificent this city must have been, with its proliferation of bell shaped stupas, palaces, monasteries and monuments. And magnificent lake systems, used to irrigate and provide water for the city. The most famous of these are Nuwara wewa and Tissa wewa, all covering 40 km².
Nearby, Mihintale Mountain is believed to be the site of a meeting between the Buddhist monk Mahinda, son of Emperor Ashoka of India, and King Devanampiyatissa, which marks the inauguration of Buddhism in Sri Lanka. They met during a full moon in June, and the religious festival known as Poson is a busy pilgrimage season here as a result.
On a much less peaceful note, and just to keep the history of the North in perspective, the Anuradhapura massacre occurred in the modern town in 1985, when the LTTE opened fire on civilians in a bus station and killed 146 Sinhalese men, women and children.
Northern monsoon
Northern Sri Lanka has a completely different monsoon season to the south of the island. The northeast monsoon is generally between October and January, whereas the southwest one is May to July. In the past, this meant that Sri Lanka was not a popular holiday destination during European summer holidays. Now, however, you can visit the north of the island and enjoy blue skies and beach time during these months as well. When it rains, it really rains in the north though, and there have been some disastrous impacts from flooding over the years during monsoon season.
Northern culture
There are a few significant cultural differences in Northern Sri Lanka, particularly in the far Northern Province where the majority population is Tamil. Tamil is the local language and the main greeting is 'Vanakkam'. 'Nandri' means 'thank you'. Tamils may often be referred to as a minority in Sri Lanka but there are still over five million Tamil speakers here. The traditional dress of Tamil women is a sari and men tend to wear a shirt and dhoti, and of course there are many Hindu temples. The most famous of these is probably the 15th century Nallur Kandaswamy temple in Jaffna, up on the northern peninsula. It hosts a spectacular Hindu festival over 25 days in July and August, which is one sure fire way to get to grips with Hindu and Tamil culture in the North.
The Northern Line
If Londoners thought their Northern Line was bad, it is put into perspective by the fact that Sri Lanka's railway that goes between Anuradhapura and Jaffna was closed throughout the civil war when guerrillas took over the lands surrounding it and also used the sleepers for bunkers. It was left to wrack and ruin until it was reopened in 2014. As well as daytime services, you can take a sleeper train on this line up at the coast, and you can go all the way to and from Colombo. The scenic train journey is often on board the Queen of Jaffna train, known in Tamil as the Yarl Devi.