Cooking & food holidays in Sri Lanka

Sri Lankans love their food Ė dishes that burst with freshness, flavour and spice Ė and they arenít afraid of a deep fried snack, either. Come hungry, leave happy.

Reading up is one approach to learning about Sri Lankaís long history; a more appetising way is to simply turn up and tuck in. Food is tasty evidence of the islandís past and present. Migrants and colonisers introduced a host of home-country recipes, spice traders brought exotic ingredients from far afield and neighbours shared culinary techniques. It means Sri Lankaís food is a delicious blend of Dutch, Portuguese, English, Arab, Malay and Indian flavours: intense curries and custardy cakes; deep fried fritters and lashings of tea.
Given its breadth and sheer yumminess, itís odd that Sri Lankan food hasnít found the international audience enjoyed by Indian or Thai cuisine, but that makes it even more of a joy to discover. Even the omnipresent curry and rice feels lip-smackingly original. Forget takeaway flavours and prepare for fresh ingredients, silky dhals and zingy sambols. Many favourite dishes are meat free, so vegetarians wonít miss out, and anyone after a foodie experience that keeps on giving once you get home can learn to cook here, too.
The Sri Lankan store cupboard
Rice
Rice is a staple in Sri Lankan cuisines and considered the giver of life here. Harvesting the paddy fields happens twice a year, in August and February, and itís a wonderful community event, with villagers working together to gather the rice and celebrate with rituals and ceremonies. Rice is used in almost every meal and a multitude of snacks, from the pancake-like hoppers made with rice flour batter and served at breakfast, to the rice and curry that features on every menu around the island. As well as fragrant white rice, numerous nutritious red varieties are grown and cooked here.
Coconut
Coconut is absolutely central to Sri Lankan cooking. Thanks to its tropical climate, palms thrive here, leading to an abundance of coconuts and ways to eat them. Grated coconut is blended into rotis, coconut milk is added to curries and dhals and shredded coconut forms the backbone of simple pol sambol, mixed with chilli, lime juice and red onions, and served as an accompaniment to all kinds of dishes. There are lots of coconut varieties, including the orange coloured king coconuts sold on the street for their sweet juice.
Lentils
Simple dhals are eaten everywhere, all the time in Sri Lanka. Red lentils, or masoor dhal, are commonly used, cooked with spices and coconut milk to create a soothing, nutritious stew, eaten with rice or breads. Dhal is also used to make ulundhu vadai, deep fried and very tasty spiced fritters.
Palm sugar
Ably catering to the Sri Lankanís love of sweet food, jaggery is a type of raw, brown sugar. It can be made from sugar cane, but in Sri Lanka is often made from the sap of the kithul palm. Itís said to have health benefits thanks to the nutrients found in it, so as long as you arenít hoping to keep your teeth, this stuff is great for you. Kithul jaggery is used to make custardy, cakey watalappam, a dessert of coconut milk, egg and cardamom, left behind by Malay traders from the Spice Islands.
For a stratospheric sugar high, try kithul syrup (sometimes called treacle). Itís made by tapping the sap of the kithul palm and then boiling it down. Like the finest olive oil, it comes in a range of strengths and shades, and is often served drizzled over buffalo milk yogurt Ė a dish called kiri peni.
Local ingredients & global influences
Indian influences
Only 30km of sea separates Sri Lanka from India, so itís no surprise that thereís an Indian flavour to a lot of Sri Lankan food, with the cuisine of Kerala in south India most similar. Just like in Sri Lanka, Keralaís food favours coconut milk over ghee in curries and features lots of fish and seafood. Sri Lankan food is big on spice and heat, too, although Sri Lankans generally cook with roasted curry powder, whereas Indians use it raw.
British influences
The British love of a brew is alive and well in Sri Lanka, thanks to the Hill Country tea plantations planted by Brit settlers from the mid 19th century. Nuwara Eliya, the highest point on the island, is tea capital, with lots of tea estates to visit, grand colonial hotels and lush plantations to stroll through. Youíll also find British influenced produce here, with the tropical treats found at lower elevations elbowed out by good, solid veggies such as carrots, leeks and potatoes.
Muslim influences
Dishes like biryani and
watalappam
(a custardy coconut pudding) hail from Sri Lankaís Muslim recipe repertoire, as do flatbreads such as roti and paratha. Along with samosas introduced by Arab traders, these breads often feature on street stalls. One of Sri Lankaís most popular street snacks is
kottu roti
, made from
godamba roti
, oily, fried dough, a bit like a giant paratha. Itís shredded then stir fried with spices, sauces and optional extras such as meat, veggies, cheese or egg. This is basically the Sri Lankan equivalent of a burger: fast, tasty, maybe not that healthy but guaranteed to hit the spot. And before the joy of eating
kottu
, comes the joy of
seeing it being made
, with each chef beating out their own unique
kottu
rhythm as they chop and fry.
Dutch & Portuguese influences
The Portuguese spice merchants of the 16th century and the Dutch traders of the 17th century made Sri Lanka home and left behind a culinary legacy. Itís sometimes referred to as Burgher food (not to be confused with burgers), after the name given to the Sri Lankan people descended from Portuguese, Dutch and other European men who settled here and had families with Sri Lankan women.
Lamprais are perhaps the most famous foodie creation left by the Dutch. Lamprais can be translated, somewhat unappetisingly, as lump rice. They are made from meat (including frikkadels, or Dutch meatballs), vegetables and rice, baked slowly in a neat banana leaf parcel.
Sri Lankans have a famously sweet tooth, and many of their popular cakes and desserts are based on Dutch or Portuguese recipes. The crispy, sweet biscuits called kokis, enjoyed during Sinhala and Tamil New Year, were left by the Dutch, as was breudher, a buttery yeast cake which is eaten at Christmas. The romantically named love cake, meanwhile, made with semolina, cashews, honey and rosewater, and bolo fiado, a layer cake of pastry, dried fruit and syrup, are both Portuguese.
Our top Sri Lanka Holiday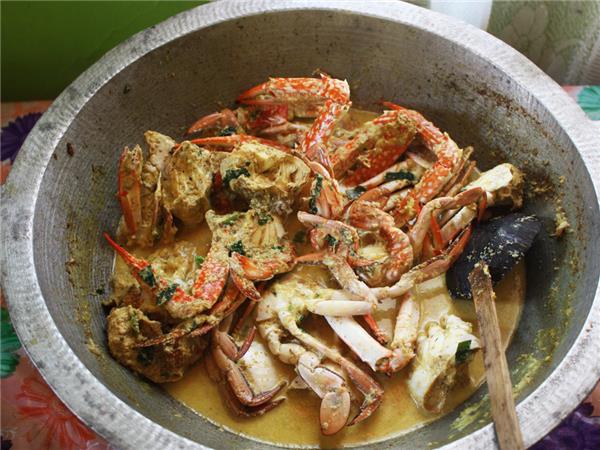 A delicious adventure through this provocative country
From
£1900

to

£2135
12 days
ex flights
Small group travel:
2023: 4 Aug, 18 Aug, 8 Sep, 13 Oct, 27 Oct, 10 Nov, 28 Nov, 8 Dec, 22 Dec, 29 Dec
2024: 2 Jan, 5 Jan, 12 Jan, 16 Jan, 19 Jan, 23 Jan, 26 Jan, 2 Feb, 6 Feb, 9 Feb, 13 Feb, 16 Feb, 20 Feb, 23 Feb, 27 Feb, 1 Mar, 5 Mar, 8 Mar, 12 Mar, 15 Mar, 22 Mar, 26 Mar, 29 Mar, 2 Apr, 5 Apr, 12 Apr, 16 Apr, 19 Apr, 23 Apr, 3 May, 17 May, 31 May, 14 Jun, 2 Jul, 5 Jul, 9 Jul, 16 Jul, 19 Jul, 26 Jul, 2 Aug, 9 Aug, 16 Aug, 23 Aug, 27 Aug ...
If you'd like to chat about Sri Lanka or need help finding a holiday to suit you we're very happy to help.

Where to eat Sri Lankan food
street snacking & regional treats
Street snacking & regional treats
Food is everywhere in Sri Lanka, served from makeshift shacks and portable stalls, in beach cafes, colonial Hill Country hotels and sophisticated fish restaurants such as Colomboís super cool Ministry of Crab. Snacks, known as Ďshort eatsí are served for pennies on the street Ė think deep fried lentil fritters, samosas and kottu roti Ė while rice and curry is available everywhere, from street vendors right through to swanky restaurants. This may sound like one dish, but it varies hugely from one place to the next. Alongside a meat or fish curry, you may have a side of sweet and sour aubergine, silky dahl (called parippu in Sri Lanka), curried beetroot, coconut relish (pol sambol) or vibrant green gotukola sambol, made from refreshing Asian pennywort, a leafy plant grown throughout South East Asia.
There are other regional variations, too. Along the coast, fish dominates, cooked fresh off the boat in curries. In Mirissa, try sea crabs simmered in fennel seeds, chilli, turmeric, tamarind and coconut milk. In Negombo, visit the fish market to see stalls piled with shark, squid and barracuda, plus the lobsters, crabs and prawns this regionís famous for.
Tea is served throughout Sri Lanka and you can see it being picked in the tea country around Nuwara Eliya. In the spice growing region of Matale, learn how spices are used in food, but also cosmetics and ayurvedic medicine. Everywhere you go, tuck into the delicious fresh fruit produced on the island and sold cheaply by the road, from strawberries grown in the temperate Hill Country, to exotic dragon fruit, rambutan and the sour-sweet wood apple.
Learning to cook in Sri Lanka
hands on instruction in homes
Hands on instruction in homes
Small group holidays that focus on Sri Lankan food usually give you the chance to cook, as well as eat. Youíll get to learn Tamil, Sinhalese and Burgher cooking, not in some sterile cheffy kitchen, but in the homes of local people. After all, this is where the best, most authentic food is rustled up. Itís an informal and hands on way to learn how to whip up a tasty dhal or handle a hopper pan, and means you can still cook and eat like a Sri Lankan long after you return home. Thereís often the chance to visit markets, too, accompanied by a foodie expert or local cook, to choose fish, vegetables and spices, for the full paddy to plate experience.
Eating etiquette in Sri Lanka
Sri Lankans eat with their hands or, more precisely, with their right hand. Tourists are always offered cutlery, but if you wish to eat like a local, use just the fingertips of your right hand to mix the food, not the whole hand, and donít lick your fingers afterwards. There are usually sinks for washing before and after meals.