There's nothing in the world like Sigiriya rock fortress. Guaranteed to punch the breath right out of you (and not just because of the 1,200-step climb to the top), this one-time city in the sky seems to have sprung fully formed from the jungled plains of northeast Sri Lanka. That's not true, of course; Sigiriya reclines on the magma plug of a volcano that blew its top around two billion years ago. The volcano itself is long gone, leaving behind the 200m-high column crowned with the ruins of a fortified 5th-century palace – and some of the best views in Sri Lanka.
Horrible histories
Nothing at Sigiriya is without a story, so you'll need a guide to translate the mysterious chambers and frescoes around you. You'll find plenty of tour guides at the base of Sigiriya who spin a great yarn, but travel with a Sri Lankan holiday specialist and they'll match you up with one who really does know their history. They'll reveal the best paths through the gardens and point out leafy meditation chambers before leading you up – and up and up – to the top of Sigiriya.

Archaeological finds reveal that people were living around Sigiriya since the 3rd century. But it was King Kasyapa who carved it into a decadent sky-high citadel.

The 5th-century King Kasyapa rocketed Sigiriya to bright (if short-lived) national fame. He bumped off his father, swiped the throne from his half-brother, and planted himself on Sigiriya, building a fortified city around him. But for all the work put into the rock-top palace and surrounding moats, gardens, orchards and pools, King Kasyapa only stayed for 11 years before being ousted by his half-brother. Buddhist monks moved in for a few centuries, before abandoning Sigiriya to the forest – where it stayed, until colonist archaeologists came knocking in the 1800s.
There are a few ways into Sigiriya. Your tour guide can suggest the best route for you, depending on whether you prefer to go straight for the climb or explore the abandoned landscaped gardens and monastic Boulder Garden first. Once you're at the base of Sigiriya, there's only one way up. Stone staircases polished by over a millennium's worth of footsteps rise steeply ahead, cracking through massive boulders and pinned by tree roots.

The climb will take twice as long as you expect, mostly because you won't be able to stop looking over your shoulder the whole way as the world shrinks below.

The terraces between staircases make the climb easier than you'd think. They're good excuses to take a breather and look down on the banyan and ebony trees spread from horizon to horizon below. About halfway up, rich frescoes of bejewelled women wrap around the western wall. The Hall of Mirrors – possibly the world's grandest visitors' book – is around here, too. Back in the 5th century, one wall was polished like glass to reflect the poems and graffiti on the wall opposite.
The remains of a lion carved straight out the rock mark the final staircase to the top. Each paw is as tall as a person. At this point, the steps have worn too thin to support anything bigger than a monkey. A metal staircase zigzags up like a fire escape; it's a case of concentrate on the back of the person in front of you and don't look down.
Hundred-mile view
The reward for your climb? No biggie: just the best view in Sri Lanka. Eagles circle below your boots, hovering over miles of jungle and lakes that roll out to the Knuckles Mountains. Look down, and you'll finally appreciate the mathematical symmetry of the pools and paths of the pleasure gardens.

Saffron-robed monks dip their toes in the pools and take selfies, gathering for a bright family photo.

Your guide will show you how Sigiriya was actually more pleasure palace than fort. They'll decipher the skeletons of tiered pools, water cisterns and dance halls, and explain why the Buddhist monks come to wash their feet in the lily ponds. This is your chance to rest in the shade before taking the 1,200 steps back down to earth.
Our top Sri Lanka Holiday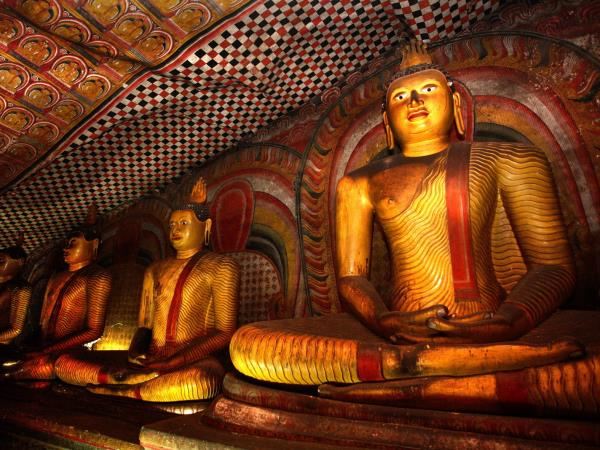 Independent tailor made holidays to Sri Lanka
From
£1995
14 days
ex flights
Tailor made:
Our tailor made Sri Lanka holidays can be arranged at any time to suit you, and adapted to your requirements as necessary although we do not offer trips for under 10 days.
If you'd like to chat about Sri Lanka or need help finding a holiday to suit you we're very happy to help.

The best way to see Sigiriya is as part of a larger organised tour of Sri Lanka. That way, you'll get all your accommodation and transfers organised for you and have the option of doubling it up with a trip to the nearby Dambulla Cave Temple.
Don't worry too much about whether you're fit enough to climb Sigiriya. You can take the steps at your own pace and take as many stops as you like to breathe/admire the view.
You'll pay more for entry than Sri Lankans: around £23. That's a good thing. Your ticket costs more than the average Sri Lankan earns in a week, so you're supplementing local visitors while contributing to conservation and archaeological project funding. All those staircases don't look after themselves.
Watch out for the monkeys. Stand under the shade of a tree to eat your ice cream, and you won't get further than the first bite. These critters like camera straps, too. And watch your step around the water features – crocodiles are partial to a paddle in the moat.
Cooler, cloudy mornings are the best time to climb Sigiriya. Rainy season is best avoided if you want good visibility; it runs from October to November in the northeast. Read more about the best time to visit Sri Lanka.