If you were flying over Sri Lanka, you would see this stunning, emerald isle with a perfect rim of white all around, the Indian Ocean lapping onto its shores and stunning beaches on the west, south and north east of the island. Most responsible travellers come to Sri Lanka for the wildlife and cultural odysseys around the magnificent Cultural Triangle. But when you think of that bird's eye view again, you will see that the island is, in many ways, one big golden circle, with 1,600km of shimmering shores. And, tucked in between the palms and mangroves, many eco resorts, yoga and Ayurveda retreats await the discerning traveller.
There are some famous beaches, but there are also miles and miles of empty strands, where you will find a tiny restaurant serving the best prawns, freshly caught, served up Sri Lankan style, with cool coconut water or fresh fruit smoothies to cool you down. There are often surf boards to hire in even the quietest spots, with instructors who will guide you through the waves. Or you can book a day or two with a surf instructor who can take you to all the best spots, quiet or bustling, to catch the best waves. Most tailor made holidays come with a driver guide, so they will also know all the quiet spots to drop you at until the sun sets.
Mirissa
On the southern tip, this is a great spot for whale watching trips between November and mid April. This is a busy beach, however, unlike some of the images you might see online, with fruit and fish sellers by day, sun loungers to rent and some partying by night. It is a great base, however, for exploring quieter places nearby and its location protruding out into the Indian Ocean and curling around Weligama Bay is Sri Lanka at its most sumptuous – and surfy. This is one of the island's top surf spots, especially for beginners keen to find that first wave that is guaranteed to get you standing. Mirissa has a growing hipster vibe, with people saluting the sun in the morning in a yoga session overlooking the ocean, and surfing their way through 'til sunset.
Ahungalla
40km north of Galle, as well as having a whopping white sandy beach with palm trees lining it, this is an historic spot for several reasons. First, it is on the iconic Colombo to Galle coastal railway line, as depicted in Paul Theroux's hit travel journal, The Great Railway Bazaar. Second, it was decimated by the 2004 tsunami, although now fully recovered. Third, it is home to a hotel designed by the legendary local architect, Geoffrey Bawa, whose style of tropical modernism embraces both the eco and the exquisite. This is quieter than some of the beaches further south, but it does get choppy so you want to be confident in the water here. You will get superb sunsets, however, and at night you may even see a sea turtle or two.
Talalla beach
Unlike Matara Beach further west, this is a mile of utter tranquillity most of the time and a great spot for visiting both Galle to the west as well as the wildlife wonders of Yala National Park. Stay at a retreat that is set in tropical grounds, with hammocks swinging and open sided cabanas so that you can sleep and wake up to the sounds of the waves. You can surf nearby on other beaches, but this one is for secluded peace and quiet, watching the fishermen bring in their catch while you try to catch a falling coconut or two.
Our top trip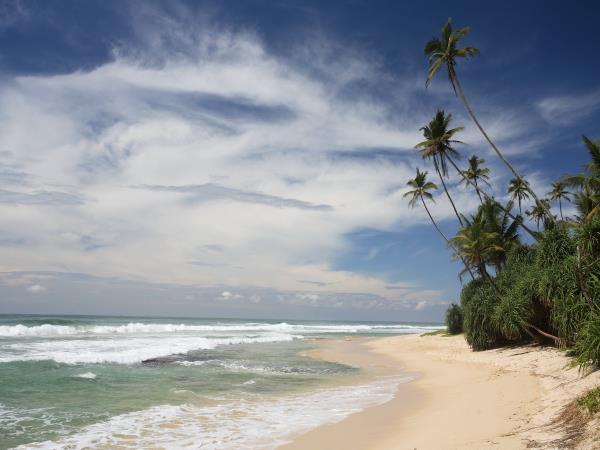 Beach holiday and luxury tour of Sri Lanka
From
£2195
14 days
ex flights
Tailor made:
Our tailor made Sri Lanka holidays can be arranged at any time to suit you, and adapted to your requirements as necessary although we do not offer trips for under 10 days.
If you'd like to chat about Sri Lanka or need help finding a holiday to suit you we're very happy to help.

Uppuveli
This is another shallow, clear waters paradise. You can stay in a beach resort here that opens straight onto the sands, and when you are tired of grains between the toes, just slumber by the infinity pool. For the more active, however, as well as whale watching off Trincomalee, you can go snorkelling around the crystal clear waters of Pigeon Island, just a 30-minute boat ride away, and which is home to over 100 coral species and hundreds of different fish. Keep an eye out for the island's favourite marine residents: hawksbill, green and Olive Ridley sea turtles.
Pasikudha
Unlike some of the south and southwest beaches, Pasikudha has a shallow reef and so it is safer without the scary, big waves that some people seek out, but others are wary of. This is a great family beach, but also a great location for those who want to combine marine mooching with marine mammals. This stretch of coast is slowly but surely opening up again following years of civil war which kept it closed to tourists. This ended as long ago as 2009, but infrastructure is still thin on the ground, but the beaches around Pasikudha and further north are all the better for it, with resorts still kept at bay.
What about the monsoons?
The advantage of booking a tailor made beach holiday in Sri Lanka is that local experts can advise on the complex relationship that this beautiful island has with monsoons. Because of the mountain range in its interior, weather systems vary from one side of the island to the other. The rains hit the south between May and July. However, now that the north and northeast coasts are open again to tourism, you can head up to the endless and often untouched beaches during the southern monsoon months. The northeast monsoon doesn't hit until October and runs through until January. So ask your holiday company to guide you on that one, booking you into the perfect, rain-free beach spot.