There are some who talk about wildlife in Sri Lanka in terms of the Big Four, perhaps because wildlife holidays somehow need to compete with African safaris and the traveller's insatiable quest to tick off the Big Five. However, the sooner you let that comparison go the better, because Sri Lanka is a completely different world when it comes to wildlife. First of all it is an island; secondly it's in the Indian Ocean and thirdly, unlike most Big Five safari destinations, it is has a tropical climate.
In terms of numbers, a better starting point for Sri Lanka wildlife may be 400 rather than four. There are over 400 species of birds on the island, and over 236 of these are resident, as opposed to the migratory marvels passing through to say hi. Although when you look at the stunning environs of Bundala National Park with its flocks of flamingos or Wilpattu National Park's whiskered terns and black-winged stilts, for example, you do wonder why they would ever bother leaving. Bird watchers have long known about the Sri Lanka as you can see from the almost iconic
Ceylon Bird Club
, established during colonial times in 1943. Their knowledge and website is superb. It guides you through the prolific birdlife found all over Sri Lanka, including Wilpattu, Horton Plains National Park, Kitulgala Rainforest, Sinharaja Reserve and Yala National Park.
The great greys
Yala National Park is home to the big daddy of Sri Lanka's mammals, the Elephas maximus maximus, a subspecies of the Asian elephant. And when you see them roaming around the dry grasslands of Yala National Park, for example, you will see that they deserve that double whammy name. You almost have to do a double take when you see one for the first time. The Asian elephant taps into childhood memories of Disney's Dumbo or Kipling's Hathi. You have plenty of opportunities to relive your own version of the Jungle Book's 'elephant march' in Sri Lanka as there are over 5,000 of them populating the jungles and open grasslands.
This is half the amount compared with a hundred years ago, though, due to deforestation and poaching – both of which are sadly still an issue in Sri Lanka, as is the keeping of elephants in captivity merely for the entertainment of tourists, such as at Pinnawala Elephant Orphanage. Read more on this in our guides on
elephant trekking
and
Pinnawala
. To see elephants in the wild, Yala and Wilpattu National Parks are prime elephant watching terrain.
The elusive beauties
From the enormous to the elusive, Sri Lanka has two important mammals that are not so quick to be spotted. First, the sloth bear. This is the country's only species of bear, and there are an estimated 1,000 of them living in the forests. The most populated areas are in Wilpattu, Wasgomuwa and Yala National Parks.
They differ from other bear species in that they are longer and leaner, with long hair and long muzzles. They also aren't as huge; a typical adult weighs 130kg, compared with 217kg average for a brown bear, although they can be double that. Not that you are going to argue with a sloth bear. In spite of their names, they aren't sloths when it comes to protecting their young, or their terrain. They are, however, nocturnal, and so fairly elusive, except from May-July when the local palu trees bear fruit, and they come out of their dens, climb up the trees and gorge on one big teddy bears' picnic.
Our top Sri Lanka Holiday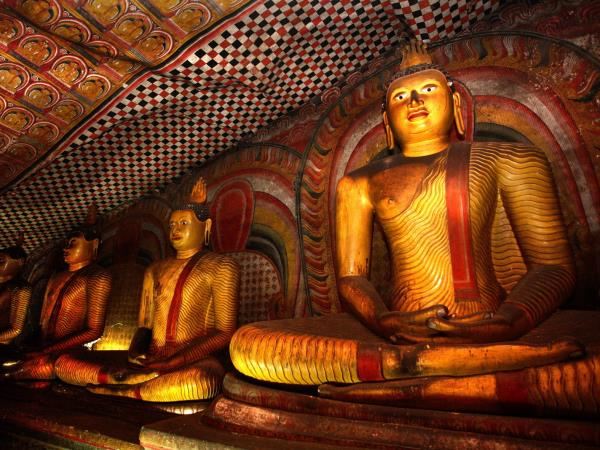 Independent tailor made holidays to Sri Lanka
From
£1995
14 days
ex flights
Tailor made:
Our tailor made Sri Lanka holidays can be arranged at any time to suit you, and adapted to your requirements as necessary although we do not offer trips for under 10 days.
If you'd like to chat about Sri Lanka or need help finding a holiday to suit you we're very happy to help.

The leopard is Sri Lanka's other elusive yet exquisite mammal and they even have their own subspecies, the Sri Lankan leopard. This is the top predator in Sri Lanka, found in forest terrain that varies from dry deciduous forests to lowland rainforests, to upper montane ones. It is thought that there are anything from 750-1,000 leopards in the country, but the statistics are poor, mainly due to the civil war years. However, there are moves to start collecting better data, by organisations such as the Sri Lankan Leopard Trust.
What is known, however, is that the leopard, or 'kotiya' as it is known locally, has various hotspots when it comes to viewings. The first is Yala National Park, ironically once a colonial hunting ground. Said to have the highest leopard density of anywhere in the world, sightings are still not that easy. It isn't the top predator for nothing, after all. The park is divided into five blocks, and the most visited is Block 1, where there are approximately 40 leopards. There is plenty of other wildlife, however, with elephants, sambar, langur monkeys and wild buffalo enjoying the terrain.
The greatest marine mammal
The greatest marine mammal
There is nothing elusive about the whales that migrate through Sri Lanka's waters. You just need to time your visit well, with October-April the best months for whale watching, but if you want to see blue whales, the greatest of them all, early March is best. Most whale watching takes place out of Mirissa and Galle, as well as off the Kalpitiya Peninsula. You can see up to ten species here, including Bryde's, minke and humpback whales as well as many different dolphins. Be sure to use a responsible whale watching tour operator; read more on that in our guide to
blue whale watching in Sri Lanka
.