Volunteering abroad with your kids

The wonderful thing about volunteering with your children is that you'll make a difference to the place you visit, and have a lasting impact on the way your kids see the world.

Discovering cultural differences, seeing the damage caused by deforestation, poaching and climate change, and understanding the causes of these, are eye opening moments for young minds. They may have the opportunity to meet and play with local children, and will see that there's more to life than Facebook and phones – as well as learning to be more appreciative of what they do have. A shy child's confidence will be enormously boosted, and for older kids, volunteering may even change their outlook on their future careers. But there will also be huge doses of fun each day – how can you not enjoy bathing an elephant, or watching a turtle hatchling scamper across the sand for the first and last time before starting his long, long life in the ocean?
Our Volunteer travel family Holidays
Volunteer opportunities for families
Elephants
Elephants may look as though they are big enough to care for themselves – but Thailand's captive elephants are completely dependent on their human carers. Families volunteering in sanctuaries can harvest and prepare food, clean enclosures and bathe the elephants – learning about them as they go.
Kinabatangan River
A wildlife cruise along Borneo's Kinabatangan River may be a dream holiday – but families can observe and count species as they go, contributing to vital research. Wildlife monitoring is combined with tree planting and forest maintenance in a comprehensive Borneo conservation trip designed especially for families.
Volunteering with animals
Families can work with wild animals too – particularly in Costa Rica, where several species of endangered sea turtles nest on the tropical beaches. Children and adults will enjoy the barefoot beach patrols as they monitor nests, protect hatchings and record observations during the nighttime nesting.
Our top Volunteer travel family Holiday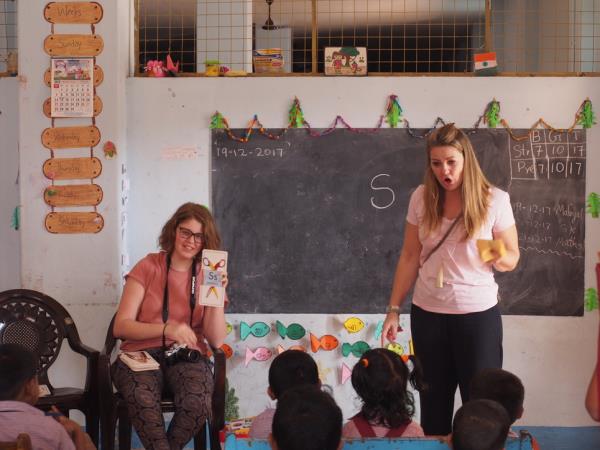 A truly fun & rewarding experience for families of any size
From
US $594
7 days
ex flights
Small group travel:
This trip departs every Saturday thoroughout the year
If you'd like to chat about Volunteer travel or need help finding a holiday to suit you we're very happy to help.
ADVICE FOR VOLUNTEERS TRAVELLING WITH KIDS
Jon Arnold, from our supplier Oyster Worldwide, offers advice on volunteer holidays for families: "If this is their two week holiday that they're doing over the summer, it's giving the kids much more of a cultural understanding, it's giving them a lesson in how great it is to volunteer, and really making the most of their holiday time. They're not just staying in an all inclusive holiday resort and lying on a beach. They're actually really doing something really worthwhile with those two weeks. And these are projects that we've picked particularly because there are things for the children to do and to contribute to as well – the minimum age is around seven."
Ellie Petrie, from our supplier Pod Volunteer:
"Our horse rehabilitation project accepts families. It's a lovely project as you can really get involved in the family environment that they have there. It's run by two women originally from Gloucestershire, then they moved over there and set up the project about 20 years ago now. The volunteers get involved with helping out with the horses and helping with the rehabilitation of an individual horse if they're there for over four weeks. But while they're there, they get involved in the local community, in whatever the family's doing, and just mucking in wherever they can. So it's really nice for families to go along and help in all the aspects. We have different minimum ages for each project, and for that project there's a minimum age of 12.
Tim Williamson, Responsible Travel's Director of Marketing and Content, had a wonderful experience in Swaziland with his sons, then aged just nine and six: "When planning our three months volunteering in Swaziland it was really tough finding the right organisation. Information was inconsistent and difficult to find, but luckily some friends in the volunteering sector introduced us to All Out Africa and their very organised programme in Swaziland. Volunteers act as teaching assistants in their pre-schools for orphaned and vulnerable children, as long as they commit to at least one month. After three months, teacher Gugu told us she had seen a dramatic improvement in the children's English because they wanted to speak to our sons, rather than because of our expert assistance!"
More about Volunteer travel
Convert currencies