It's essential to find a yoga holiday that suits your level of commitment. I didn't research properly and turned up to a really strict, electricity-free retreat: the instructor caught me eating crisps by candlelight...

As with most things these days, there is an incredible amount of choice out there when it comes to choosing a yoga holiday. This might sound silly, but the first thing you need to think about is how much yoga is actually involved: some retreats offer classes once daily, others twice; some retreats are yoga only, others combine yoga with another activity.
Once you know how much yoga you want to do, work out where you want to do it – do you want to be up in the mountains, or down on the coast, and, importantly, how isolated do you want to be? Consider the style of yoga that you want to practice be it slow and steady, challenging and sweaty, or both, and finally, research it all again – you can never ask too many questions. The point of a yoga holiday is to leave you feeling even better than when you arrived, which is as personal a point as how you take your tea and toast.
Beginner's yoga
Being a yoga newbie can be daunting; there's little worse than walking into a class full of people chatting merrily while holding their feet above their heads and realising it's been years since you've done a crab let alone a wounded peacock. But fear ye not, there are loads of holidays for people who are starting out, or brushing up – you'll still learn all the basics and clock up some serious yoga hours, just at a reasonable pace.
In-depth yoga
Surprisingly not just for serious yogis, an in-depth yoga holiday is ideal for anyone who wants to become a yoga teacher, but be warned, it isn't easy and although yoga novices are welcome, the schedule is intense. You'll begin at sunrise with meditation and then practice your postures and listen to lectures all day before wrapping up with some more meditative downtime after dinner and a much-needed early night.
Women only yoga
It might be that you want to get away on a holiday with the girls with fewer, ahem, distractions; perhaps you feel more comfortable bending your body around in front of other women; or maybe you are dealing with hormonal changes or health issues exclusive to ladies. Any or all reasons are welcome and it's important to remember that women only yoga holidays are about focus and fun, and not about angry feminist man-bashing.
Yoga +1
As if a holiday dedicated to health and flexibility wasn't brilliant enough, you can also pick from all sorts of equally brilliant plus ones to pack more in to your yoga adventure – pilates, massage, dancing, even diving, are all covered. Each are cleverly interlinked with the founding principles and practices of yoga to enhance your experience of learning about both.
Yoga for fitness & weight loss
The term 'boot camp' can strike fear into the hearts of anyone wanting to shift a few pounds, but yoga boot camps are more about a gentle push to kick start a new health regime than being made to jump squat for your supper. Focusing on a daily programme of yoga, hiking and circuit training (usually made far more bearable by the presence of a beach), together with nutritional workshops and healthy, cleansing meals to encourage weight loss goals, you put the work in, but in a very nurturing environment.
Yoga for relaxation
Before the days of yoga studios cranking up their temperatures to 40C and having you sweat out your sins by the bucketload (which is actually very effective if you like punishment with your posture work), the whole point of the practice was relaxation, something a lot of yoga holidays offer. How your yoga to relaxation ratio sits is up to you, but a typical day involves two 90-minute sessions daily, topped up with optional and untaxing activities and plenty of herbal tea.
Yoga & your spiritual side
Yoga plays a huge part in giving people a framework to cope with modern life's stresses and there are holidays with a significant 'healing and recovery' slant for those searching for clarity, peace of mind, or time with others. As well as daily yoga practice, these trips are a chance to immerse yourself in nature and recharge your batteries, share stories with people from all walks of life, and set to work finding your inner peace.
Our top Yoga Holiday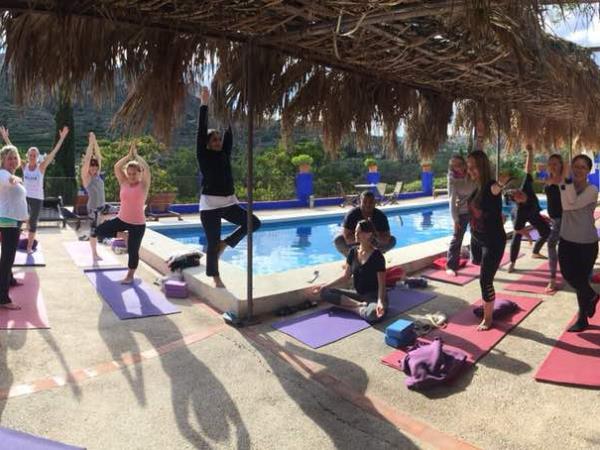 Yoga and meditation in the magical countryside of Valencia
From
€495

to

€1045
6 days
ex flights
Small group travel:
2019: 20 Jan, 27 Jan, 3 Feb, 10 Feb, 17 Feb, 24 Feb, 3 Mar, 10 Mar, 17 Mar, 24 Mar, 31 Mar, 7 Apr, 14 Apr
Hello. If you'd like to chat about Yoga or need help finding a holiday to suit you we're very happy to help. Rosy & team.
SOME ADVICE FROM OUR EXPERTS
Nicole Stone, from our supplier, Yoga Breaks in Spain, shares her advice on how to choose a yoga holiday: "Location is really, really important. We've been running yoga retreats for ten years now and have used several different locations in Spain. We used to use a beautiful hotel up in the mountains, but it was in a little village and we found that after three nights there people used to get a bit stir crazy because they'd walked around the village several times already and there was no real night life or shops nearby. If somebody doesn't want to be too remote and then they end up at a mountain location, they'll be frustrated and annoyed at their choice. Be sure to read the holiday description carefully, so you know what you're getting."
Convert currencies