Best places to go on holiday in March
March is a month of firsts and lasts. The Nepal trekking season begins, squeezed between the snows and monsoon season. Activity holidays are also kicking off in countries between their too-cold winter and too-hot summers: Morocco, Spain and Portugal are frontrunners in spring, while Northern Europe is still primed for winter activity holidays. As for lasts, it's your final chance to set off on an Antarctic adventure or a rain-free safari in Kenya or Tanzania.

Read on to discover which are the best places to go on holiday in March.
Our Where to go when Holidays
Africa
If you're looking for a budget safari in Kenya and Tanzania, you can get some good deals now because the rainy season is due to start. The rains seem to arrive that bit later every year, though, so you could get lucky with pleasant weather, low prices and few other vehicles crowding around the wildlife.
Enjoy some early spring sunshine in southern Morocco. This is a great time for activity holidays like walking and painting, as it's not too hot.
The Americas & Caribbean
Costa Rica is dry and mostly sunny, so this is a great time for wildlife and activity holidays. But of course, you're still in the rainforest, so you'll want to pack your waterproofs.
Salsa your way to Cuba, which is at its driest while avoiding the summer storms and winter chill.
The Galapagos Islands chill out under calmer seas and warmer weather around now, so it's one of the best times to visit, despite the greater chance of rain. You'll also miss the busy holiday season.
Antarctica
This is one of your best chances of spotting whales in Antarctica. It's also one of your last chances, as March heralds the end of the short Southern Ocean expedition season.
Asia
Burma is dry and warm, but not too hot.
It's still one of the best times to be in India, thanks to tolerable temperatures; just be prepared for crowds in Delhi and the Golden Triangle. This month is also your last chance to get to Rajasthan before the temperatures start rocketing.
March is one of the best times to go to Jordan: think green valleys, wildflowers and fewer people, thanks to the coolness leftover from winter.
Head to Nepal for some serious trekking after the winter snows have melted, and before the monsoon season hits.
In southwestern Sri Lanka, the wildlife is abundant in Yala National Park and whales can be seen off the coast. March is also the best month for spying blue whales.
Australasia
Go on a self drive holiday to little-visited Tasmania, where temperatures start to turn autumnal – but so do the golden forests.
Europe
If you've always wanted to see the largest animal on earth, head to the Azores, as this is the peak time for spotting blue whales.
Spring is in full swing in Cyprus – carpets of rare orchids included.
You can beat the crowds to the ever-popular Amalfi Coast in March, although the ferry schedules will be reduced. It's also the beginning of lemon harvesting season in southern Italy.
Andalucia, in Spain, is lovely in March, with warm, sunny days making it great for a walking or cycling holiday. The aromatic orange blossom is also in bloom at the end of the month. In fact, activity holidays wake up from their winter slumber all over Spain, so you could go on a yoga retreat in Valencia, walk and learn Spanish in the Picos de Europa mountains, or throw yourself into training on a fitness holiday.
Go walking in Portugal, where you'll get the sunshine, warming temperatures and panoramic views to yourself in Alentejo and the Algarve.
The 24-hour darkness has lifted in Sweden, Finland and Norway, but the snow remains in the northern regions, as do the Northern Lights. This is a great time for a winter activity holiday like cross country skiing.
Our top Where to go when Holiday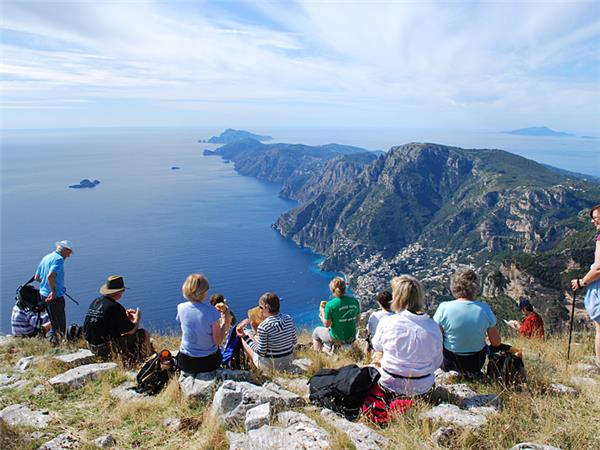 Walk in lemon groves and hillside villages
From
£1199

to

£1849
8 days
inc UK flights
Small group travel:
2022: 19 Feb, 26 Feb, 5 Mar, 12 Mar, 19 Mar, 26 Mar, 2 Apr, 9 Apr, 16 Apr, 4 Jun, 11 Jun, 18 Jun, 2 Jul, 9 Jul, 16 Jul, 23 Jul, 30 Jul, 6 Aug, 13 Aug, 20 Aug, 27 Aug, 3 Sep, 17 Sep, 24 Sep, 1 Oct, 8 Oct, 15 Oct, 22 Oct, 29 Oct, 5 Nov, 12 Nov, 19 Nov, 24 Dec, 31 Dec
2023: 11 Feb, 18 Feb, 25 Feb, 4 Mar, 11 Mar, 18 Mar, 25 Mar, 1 Apr, 8 Apr, 15 Apr, 22 Apr, 29 Apr, 6 May, 13 May, 20 May, 27 May, 3 Jun, 10 Jun, 17 Jun, 24 Jun ...
If you'd like to chat about Where to go when or need help finding a holiday to suit you we're very happy to help.

Where not to go on holiday in March
The Amazon regions of Ecuador and Peru could be flooded, causing travel disruption and attracting mosquitoes – as well as making wildlife harder to see. But you can still visit the Brazilian Amazon; you'll just be travelling by boat or canoe instead of on foot. The cyclone season in Madagascar is coming to an end, but it's still incredibly wet. The Inca Trail has reopened, but it'll still be pretty soggy and muddy, with fog limiting those glorious Andean views. Some hotels and restaurants in rural Scotland may still be closed. Southern Vietnam is scorching in March.
More about Where to go when