Is it wrong to buy bushmeat & skins?
– The trade in Southern Africa
Bushmeat can refer to any kind of meat which comes from a wild animal, and it is commonly available across Africa, Asia and Latin America. Traditionally, bushmeat is an important source of food for rural communities who may not be able to regularly afford to buy farmed meat, or to travel long distances to market. But as most communities have moved away from traditional lifestyles, bushmeat is increasingly available in village markets, in cities, and in restaurants.
Is it ethical to eat wild meat?
Not all bushmeat is equal. Some may be from endangered species – this is a particular problem in West and Central Africa, where the hunting of wildlife for food is pushing some species towards extinction. Some species are not endangered, but it may still be illegal to hunt them, particularly if they have been poached from within national parks and protected areas. Others still can be hunted legally, sometimes within set quotas and/or with licences, in the same way as game is hunted and eaten in Europe.
Bushmeat in Southern Africa
Southern Africa in particular – including Namibia, Botswana, Eswatini and South Africa, renowned for its meat loving braai culture – serves up springbok, blue wildebeest and blesbok alongside its beef steaks. It may seem a bit odd, post-safari, to find a plate of oryx or springbok in front of you, but if you are a meat eater, it can, in fact, be much more ethical to tuck into a local species than beef, lamb or pork. You won't be eating elephants and lions; typically the meat comes from antelope species such as kudu and antelope. These are effectively African venison or wild boar. Hunting wild or semi wild animals means that there is no need for non native species to be farmed. This means fences don't need to be built – potentially blocking migration routes – plus water is conserved and landscapes remain wild. Some game is hunted on existing farmland, but as the farmers can profit from this, they are happier to leave these species to roam freely than to chase them off their land.

In many cases, it may also be necessary to import meat such as beef or pork, or at least to transport it long distances. Even in the middle of the desert, there will be game, so this means less transportation is used. And of course, this meat is free range, organic and free from antibiotics and steroids so commonly used in other livestock.
In South Africa, hunting regulation varies widely from province to province, but in general, permits and licences must be obtained, seasonal restrictions must be observed, and different species will have different quotas. All private game ranches were previously farms for livestock or crops, and turning this land over to native game species means that numbers of these species have increased, and the land is now much more sustainably managed. This has a knock on effect in increasing the biodiversity, including insect, bird and plant species.
In Namibia, meanwhile, between
16 and 26 million kilograms of game meat are produced each year
from its private farmland. In one of the most arid countries in the world, native species are far more tolerant to droughts and the harsh desert environment than traditional livestock.
Our top trip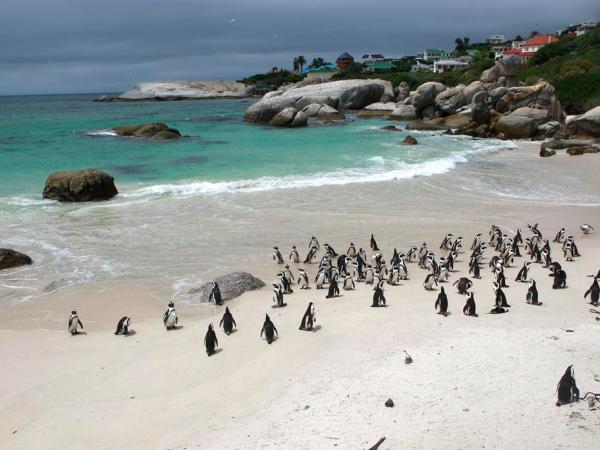 Explore Cape Town, the Winelands and the Garden Route
From
£3395
15 days
inc UK flights
Tailor made:
This trip can be tailormade throughout the year and can be adapted to suit your interests, budget and requirements as necessary
If you'd like to chat about Africa or need help finding a holiday to suit you we're very happy to help.

How do I know what is ethical?
There is, of course, a thriving black market in illegally hunted meat. However, as the penalties for this are high, anything you find sold openly – and anything served up in a safari lodge – will almost certainly be ethical and legal. Generally, if you stick to antelope species, zebra, warthog or ostrich (which is farmed) you will be fine.

In the past, travellers have reported their concerns about coming across markets or roadside stalls selling suspicious looking meat, animal skins or other body parts. Animal skins are widely available and are often a byproduct of the meat trade. Even Johannesburg airport's shops are full of springbok bags and zebra skin cushions.

If you see leopard or cheetah skins, of course, these are from endangered species, and you should report this as soon as possible. But as above, illegal skins are not likely to be on show for tourists.
Traditional healers, known as sangomas, are still very much a part of daily life across Southern Africa, and their practices often include the use of animal parts. Sangomas can apply for licences to practise, and this trade is regulated, so generally what you see will be legal, But if there is anything which looks very suspicious, do report it.
Some tourists have been offered cheap rhino horn jewellery on markets or roadside stalls. Given that a rhino horn has a street value of over $200,000, a $5 trinket is not going to be genuine rhino horn, or even ivory. And given the lengthy prison sentences for this illegal trade, setting up roadside stall would be far too risky a business.
However, outside of Southern Africa the story may well be different. With little regulation, a lack of law enforcement and traditional practices involving wild animals for meat and medicine, Central and West Africa are in the midst of a severe bushmeat crisis. The huge trade in endangered species is pushing many animals towards extinction. In addition, poached meat, and eating species such as primates or pangolins, can transmit diseases. Read more in
our report here
.