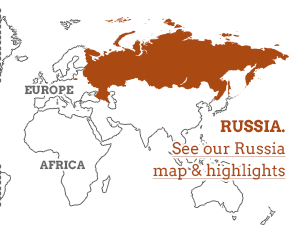 We bitterly oppose Russia's unjustified invasion of Ukraine, a sovereign and democratic nation, and stand by the Ukrainian people and their leaders. As a tourism business we seek to build understanding and tolerance between people from different nations and cultures. In doing so we are often reminded that people from different countries are more similar than we are different. An attack on a peaceful nation is an attack on our collective belief in the importance of a peaceful world, and we demand the Russia withdraw.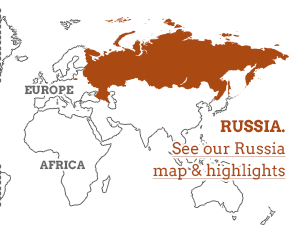 We are consulting with our partners who run our Russian trips on the best way to make sure that local communities and wildlife in Russia do not suffer but we join the world's condemnation of Russia's actions in Ukraine.
St Petersburg
European in appearance but Russian in its heart,
St Petersburg
is a beautiful Baltic gem. Built on the mouth of the Neva River in 1703, grand houses still line the riverbank, having survived revolutions and a desperate siege during World War II. Today, St Petersburg is one of the most cultural cities in the world. You must go to the extravagant State Hermitage Museum, with its Leonardos and Scythian gold, the Mariinsky Theatre, and Peterhof Palace and Catherine Palace. Visiting Moscow and St Petersburg together, taking the sleeper train between the two cities, is a great way to see two sides of urban Russia.
Moscow
Many Russian cities are built around a Kremlin – a fortification – but none of them are quite so famous as the Kremlin in
Moscow
. The historic fortress sits on Red Square, the place from which the Soviet Union once radiated out over an area the size of North America. Standing here, you're steps away from unmissable sights: the fanciful domes of St Basil's Cathedral, Lenin's Mausoleum, where the politician's body lies preserved for public view, and the Kremlin Armoury, where you can see a real Faberge egg. If St Petersburg looks like it could belong in Europe, Moscow couldn't belong to anyone else.
Trans Siberian Railway
Built to connect Siberia with Western Russia, the
Trans Siberian Railway
goes through 90 cities and six time zones. One of the greatest rail journeys in the world, it takes six days to travel its 9,600km length from Moscow to Vladivostok. Of course, if you're on holiday you'll want to get on and off – to see Lake Baikal, for instance, the deepest lake in the world, or to visit the nature reserve at Krasnoyarsk. The Trans Siberian line branches in the east to form the Trans Manchurian and Trans Mongolian lines, which end in Beijing instead of Vladivostok.
Wildlife holidays in Russia
You can see Siberian tigers in eastern Russia's snow-clad birch forests, though only 500 remain. They aren't Siberia's only
wildlife
– the area has Asian black bears, elk and wolves, and the critically endangered Amur leopard. Only 80 or so are believed to still exist in the wild. If you make it over to Kamchatka, there are brown bears catching salmon, whilst female polar bears rear their young on Wrangel Island. A tracking holiday or an expedition cruise will show you Russia's best wildlife and teach you about ongoing conservation efforts.
Kamchatka
Look at a map of Russia and
Kamchatka
is immediately obvious – it's a long, prominent peninsula dangling above Japan in the country's far east. Living in splendid isolation for most of its existence, the area is a celebrated wildlife destination. It's lively in more ways than one: as well as grey whales, brown bears, elk and moose, there are nearly 30 active volcanoes. An intrepid land-based tour will show you bears hunting salmon. Expedition cruises give you access to Kamchatka's fjords and often include trips into neighbouring Chukotka, to reach Wrangel Island in the Arctic Ocean.
Types of tours & holidays in Russia
Small group holidays
are a really good way to travel on the Trans Siberian railway. You always have someone to talk to, whilst having a guide with you means that there's always someone taking care of visas, tickets and timetables. Small group travel is also a great way to travel around Russia, and go on intrepid wildlife trips to Kamchatka.
Adventure holidays in Russia
reward the brave. There are remote island cruises where polar bears can be seen on the shoreline and continent-spanning railway journeys into Mongolia and along the Silk Road.
If you'd like to chat about Russia or need help finding a holiday to suit you we're very happy to help.