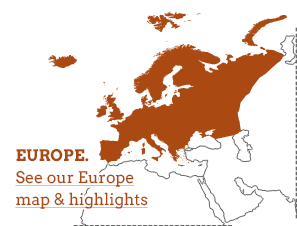 Europe may be the world's second smallest continent, with some of its tiniest nations, but it finally lays to rest, with ease, the whole 'size isn't everything' debate. Each country has its own bold personality, and your travel experience will be vastly different according to which cardinal point you follow.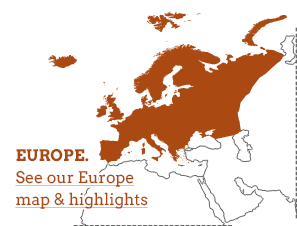 Travel in Europe is an experience of food you've never tasted; culture you had no idea existed; and more great outdoors than you could ever walk, sail, or cycle. All within hours from your front door.

Head north and you'll find Finland and Scandinavia, lands defined by dramatically disparate seasons, husky sledding, and the inimitable Northern Lights. The active east is all about hiking Montenegro's national parks and mountains, or jumping on a bike and cycling Croatia's celebrated island routes. Southern Europe's fantastic four: Italy, Greece, Spain and Portugal, are places to walk among lofty peaks, browse age-old archaeology, or simply soak up some sun on a glorious beach; and western Europe's draw is dominated by sophisticated France, a country so gifted with lush valleys and mountains ripe for winter sports that its elegant cities are left in the cold. In the middle? Romania. A deeply traditional and unexpectedly pretty country where bears still prowl among ancient woodland.

Read more about Europe's exciting holiday options in our Europe travel guide
Europe is...
a playground for outdoor enthusiasts, with cycling, walking and watersports galore.
Europe isn't...
a seasonal destination; its tapestry of landscapes, cultures and cuisines can be explored at any time, year-round.
What we rate & what we don't
Montenegro
Measuring in at only the size of Northern Ireland, Montenegro may be small, but is infinitely inspiring with a glorious coastline, shimmering lakes, and over 60 soaring mountains reaching peaks of over 1,800m and cushioned by five national parks, all criss-crossed by some epic hiking and cycling routes. It even has a wine culture – Lake Skadar is home to more than 30 wineries that you can tour.
Croatia
An archipelago of over 1,000 islands that cling to its celebrated coastline, Croatia is so much more than somewhere to island hop. With peninsula after peninsula of matchless cycling routes, it is a dream of a country to explore on two wheels, finding vineyards that do tasting tours en route and chancing across secret beaches that offer somewhere heavenly to cool off after a hard day's pedal.
Romania
A rich tapestry of Saxon, Viking and Roma influences, Romania is a beautiful and largely undiscovered mosaic of alpine highlands, coastal wetland and magical ancient woodland where bears and wolves still prowl. The welcoming locals live at a human pace, clip-clopping from A to B on horse and cart and producing a distinctive, but delicious smorgasbord of regional food and drink.
Finland
Finland is about as fantastical as you can get – life here is shaped by the bipolar seasons: sublime summer days barely see the sun set, yet intense polar nights can hit -30°C. A rustic experience of lakes, mountains and wood cabins, Finland is all about winter activities: a place to explore on snowshoes, learn to mush a pack of huskies, and pray for a glimpse of the ethereal Northern Lights.
France
A country of both momentous heritage and natural might, France's palpable vigour immediately injects a spring into any visitor's step – the titanic peaks and shimmering sapphire lakes of the Alps are resplendent with or without snow; the Pyrenees are a haven for skiers, walkers and bikers; and Provence, another cyclist's mecca, is the lavender-scented, quaint stone-villaged stuff of any Francophile's dreams.
Spain
Newsflash: Spain does not equal the Costas. It is a country of so much more than sunbeds and crap paella. From the atmospheric Moorish pueblos of Andalucia, to the stunning walking and cycling you'll find across Catalonia and lofty peaks to rival the Alps, the real Spain is about getting outside, making the most of the sun, and chancing upon towns and experiences you never knew you'd find.
Italy
Nowhere is more associated with sophistication, passion and outright cool than Italy: a country of fabulous towns, peerless history and irresistible food. Made for a quiet stroll, or a full-on hike, the Amalfi Coast is a dizzying land of gleaming seascapes and impossibly chic seaside towns; Rome's imperial grandeur needs no introduction; and Tuscany's hills and vineyards shout 'escapism' at every turn.
Greece
The undisputed cradle of Western civilisation, Greece is a wonderfully diverse blend of primeval history and traditional culture all played out against a backdrop of island clusters, mountains, gorges and mainland national parks. Besides its tremendous collection of age-old archaeological sites, it also has a fantastic swathe of beaches and over 4,000km of coast road to explore on two wheels.
Marbella
Here's a word association game: women… handbags… women that look like handbags; blatant sexism aside (men can look like handbags too), seriously, there is so much sun-scorched skin in Marbella, you'll think you've walked into a tannery. Other than that, there's booze, bars, Brits and lots of fake… Rolexes. Oh, and money and 'macho' men too, but that's about it sadly. Spain, it ain't.
Monaco
Small and stubbornly independent like a toddler, but with the brash, yet undoubtedly plush addition of lots of money and millionaires, Monaco might strike you as an exciting option for a short trip to luxuriate in the glamour of it all. Actually though, it isn't the glitzy destination of yesteryear and is nowadays a constant construction site full of big, ugly tower blocks all struggling for space.
Captive dolphins
Though some European countries have a worse track record than others for this heinous abuse of animal rights (stand up Spain, Italy and France…), it's never a good idea to go and see dolphins at a dolphinarium – cramped captive conditions where they're made to 'perform' tricks. Some are technically illegal and morally they're offensive too; if you want to see cetaceans, head to the Azores instead.
Cruise ships in Venice
Cruise ships? In Venice? Surely that's akin to putting a McDonald's in the middle of a Slow Food farm: silly. Silliness aside, the deep channel dredging that's done to allow these lumbering ships to cruise Venice's distinctly classy Grand Canal has scarred the lagoon's delicate eco-system disturbing marine life as well as displacing sediment. Do what you're supposed to do and grab a gondola.
Eating & drinking in Europe
Italian 'aperitivi' are early evening bar nibbles (free or cheap) – particularly popular in Milan, Rome, Turin, Naples and Venice (called cichetti there). They're a great way to eat - and meet locals.

Romanian street eats are delicious. Try covrigi - hot pretzels sprinkled with salt or seeds; placinte – curd cheese or fruit-stuffed pastries; and mici - grilled rolls of spiced minced pork or beef, served with mustard.

French alpine fondue: it's really just deconstructed cheese on toast, but who can resist an entire steaming bowl of melted cheese?

There are 29 peaks over 3,000m in Spain, located in the Pyrenees, Canary Islands and Sierra Nevada. There are almost 90 more peaks over 2,500m.

Our top Europe Holiday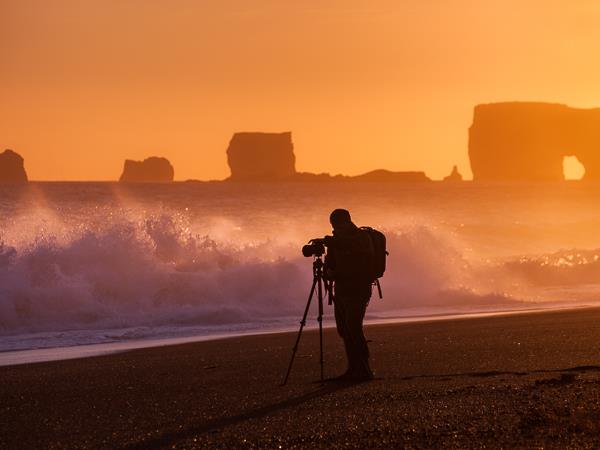 Photographic trip in the stunning west and southeast Iceland
From
£3450

to

£3750
10 days
ex flights
Small group travel:
2023: 29 Sep, 27 Oct
2024: 18 Feb, 27 Sep, 25 Oct
If you'd like to chat about Europe or need help finding a holiday to suit you we're very happy to help.

People & language
According to a 2002 German study there are 87 distinct people of Europe: 33 that form the majority population and 54 ethnic minorities. Though there are only 24 officially recognised languages within the EU, there are more than 60 indigenous and minority languages and lots more non-indigenous migrant community languages too. Over 50 per cent of people in Europe can speak at least two languages, and 38 per cent can speak English.
Basque is spoken by over 700,000 people in Spain and France. Not only is it not related to French or Spanish, it has nothing in common with any other European language. Its origins are a mystery.
As well as Basque, France has seven other indigenous minority languages including Breton, Provençal and Corsican.
Gifts & shopping
Greece makes excellent wine– Naoussa and Santorini have some particularly fine options.

Keep warm even when you're back home – knitted mittens and reindeer skin slippers are a cosy Finnish treat.

Some foodie gifts like stinky cheese or heavy bottles of wine aren't very airline friendly. So consider delicious Portuguese canned fish – including unusual things like eel - in little vintage-style cans pretty enough to display after eating. The capital's 1930s Conserveira de Lisboa sells nothing else.

Croatian olive oil is superb, but check carefully that you're not buying the cheaper Spanish and Greek versions.

In homage to the illustrious poet, there is a street named Victor Hugo in every town in France.

How much does it cost?
Meal at inexpensive restaurant:
£7 (Greece)

Winery tour for two: £18 (France)

Snowshoe hire: £14.40 (Lapland)

Sleeper train London - Fort William:
From £80 one way (Scotland)

Abandoned hamlet in rural Spain:
Yours for £75,000