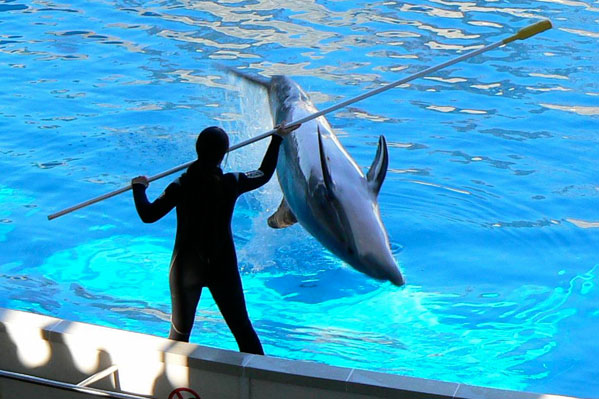 A 2013 report from Whale and Dolphin Conservation (
WDC
) exposed the fact that all of Italy's five dolphinaria - Rimini, Oltremare, Acquario di Genova, Fasanolandia and Zoomarine – keep dolphins in captive and cramped conditions that violate both national and European laws – specifically, the European Zoos Directive (1999/22/EC) and Italy's Ministerial Decree No.469, both of which aim to protect whales and dolphins in captivity. Only two of the dolphinaria even have a license – the others are technically illegal, as well as morally abhorrent.
Likewise, Portugal has 'sealife centres' with captive dolphins and other ocean-living animals, notably the Algarve's Zoomarine; Spain has a number of questionable sealife facilities; and France is noted to have at least four as well. Some facilities even contain captive orcas – huge marine mammals which are forced to perform for tourists' pleasure.
Whatever the publicity says about the amount of space, dolphins and orcas are highly intelligent mammals that belong ranging far, wide, and crucially, free, in the ocean, engaging with other dolphins and sea life. In our opinion, they require this for their emotional and social peace of mind much more than they need to get up close to a human being – however happy – in a shallow artificial 'lagoon'.
Here at RT, we strongly believe such dolphinaria are wrong, as do animal protection organisations such as the Born Free Foundation, who have advised the EU to begin legal proceedings against a number of European governmental bodies. You can read more about Born Free's stance on whales and dolphins, as well as their agenda for captive cetaceans,
here.
What you can do?

Go and see dolphins and whales in their natural environment; the Azores is one of the best places in Europe – if not the world – to see dolphins as well as numerous whale species, and there are several
responsible holiday companies
who organise tours accompanied by marine biologists and researchers. These are triply good: they inform tourists, make the change of sightings more likely, and keep the cetaceans happy, too.
Do not give your business to dolphinaria – no matter how happy the dolphins may seem – and try to dissuade others from going too.
Support organisations trying to improve the welfare of dolphins both in the wild and captivity, such as WDC and the Born Free Foundation.
And if you love dolphins, consider holidays that involve responsible engagement with these fascinating sea creatures. Check out our
guide to responsible dolphin watching here
for tips on where and when you can see the fascinating creatures in their natural environment.